Video Shows Turkmenistan's Leader Defy Death Rumors with Wild Summer Vacation
The leader of Turkmenistan has defied rumors of his death by appearing in a colorful montage appearing to suggest his recent absence was merely a particularly active summer vacation.
Turkmen President Gurbanguly Berdimuhamedov is back⁠ — and he's showing the world he's more than capable of running his secretive Central Asian state, and doing plenty of other things as well. In a nearly 25-minute montage released Sunday by state-run media, the 62-year-old former dentist can be seen riding bicycles and horses, singing and playing various instruments, working out, bowling and firing an assault rifle among other activities.
In the clip's climax, Berdimuhamedov — sometimes spelled Berdimuhamedow — straps himself into a sports SUV adorned with national logos while wearing race gear and drives out into the Karakum Desert, eventually reaching the Darvaza gas crater, a collapsed natural gas field that has been burning since 1971 and is better known at home and abroad as the Gates of Hell.
As music begins playing, the Turkmen's vehicle president proceeds to drive rings around the ever-burning pit and even does donuts a few feet away from the flames.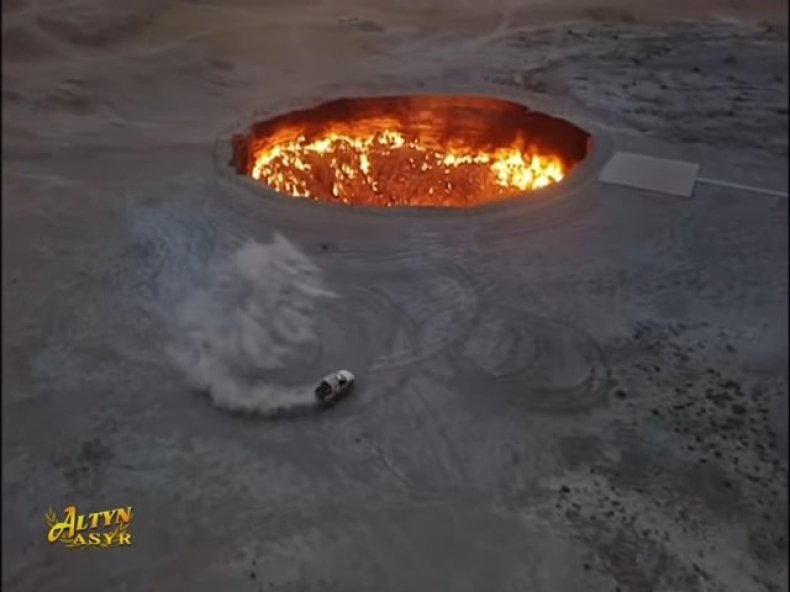 An article released Sunday by the government's official web portal said that the leader, while on holiday, "continues active art activity, it is well-known that [the] Turkmen leader invariably tries to pay some time to do sport exercises, music, writing and scientific work despite his tight working schedule filled with important government affairs and events, visits and high-level meetings."
"Days off give more opportunity for this," the article read, going on to report Berdimuhamedov's work in authoring a book on the Central Asian Shepherd Dog, supporting the local equestrian scene, improving the country's military posture through personal armament tests, working on his own physical prowess through exercise, performing his grandson's music and his desert excursion.
"At sundown, as [it] grew darker, the president came to the unique attraction of Turkmen desert, 'the Light of the Karakum,'" the article read. "Having driven around the flaming crater, the Head of the State enjoyed its unusual view, which is very effective in the darkness."
The news came after a weeks-long disappearance that prompted speculation as to his health. Last month, Eurasian Problems Monitoring Center director Aslan Rubaev told Russia's Govorit Moskva radio station that sources in the Turkmen capital of Ashgabat told him Berdimuhamedov had died of kidney failure on July 20 and the news was picked up first by Russian outlets and later across the world — though Sunday's news appeared to dispell these reports.
Berdimuhamedov is only the second person to lead the ex-Soviet republic since gaining independence in 1991, having taken charge following the death of President for Life and former Communist Party First Secretary Saparmurat Niyazov, who ruled for 21 years until his death in 2006. Like his predecessor, Berdimuhamedov was no stranger to showing off his eccentricities.
Berdimuhamedov reversed some of the more imposing aspects of the personality cult that surrounded Niyazov, who went as far as to rename the months of the year after national symbols and his own mother and to build a massive golden statue of himself that rotated with the sun. Still, Berdimuhamedov constructed his own golden monument to himself riding his favorite animal, a horse, on a cliff of white marble.
A 2016 vote ensured that Berdimuhamedov could rule indefinitely and won his 2017 re-election with nearly 98 percent of the vote.