Body camera footage of Sunday's police shooting of Daunte Wright prompted one person to ask why the video "wasn't enough" to fire the officer who pulled the gun on Wright during a traffic stop.
During a press conference held by Brooklyn Center Police Department on Monday, attendees can be heard asking Chief Tim Gannon, "Oh my God, you're telling me that wasn't enough to terminate this officer?" in reaction to the footage.
Wright, 20, was shot and killed by a Brooklyn Center officer during a routine traffic stop on April 11. Protests broke out in the Minnesota town in response to his death, which occurred just miles from where Derek Chauvin, a former Minneapolis police officer accused of killing George Floyd, is on trial.
The video shown during the press conference shows a police officer arresting Wright on the driver's side of a white car. Another officer, who was at the scene and from which the footage was recorded, is then seen assisting in handcuffing Wright before he moves away and gets back in the vehicle. The same officer is then seen pulling out her gun and shooting Wright before the car drives away.
"Holy s--t. I just shot him," the officer is heard saying after the car leaves.
Police officials said the car traveled for several blocks and struck another vehicle, after which police and medical workers pronounced Wright dead.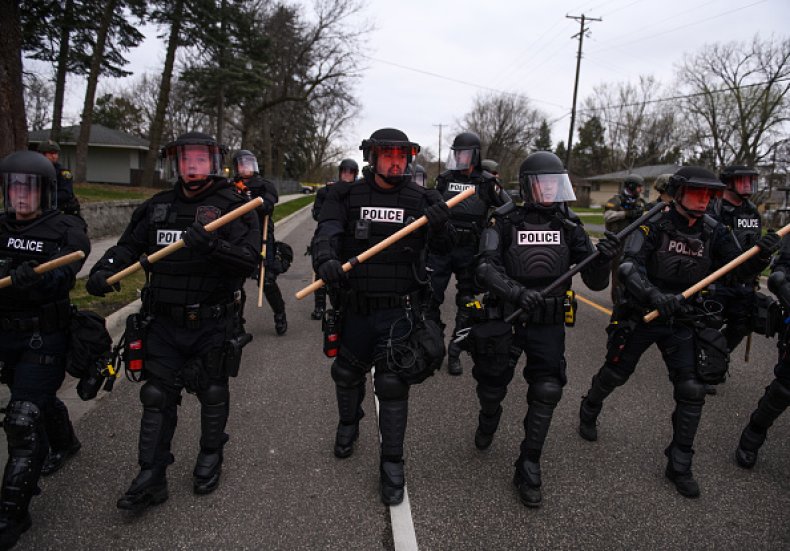 During the conference, Gannon called the killing an "accidental discharge," saying he believed the officer had intended to use the taser, "but instead shot Mr. Wright with a single bullet."
"I am committed to protecting the peaceful protesters of the city. Every day," Gannon told those at the briefing, to which one attendee called out, "Not yesterday."
Late Sunday and early into Monday morning, protestors clashed with police as officers deployed rubber bullets and tear gas on the crowds. Gannon confirmed he authorized the use of the crowd-control measures.
On Monday, Brooklyn Center Mayor Mike Elliott said that the police officer should be fired from her position.
"We cannot afford to make mistakes that lead to the loss of life, of other people, in our profession," Elliott told attendees at the conference. "And so, I do fully support releasing the officer of her duties."
City Manager Curt Boganey, who has control over police department personnel, said the officer who shot Wright will get "due process with respect to discipline" but did not say whether or not she would be terminated.
Newsweek reached out to Gannon for comment but did not hear back before publication.