Daunte Wright's Brother Dallas Doesn't Believe Police Killing Was an Accident: 'Straight Bulls***'
Dallas Wright does not believe that the death of his brother Daunte Wright was an "accident," calling the police explanation for the fatal shooting "straight bullsh*t" on Monday.
Daunte, an unarmed 20-year-old Black man, was shot and killed by police in the Minneapolis suburb of Brooklyn Center on Sunday. Dallas, Daunte's older half-brother, dismissed Officer Kimberly Potter's explanation that she had intended to use a taser before mistakenly firing a single deadly shot. Brooklyn Center Police Chief Tim Gannon has also said that it was his "belief" that Potter's shooting of Wright was accidental.
"My brother lost his life because they made a mistake," Dallas Wright said during a Monday demonstration against the shooting. "You know the difference between your right and your left, right? Everybody knows it... you know your left and your right... and then y'all call it an accident. We don't see it as an accident."
Dallas said that he "could never understand that fear of being pulled over by the cops" because he is white, unlike his brother. He said that Daunte's fear of the police was apparent to him in video footage of the shooting.
"Most of y'all have seen the video," said Dallas. "I can tell my brother was scared. I know my brother. I can tell he was scared. I can hear it in his voice. And for them to call it an accident or a mistake, to be honest it's just straight bullshit."
"I don't know what they thought that they did, but that shit was just bullshit," he added. "I know I'm probably not supposed to be swearing or anything, but it was straight bullshit... my brother lost his life because they were trigger happy."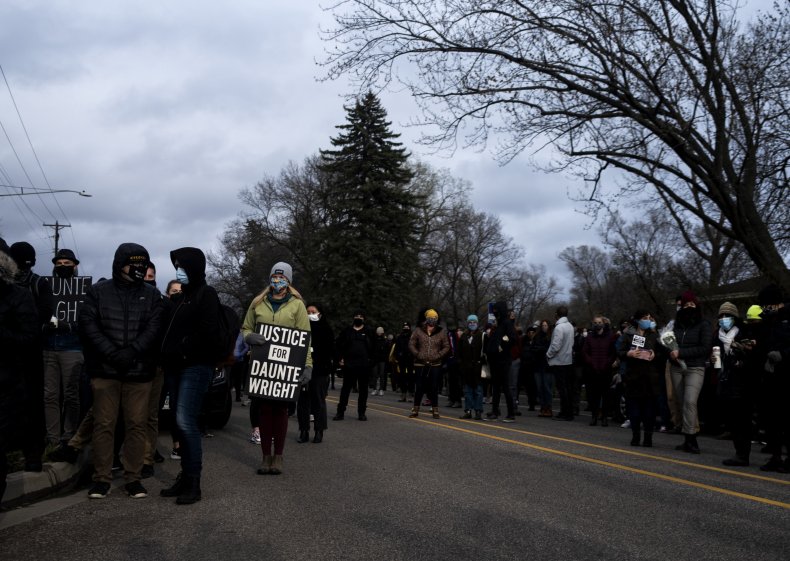 Potter can be heard shouting "Taser" multiple times before shooting Wright at close range in bodycam footage released Monday. During a press conference, Gannon explained that although Potter had been trained to carry her firearm on her right side and Taser on her left, he believes that she mistakenly reached for the gun instead of the Taser, leading to Wright's death.
"As I watched the video and listened to the officer's demands, it is my belief that the officer had the intention to deploy their Taser, but instead shot Mr. Wright with a single bullet," Gannon said. "This appears to me, from what I viewed and the officer's reaction and distress immediately after, that this was an accidental discharge that resulted in the tragic death of Mr. Wright."
Wright's death has further exacerbated already considerable outrage over the issue of police killing unarmed Black people. The shooting took place only a short distance away from the courthouse where former Minneapolis Police Officer Derek Chauvin is standing trial on murder charges related to the May 25, 2020 death of George Floyd, which sparked massive worldwide Black Lives Matter protests. New protests erupted within hours of Wright's death on Sunday, continuing into the night on Monday.
Newsweek reached out to the Brooklyn Center Police Department for comment.