Daunte Wright's Death, Protests Prompt Tim Walz to Enact Curfew for Minneapolis, St. Paul Areas
Minnesota Governor Tim Walz enacted curfew for Minneapolis, St. Paul and the surrounding areas on Monday in the wake of 20-year-old Daunte Wright's death and overnight protests.
The governor's curfew will apply to Hennepin, Ramsey and Anoka Counties and be in effect between 7 p.m. Monday until 6 a.m. Tuesday. The order prohibits all persons from traveling on any public street or in any public space during the hours of curfew.
Walz said the "largest police presence in Minnesota history will be prepared" to enforce the order and arrest anyone who wants to cause destruction. "We will have further guidance as the days go on," he added.
Wright was fatally shot by a Brooklyn Center police officer during a routine traffic stop on April 11. In response to the shooting, protesters clashed with police officers into early Monday morning as law enforcement deployed rubber bullets and tear gas on the crowds.
The incident has heightened tensions in Minneapolis, where residents are already on edge from the trial of Derek Chauvin, the former police officer who is charged with killing George Floyd. It has also sparked protests in other cities across the country.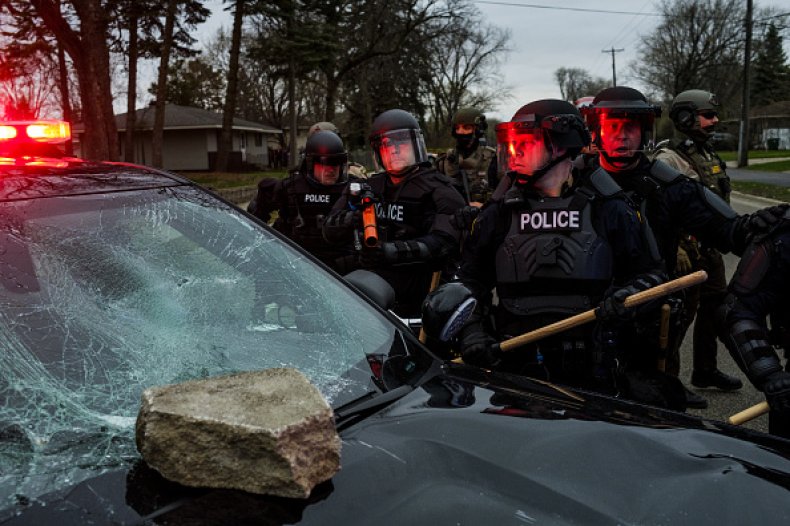 Minneapolis Mayor Jacob Frey also declared a local emergency on Monday afternoon.
Frey said he is issuing the order "in the aftermath of the death of an African American man that occurred during a traffic stop initiated by Brooklyn Center law enforcement in Brooklyn Center, Minnesota, rioting and demonstrations broke out in Brooklyn Center and in the City of Minneapolis, resulting in civil disturbance which has put residents, business owners, visitors, and public safety personnel, at risk of significant injury or death."
St. Paul Mayor Melvin Carter also issued a curfew for that city beginning at 7 p.m. today to 6 a.m. tomorrow.
On Sunday night, Brooklyn Center Mayor Mike Elliott issued a curfew until 6 a.m. Monday and the local school district moved to virtual learning on Monday "out of an abundance of caution," according to the superintendent.
"We can stop pretending that this is just the natural order of the universe and things happen this way," Walz said at a Monday press conference. "I'm going to demand that the Legislature finally hold some hearings on some of these reforms, as I said, that have passed in other states and have proven to make a difference."
During the racial justice protests last summer, the cities of Minneapolis and St. Paul imposed nightly curfews for an entire week, which were shortened as nights crew calmer.