Katie Wright, the mother of Daunte Wright, doesn't see any way for her and her family to get justice after her 20-year-old was shot and killed by a Brooklyn Center, Minnesota, police officer on Sunday.
Former Brooklyn Center police officer Kim Potter, a 26-year veteran of the department, shot Wright, a Black man, after a traffic stop and has since resigned. Potter was then arrested and charged with second-degree manslaughter, which carries a 10-year maximum prison term. Police have said that the shooting was the result of an "accidental discharge," and that Potter intended to deploy her Taser, not her gun.
"The last few days, everybody has asked me what we want. What do we want to see happen? And everybody keeps saying justice. But unfortunately, there's never going to be justice for us," Katie Wright said during a Thursday news conference.
Wright went on to say that "justice would bring our son home to us, knocking on the door with his big smile; coming in the house, sitting down eating dinner with us; going out to lunch; playing with his 1-year-old, almost 2-year-old son; giving him a kiss before he walks out the door."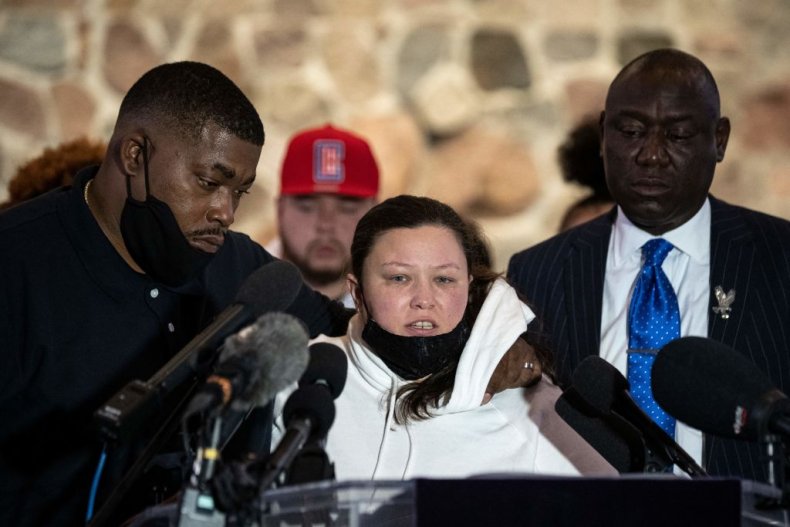 "Justice isn't even a word to me. I do want accountability, 100 percent accountability," she said.
Aubrey Wright, Daunte Wright's father, said during the news conference that his son "did not deserve" to die.
"The way he was killed, he did not deserve that," he said. "What is going on is unfair. These young black men being killed. Can you blame my son or anyone else for being scared of the police?"
Earlier on Thursday, Civil Rights attorney Ben Crump, who is representing the Wright family, criticized the police for describing the killing as an accident. He compared how police responded to Wright to a video of how law enforcement in Arkansas responded when a white suspect resisted arrest, beat officers and then stole their police vehicle.
"This white man was resisting arrest, BEATING A COP with his own baton, and driving away in their police car, and there is not one taser or gun in sight... yet #DaunteWright was killed for a minor traffic violation. #TwoAmericas," Crump tweeted, sharing a clip of the incident.
Wright's father questioned the logic of police referring to the killing of his son as an accident during a Tuesday interview with Good Morning America on ABC News.
"I can't accept that—a mistake, that doesn't even sound right," Aubrey Wright said. "This officer has been on the force for 26 years. I can't accept that."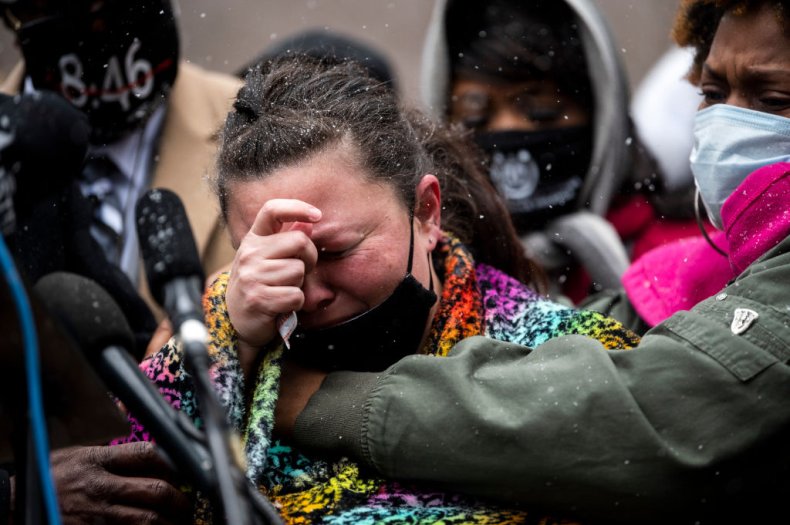 Protests have rocked Brooklyn Center and the surrounding areas in the wake of Wright's death. Hundreds of demonstrators gathered for a fourth night outside the fenced-in Brooklyn Center Police Department again on Wednesday evening.
The killing took place less than ten miles away from the courtroom where former Minneapolis police officer Derek Chauvin is on trial for the death of George Floyd last May. Floyd's death spurred a massive wave of Black Lives Matter and anti-racism demonstrations across the country and around the world, which many activists and lawmakers believe has helped shift public opinion on police brutality and systemic racism.
Newsweek reached out to the Brooklyn Center police for comment.