Dave Chappelle Tests Postive For COVID One Day After Photo with Elon Musk, Grimes and Joe Rogan
Dave Chappelle has tested positive for coronavirus during his multi-night standup residency in Austin, Texas—just one day after he was photographed with Grimes, Elon Musk and Joe Rogan.
The comedian is currently in isolation and has canceled the remaining shows in the Stubb's Waller Creek Amphitheater residency. A representative confirmed he is experiencing no symptoms.
He has been performing socially-distanced shows in Ohio since June before his winter stint on stage in Texas.
Despite rapid audience testing being implemented, and Chappelle receiving daily COVID tests, he still managed to test positive at the socially-distanced shows.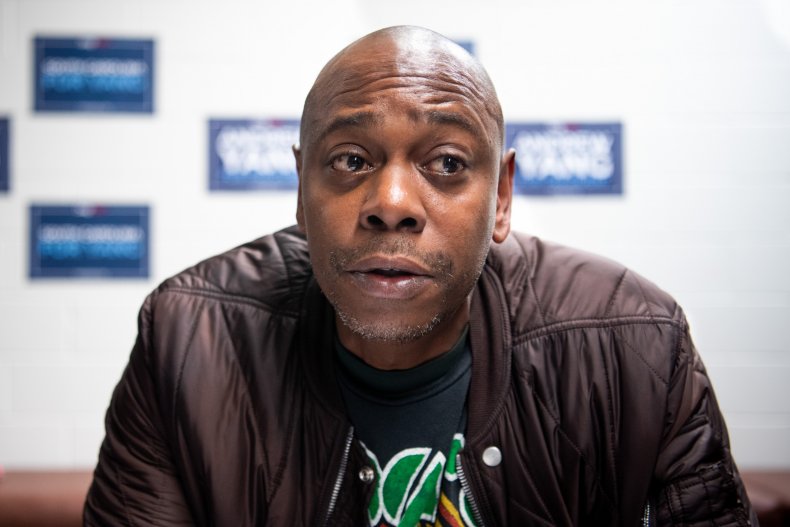 Joe Rogan was scheduled to perform this weekend but has since confirmed the cancellations to fans.
"Sorry my friends, the Friday and Saturday shows at @stubbsaustin have been cancelled," the podcaster posted on Instagram. "We'll reschedule them as soon as we can. Much love to you all."
Just two days ago, Chappelle was photographed backstage at one of his gigs with Joe Rogan, Elon Musk, and Grimes.
Many Twitter users have been speculating about how Chappelle could have caught the virus with many acknowledging the fact that Grimes confirmed she too had tested positive under two weeks ago, and had been experiencing a fever.
"Dave Chappelle tested positive for COVID-19 few days ago he was out with Joe Rogan Elon Musk & Grimes. IDK the other guy.. Hoping the best for them all. #DramaAlert," tweeted YouTuber Daniel Keem.
While another added: "dave chappelle got diagnosed with COVID and this photo was taken two days ago."
Another tweet reads: "Dave Chappelle got Covid hanging out with Grimes and Joe Rogan during his ten-day residency at a BBQ restaurant during a pandemic. I didn't even have to put Elon Musk in that sentence for it to be bat s*** crazy."
The "Oblivion" singer upset a lot of fans when she said she was "weirdly enjoying" being ill with coronavirus—as the illness has claimed the lives of almost 400,000 Americans to date.
The girlfriend of Tesla and SpaceX CEO Elon Musk confirmed via her Instagram stories on January 12 that she tested positive for COVID-19.
"Finally got COVID but weirdly enjoying the DayQuil fever dream...2021," the singer—whose real name is Claire Elise Boucher— wrote.
The 32-year-old revealed the news via a screenshot of the art for SZA's new song "Good Days," and added: "This song is soooo" with a string of emojis. She did not reveal if Musk or their infant child, X Æ A-Xii, had also contracted the virus.