Why Dave Chappelle's Minneapolis Show Got Canceled: 'We Let You Down'
Dave Chappelle is currently on tour, performing in locations across the U.S., U.K., Netherlands and Germany. However, on Wednesday, July, 20, just hours before the comedian was due to go on stage in Minneapolis, his show was canceled.
His stand-up set was scheduled to take place at First Avenue, an iconic venue in the Minnesota city and the location for Prince's Purple Rain movie.
First Avenue took the decision to cancel and announced that Chappelle's show would be moving to a different venue in the city—the Varsity Theater. The replacement venue is now hosting Chappelle on Wednesday, Thursday and Friday.
Why Was Dave Chappelle's Minneapolis Show Canceled?
First Avenue announced in an Instagram post that it would be canceling his show, after the backlash it received for booking the comedian. Chappelle has been a controversial figure since making transphobic jokes in his Netflix special The Closer.
Its post reads: "The Dave Chappelle show tonight at First Avenue has been cancelled and is moving to the Varsity Theater.
"To staff, artists and our community, we hear you and we are sorry. We know we must hold ourselves to the highest standards, and we know we let you down. We are not just a black box with people in it, and we understand that First Ave is not just a room, but meaningful beyond our walls.
"The First Avenue team and you have worked hard to make our venues the safest spaces in the country, and we will continue with that mission. We believe in diverse voices and the freedom of artistic expression, but in honoring that, we lost sight of the impact this would have.
"We know there are some that will not agree with this decision, you're welcome to send feedback.
"If you are a ticket holder, look for an email with information on your ticket(s) transferring to the show at the Varsity Theater."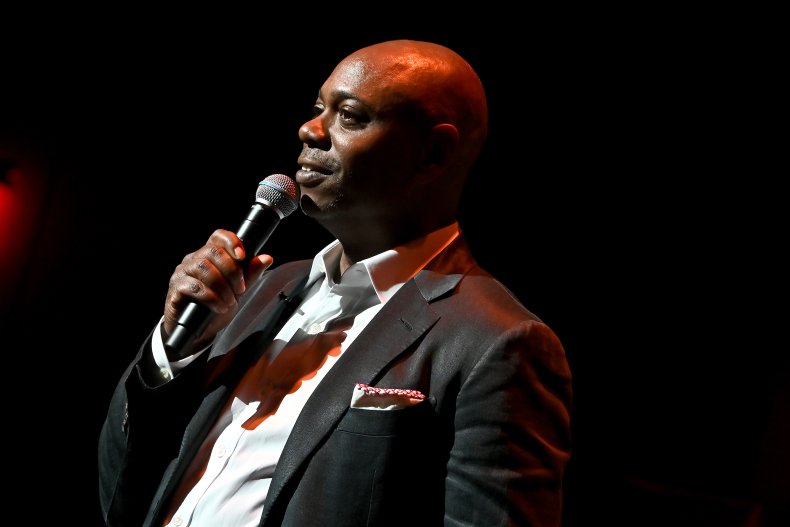 What Has Dave Chappelle Said About Trans People?
In The Closer, Chappelle "expresses discomfort at being 'tricked' into calling a trans woman beautiful, likens trans women to white people wearing blackface and compares the genitalia of trans women to plant-based meat," according to Time magazine.
It's important to note that the comedian has stated that he "does not have a problem with the trans community," pointing to his friendship with Daphne Dorman, a trans comedian who died in 2019. Dorman previously opened for Chappelle and the pair had an honest discussion on stage about trans issues. Dorman said to him: "I don't need you to understand me. I just need you to believe that I'm having a human experience." Chappelle replied: "I believe you, because it takes one to know one."