Louis C.K. Film 'Fourth of July' to Screen This Month: 'We're Back, Baby!'
Louis C.K. has revealed that his new film, Fourth of July, will be released this week, in what will be the comedian's first theatrical movie release since he admitted to sexual misconduct accusations in 2017.
C.K. and the cast of the indie drama took part in a panel discussion at New York City's Beacon Theatre on Thursday night, during which star and co-writer Joe List responded to the moderator praising C.K. for disappearing into his role.
"Well, Louis has disappeared before," List said, in reference to the C.K.'s sexual misconduct.
"We're back, baby!" C.K., who has a small role in the self-financed film as a therapist, said in response, to applause and laughter from attendees, per Variety.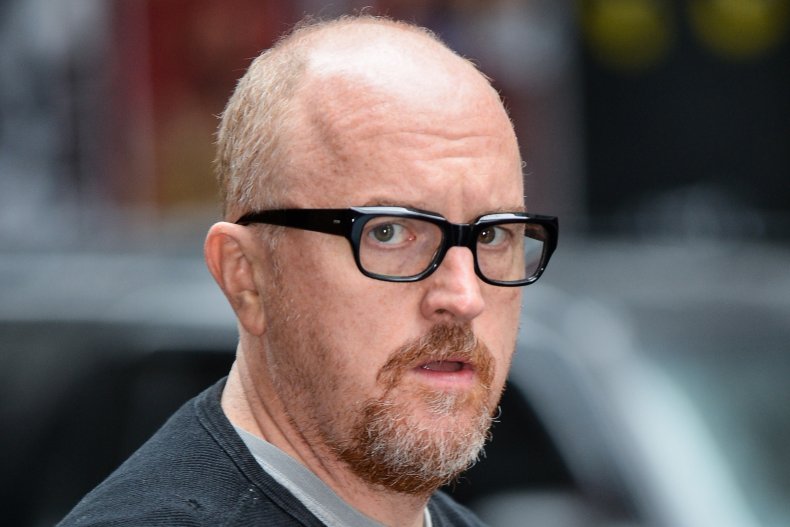 As he spoke with the audience, C.K. revealed that the film will be screened exclusively at AMC Theatres nationwide on July 6 at 7:30 p.m. ET. Per C.K.'s website, the film will then screen in select towns and cities across the U.S.
Other stand-up comedians included in the film's cast are Robert Kelly, Chris Walsh, Lynne Koplitz, and Nick Di Paolo.
The film marks another step back into the limelight for C.K., who in late 2017 was accused by five women of sexual misconduct, including exposing himself and masturbating in front of them in incidents that occurred in the late 1990s and early 2000s.
C.K. confirmed the allegations in a November 10, 2017 statement: "The stories are true. There is nothing about this I forgive myself for. And I have to reconcile it with who I am." He added, "I have spent my long and lucky career talking and saying I want. I will now step back and take a long time to listen."
In response, the premiere of his film I Love You Daddy was canceled. He canceled his scheduled appearance on The Late Show with Stephen Colbert. HBO then dropped him from its November 18, 2017, special, Night of Too Many Stars: America Unites for Autism Programs. Various cable networks also removed his former specials and series from their on-demand services.
C.K. began his gradual return to stand-up comedy in August 2018 when he performed for about 15 minutes at New York City's Comedy Cellar. He performed at the venue a second time that October. He did not mention his sexual misconduct scandal during either show.
"It sounded just like he was trying to work out some new material, almost like any time of the last 10 years he would come in at the beginning of a new act," the club's owner, Noam Dworman, told The New York Times. Dworman said he allowed C.K. to perform because "there can't be a permanent life sentence on someone who does something wrong."
During a December 2018 performance, C.K. received criticism for jokes mocking school shooting survivors, transgender people and people with mental disabilities.
C.K. announced a comeback tour in October 2019. The 18-show tour included dates in places like Peoria, Illinois; Mobile, Alabama and Holon, Israel. The news was met with mixed reactions. He unveiled a comedy special, Sincerely Louis C.K., on his website in April 2020.
For his efforts in Sincerely Louis C.K., the comedian scooped the Best Comedy Album award at the 64th Annual Grammy Awards earlier this year.