Louis C.K. Returns: Disgraced Comedian Makes Surprise Return to New York Stage
Louis C.K. made a surprise return to the stage Monday for a brief stand-up appearance in New York City. It marked the comic's first performance since he admitted to sexual misconduct allegations last November, according to reports.
The comedian performed for about 15 minutes at the Comedy Cellar, according to The New York Times. The club in Greenwich Village is known for its impromptu appearances by famous stars.
The club's owner, Noam Dworman, told the paper that C.K.'s material did not touch upon the scandal that derailed his career during the rise of the #MeToo movement. Five women came forward in November 2017 to say the 50-year-old either masturbated in front of them or attempted to in person or over the phone.
Dworman said the set was "typical" of the stuff that made C.K. one of the biggest stand-up comics in the world. "It sounded just like he was trying to work out some new material, almost like any time of the last 10 years he would come in at the beginning of a new act," he said.
According to the report, C.K. received a standing ovation as he took the stage, but one audience member told the owner that he wished he had known in advance that C.K. was going to appear, "so he could've decided whether to have been there or not." Dworman added that others have since emailed him to say they were happy with C.K.'s appearance.
After the women came forward with the claims, C.K. released a lengthy statement in which he admitted "these stories are true. At the time, I said to myself that what I did was okay because I never showed a woman my dick without asking first, which is also true," he said.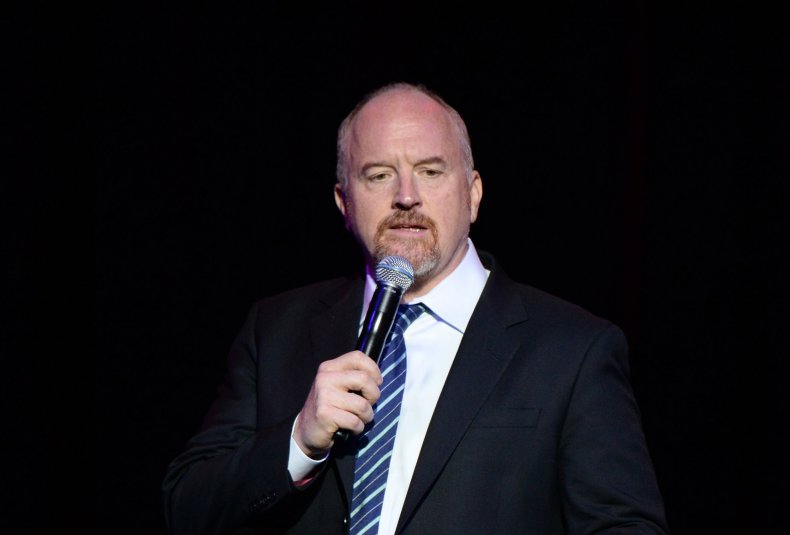 "But what I learned later in life, too late, is that when you have power over another person, asking them to look at your dick isn't a question. It's a predicament for them. The power I had over these women is that they admired me. And I wielded that power irresponsibly."
He added: "I've brought pain to my family, my friends, my children and their mother. I have spent my long and lucky career talking and saying anything I want. I will now step back and take a long time to listen."
After admitting to sexual miscount, C.K. lost his production deal with FX, and his movie I Love You, Daddy was shelved ahead of release. Netflix announced it would not be releasing one of his stand-up shows and removed all of his other specials from the streaming service.
Dworman admitted that "some people will be upset with me" for allowing C.K. to return to the stage, but he added that he believed that "there can't be a permanent life sentence on someone who does something wrong."