Dave Chappelle Announces Four New Netflix Specials Following Backlash
Comedian Dave Chappelle will be helming four new standup specials for streaming giant Netflix, just months after he made controversial remarks about the transgender community in his last special for the platform.
The specials will mark Chappelle's return to the streaming giant just four months after his previous Netflix show, The Closer, generated a string of backlash after Chappelle made references to the transgender community that some people said were offensive.
Chappelle, 48, announced Friday that he would be executive producing the series of specials, while also serving as host of the programs. The specials will be produced as part of the comedian's Chappelle's Home Team standup series done in conjunction with Netflix, and each will star a different comic hand-picked by Chappelle.
The first of these four specials will be available to stream starting February 28, Chappelle said. This show, called Earthquake: Legendary, will feature Washington, D.C. standup comic Earthquake.
Longtime Chappelle collaborator Donnell Rawlings will also star in one of the specials.
"I've been doing this a long time and comedians like Quake and Donnell are not only friends but have inspired my own career," Chappelle said. "Anyone in the comedy community knows these names and knows their time to shine is long overdue. I am proud to be a part of this moment."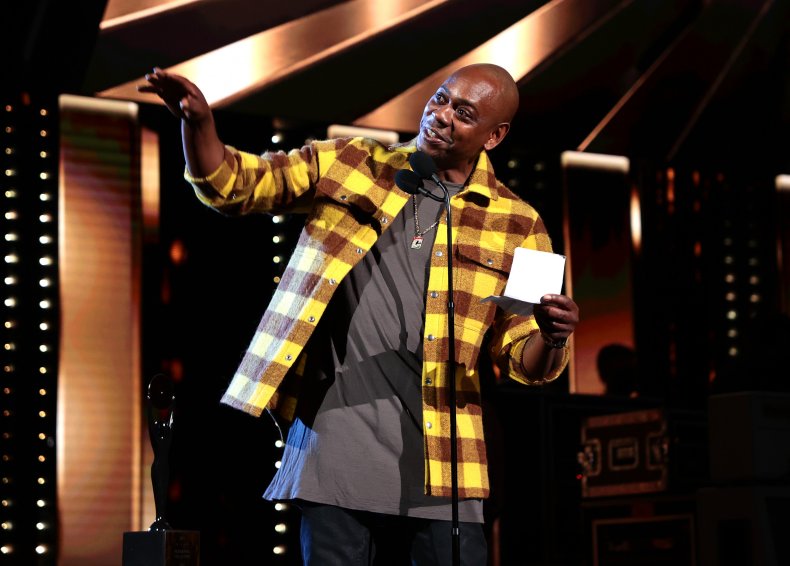 A number of the segments within The Closer were characterized as transphobic, and LGBTQ advocacy group GLAAD said in a statement that "Dave Chappelle's brand has become synonymous with ridiculing trans people and other marginalized communities."
One of the controversial comments involved Chappelle saying: "Gender is a fact."
"Every human being in this room, every human being on earth, had to pass through the legs of a woman to be on earth," the comic said. "That is a fact."
Chappelle also included a line about trans women's genitalia, saying that it is "not quite what it is."
Following the controversy, Netflix CEO Ted Sarandos at first defended Chappelle's special and stood behind the comedian, saying: "We have a strong belief that content on screen doesn't directly translate to real-world harm." After the backlash continued, though, Sarandos later told The Hollywood Reporter that he "screwed up" in regard to internal communications within the company about the special.
As the controversy continued, an estimated 100 Netflix employees organized a walkout in late October. Netflix's handling of the situation eventually led to the resignation of Terra Field, a high-level engineer for the company and the founder of its transgender employee research group.
Ahead of the walkout, Netflix said in a press release: "We value our trans colleagues and allies, and understand the deep hurt that's been caused. We respect the decision of any employee who chooses to walk out, and recognize we have much more work to do both within Netflix and in our content."
However, the controversy went further when another employee associated with organizing the walkout, B. Pagels-Minor, sued Netflix after being fired. Pagels-Minor claimed that the firing had come as a result of their transgender activism, but Netflix insisted that it was due to Pagels-Minor leaking confidential information.
As the layers of controversy ran deeper, Chappelle himself eventually addressed his comments, saying that, while he was open to meeting with transgender rights groups, he would not be "bending to anyone's demands."
"I said what I said, and boy, I heard what you said. My God, how could I not?" Chappelle said in a post on his Instagram. "You said you want a safe working environment at Netflix. It seems like I'm the only one that can't go to the office anymore."
Newsweek reached out to Chappelle's agent and Netflix for comment.