Who Is Dave Maimaron? High School Coach Fired Over Team's Anti-Semitic Play Calls
A Massachusetts high school has fired the head coach of its football team as it investigates reports that the team used anti-Semitic language during a game.
On Wednesday, Duxbury High School said it had "severed ties" with Dave Maimaron and canceled Friday's game against Hingham as it looks into the allegations, which include claims that the players referred to Auschwitz.
"On behalf of the staff and players of the Duxbury High School football team, I want to extend my apology for the insensitive, crass and inappropriate language used in the game on March 12," Maimaron said in a statement released earlier this week.
Speaking to The Boston Globe, he added: "The staff and the team have been transparent and cooperative with administration during this time, and we have taken responsibility for the incident.
"We are dealing with this as a team and focusing on the lessons we can learn from this."
Maimaron is also a special needs teacher at Duxbury, but it is unclear whether he will hold on to that position.
Since being appointed head coach in 2005, Maimaron has turned the program into one of Massachusetts' most successful teams. In 15 seasons, the Dragons have compiled a 159-43 record and won five state championships.
Maimaron, however, was not on the touchline for the school's most recent outing, a 37-0 thrashing of Silver Lake on March 19.
The game came a week after Duxbury players allegedly used anti-Semitic terms in their season opener—high school football is being played in spring in Massachusetts—against Plymouth North.
Plymouth North school officials alerted their Duxbury counterparts to the derogatory terms, which were used to call audibles.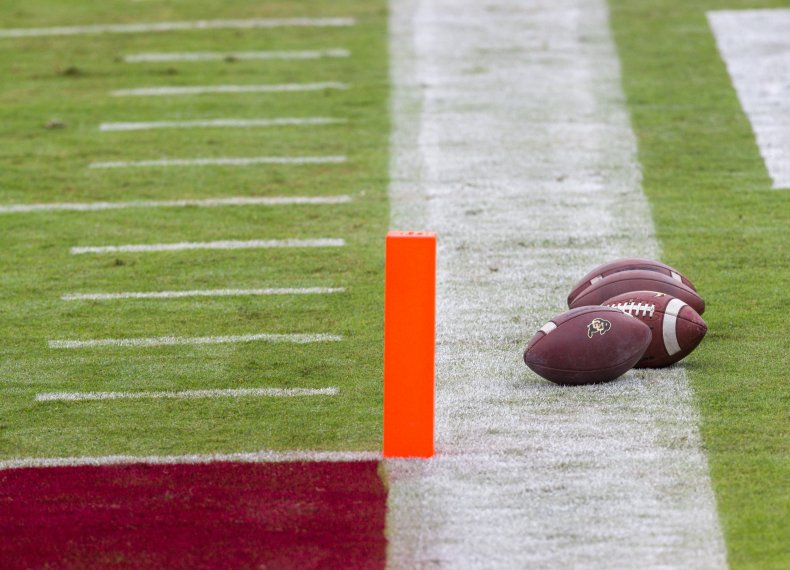 On Tuesday, the president of the New England Anti-Defamation League, Robert Trestan, called for an independent investigation.
Trestan said he had been told by Duxbury's school superintendent John Antonucci that the words "rabbi" and "dreidel" were used to call plays, along with references to Auschwitz and other anti-Semitic remarks.
"It's deeply hurtful to the Jewish community to learn that the plays somehow connect to the Holocaust and Judaism," Trestan said.
"This is a really serious situation. There are indications of a systemic failure both on and off the field."
State Senator Barry Finegold told CBS Boston that he had reached out to the school and offered to educate the football team on the meaning of the words.
"I don't know how a coach would allow this to happen," said Finegold, who is Jewish and played football at high school and college level.
"To me, it's a lack of respect for Jewish culture, the Jewish religion, it's just very surprising. When someone says Auschwitz, I don't think these young people understand how harmful and hurtful that is to people that are Jewish."
Antonucci was one of four members of Duxbury's administration to sign a strongly worded statement condemning the incident.
"The outrage is real, warranted, and we hear it," the statement read. "The fact that members of our school community used such offensive language, including anti-Semitic language, is horrifying and disappointing."
The school's administration suggested it remained to be seen whether Duxbury would complete the season.
"A decision about future games and the fate of the football season will be made at a later date," it said.
Duxbury has hired Edward Mitnick of Just Training Solutions to assist the investigation. According to the statement, Mitnick is an "experienced attorney and investigator, and has provided services to employers throughout the U.S. for over 30 years."