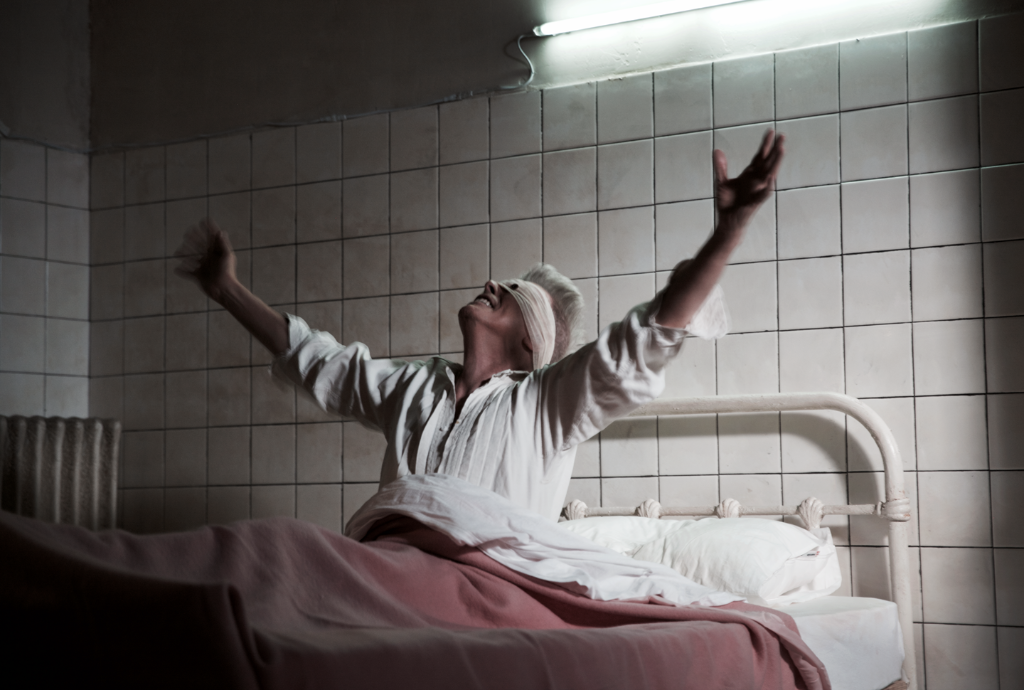 David Bowie turns 69 years old today, and he's given the world a present: his 28th album, ★ (pronounced Blackstar). Given the record's cosmic symbolism, Bowie's interest in the cosmos, the release of the interplanetary short film for the album's title track and the collaboration with an experimental jazz group reminiscent of Exploding Star Orchestra, it's easy to surmise that Blackstar is a space oddity for the Information Age.
But there's a lot more to the shimmering Blackstar than it seems at first blush. Hybrid slang, funky beats inspired by Kendrick Lamar and fascinations with fallen men are but a few themes that get fully realized on Blackstar. Here's an unofficial guide to the ones that have stood out to us upon release day.
17th-Century Tragic Theater
Bowie's interest in theatrics is well documented, including with his new off-Broadway play Lazarus. But as the A.V. Club notes, he name-checks an unusual 17th-century theatrical work on Blackstar: John Ford's 'Tis​ Pity She's a Whore. The play, one of the most contentious of its time, centers on the incestuous (and doomed) affair between siblings Giovanni and Annabella. Giovanni ends up stabbing Annabella in the heart, and a cardinal shrugs and says—you guessed it—"'tis pity she's a whore." The tale is immortalized in the twinkling, percussion-heavy Blackstar number titled "'Tis a Pity She Was a Whore." Here, Bowie takes on a much more punishing role as who we presume is Giovanni, explicitly talking about castration, chalking it up to "fate, I suppose."
Experimental Jazz
Critics are praising Bowie's paradigm-shifting Blackstar for challenging the confines of jazz with an experimental backing band. But Bowie's dalliances with the genre aren't necessarily new—they extend far back to when he still went by the name Davie Jones. As a teenager at Bromley Technical School in the early 1960s, he learned how to play the plastic alto saxophone (a gift from his mother) after his half brother, Terry Burns, introduced him to John Coltrane and Charles Mingus. Bowie's appreciation for jazz is peppered throughout his extensive catalog, from the saxophone crooning alongside Ziggy Stardust's "Soul Love" to pianist Mike Garson's flourishes on "Aladdin Sane" and his collaborations with fellow jazz freak (but not relative) Lester Bowie, the trumpeter, on his 1993 album Black Tie White Noise.
Blackstar indeed booms with saxophone solos, notably in the lucid-dream-like "Dollar Days" and the rollicking "'Tis a Pity She Was a Whore." But Bowie also delves into a new world where shadowy jazz probes funk, noise and rock with panache. He's even unafraid to get a little smooth on "I Can't Give Everything Away," a quantum leap from his 2013 album, The Next Day, that pays off. Part of this is due to his collaboration with an avant-garde jazz group, led by Grammy-nominated saxophonist Donny McCaslin, which serves as Bowie's backing band on Blackstar. (James Murphy, frontman of the recently reunited electronic group LCD Soundsystem, also plays percussion on two of the album's tracks.) The crew—anchored by keyboardist Jason Lindner, bassist Tim Lefebvre, drummer Mark Guiliana and guitarist Ben Monder—is tight with the Maria Schneider Orchestra, which worked with Bowie on the song "Sue (Or in a Season of Crime)," which appears on Blackstar as well as his 2014 anthology, Nothing Has Changed, according to The New York Times.
Kendrick Lamar
We knew long ago that Blackstar would be an anomaly, even for Bowie. Thanks to a November 2015 Rolling Stone interview, we found out two things: one, that Bowie loved To Pimp a Butterfly as much as we did, and two, that Blackstar was a decided break from anything we'd heard from the star before. "We were listening to a lot of Kendrick Lamar," Blackstar producer Tony Visconti told the magazine. "We wound up with nothing like that, but we loved the fact Kendrick was so open-minded and he didn't do a straight-up hip-hop record. He threw everything on there, and that's exactly what we wanted to do. The goal, in many, many ways, was to avoid rock and roll."
Thematically, Kendrick Lamar's lyrics tackle key issues of race, politics and blackness. But Bowie has drawn from Lamar's free-flowing funk, flourishing on Blackstar songs like "Sue," which thunders with meaty bass-line freestyles, and "Girl Loves Me," a song where the headbangs unexpectedly come from orchestral finishes.
Nadsat
A central feature of Anthony Burgess's classic A Clockwork Orange is that it's written entirely in Nadsat, the fictional, hybrid Russian-American slang language of the future that Alex DeLarge and his cronies use as they stalk the streets. Bowie has long harbored a fascination with Nadsat, first apparent in his 1972 hit "Suffragette City," in which he exclaims: "Droogie, don't crash here!" (In Nadsat, droog means friend.) Forty-plus years later, Bowie has written a song mostly in Nadsat, Blackstar's "Girl Loves Me" (though Rolling Stone notes that the song also features elements from the slang language Polari, which gay men in mid-20th-century London used to communicate). "Girl" sounds almost like a scat, with Bowie spitting the words so fluidly you'd think it was in his native tongue. As of press time, we've discerned the words malchick (boy), moodge (man) and tree (three), and the chorus, in which Bowie asks: "Where the fuck did Monday go?" Who knows, Bowie. Who knows.
Lazarus
The biblical tale of Lazarus is familiar: A man dies and is resurrected by a miracle ("Thanks, Jesus!"). David Bowie's various interpretations of the tale are, well, different. Earlier this year, Bowie announced he was adapting The Man Who Fell to Earth, the 1976 sci-fi film in which he plays a fallen alien, for the stage. While it's been over a decade since he last performed live, he's crafted an entirely new persona: the actor Michael C. Hall, who stars in the play Lazarus and has been occasionally acting as Bowie's mouthpiece. "Lazarus" is also the second single from Blackstar, in which Bowie takes on the role of the fallen man who is resurrected, briefly, to say goodbye.
The Perils of Power
One of the more controversial points surrounding Blackstar is the back-and-forth about whether Bowie wrote the title song about the rise of the Islamic State militant group (ISIS). Speaking to Rolling Stone, Blackstar collaborator Donny McCaslin said that Bowie had confided to him that the tune was "about ISIS." This assertion came as a surprise to producer Tony Visconti and drummer Mark Guiliana, who said they didn't know this, yet potent images of blood-soaked crucifixions and the repeated line "on the day of execution" in the "Blackstar" short film could be interpreted as such. Later on, the Guardian reported that a Bowie rep denied the theory that "Blackstar" was explicitly about the militant group. Yet given Bowie's questionable interest in fascism during his Station to Station years (in 1976, he arrived at London's Victoria Station and gave a wave from a convertible that people mistook for a Nazi salute, which he's repeatedly denied), it's entirely possible that he'd probe the parallels between power and ego here.
Stardom
While he's press shy these days, Bowie hasn't been mum on how stardom breaks stars. In the mid-1970s, Bowie and his frequent collaborator Iggy Pop—coke-addled and on the verge of a breakdown—went to Berlin to get clean, which led to a creative renaissance for both. Iggy created Lust for Life and The Idiot out of the experience, while Bowie released his exceptional Berlin trilogy, consisting of Low, Heroes and Lodger. He eventually returned to his adopted home of America, and in an attempt to protect his private life in New York, he now rarely makes public appearances and keeps a low profile. But he still alludes to the unforeseen consequences of placing people on pedestals, notably on "Lazarus." "Look up here, I'm in heaven," he croons. "I've got scars that can't be seen." But he's quick to remind us on "Blackstar" not to pigeonhole him; after all, the Thin White Duke days are long gone. "I'm not a film star, I'm not a marvel star," he claims. "I'm a black star."