David Bowie's Son Duncan Jones Reminisces on His Love of Boxing, Wonders What His Father Would Make of Tyson Fury
The late David Bowie's son, filmmaker Duncan Jones, has weighed in on British boxer Tyson Fury's knockout victory over Deontay Wilder Saturday night, wondering what his father would have made of the bombastic British heavyweight.
Fury won the WBC heavyweight championship in a definitive seven-round contest in Las Vegas, capping a comeback two years in the making as he battled mental health issues and addiction.
On Sunday night, Jones took to Twitter to talk about Bowie's love of boxing, particularly British heavyweights like Fury.
"You might be surprised to know my dad loved watching heavy weight boxing," said the Moon director. "Especially when belts were at stake & a Brit was fighting. We would usually be in different countries, but would stay on the phone if there was a Brit with a title on the line."
Bowie died in January 2016, around the same time Fury became a global name in boxing.
Jones added: "Dad thought Lennox Lewis was brilliant... he waxed nostalgic about Henry Cooper, wished Big Frank [Bruno] was the full package and would have had a lot to say about [Anthony] Joshua. I'd have loved to know what he made of Fury. Missed having that 7 round phone call last night."
In the boxing world, Fury has buoyed his in-ring reputation with his distinct brand of showmanship and pageantry, not dissimilar from how Bowie marked different periods of his career with head-turning fashion and characters such as Ziggy Stardust.
In response to fans on Twitter, Jones, 48, revealed that his father often did boxing training to prepare for grueling live tours.
"It's a great way to train for tours and dad did train this way for this tour," Jones responded to a Bowie fan who posted the cover of the 1983 album Let's Dance, which features the singer sporting boxing gloves and with his fists up.
"Each round is approximately the same length as a song, so if you can get your cardio up enough to do a full 12 or so rounds, you're ready to go," added Jones.
To prepare for the world tour that followed the release of Let's Dance, Bowie enlisted Texas boxing coach Richard Lord to get him into shape, according to author Adam Pitluk's 2006 book, Standing Eight: The Inspiring Story of Jesus "El Matador" Chavez, which was quoted in a Vice article in 2015.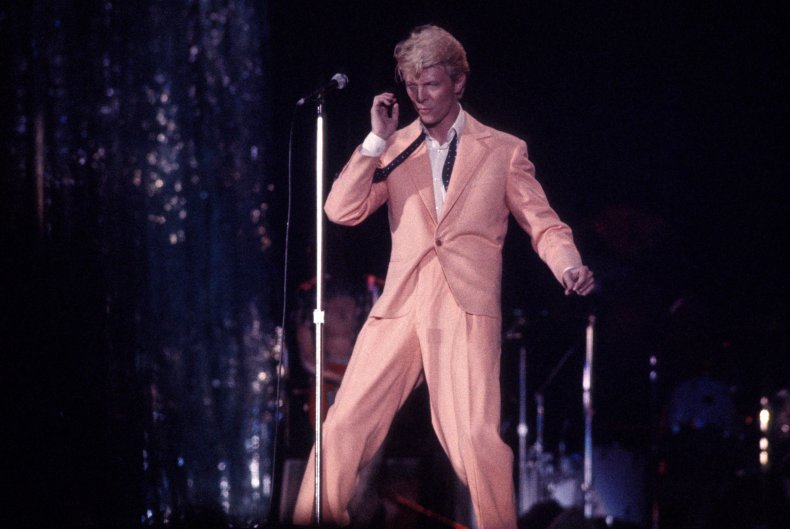 "When Ziggy Stardust called Lord, the trainer nonchalantly agreed to take the rocker under his wing, and the two trained together for a couple of months. Bowie ran the steps and then worked the heavy bags at an old gym on 12th and Jefferson streets in downtown Austin," wrote Pitluk.
"Bowie developed such an affinity for boxing that he even tried his hand at sparring. 'I'm one of the few people that punched David Bowie in the face and didn't get the s*** beat out of me for it,' Lord said. Bowie was photographed for the cover of his Let's Dance album wearing boxing gloves and striking a pose that was quite similar to the stance Lord used when fighting on the pro circuit."