David Bowie's Widow Iman Vows Never to Marry Again As 6th Anniversary of His Death Nears
Supermodel Iman has vowed that she will never marry again, almost six years after the death of her husband David Bowie.
The rock legend, who was born David Jones, died on January 10, 2016, 18 months after being diagnosed with liver cancer. He was 69.
As the 6th anniversary of his death approaches, Iman, 66—who married Bowie in 1992—has said she has no intention of exchanging vows with another person and can still "feel his presence."
In an interview with People magazine, the fashion and cosmetics trailblazer said: "There are days that are harder than others but the memories are not all sad of why the person isn't here. The memories are now of how great it was."
The Somali-American supermodel added. ""Sometimes I have to remind myself that I had 26 years. So, I have that to sustain me."
Iman told the magazine that her children had asked her about the subject of marrying again. She has two daughters—Alexandria Jones, now 21, with Bowie and Zulekha Haywood, 43, from her previous marriage to basketball star Spencer Haywood.
She recalled: "I said 'No, I will not.' I still feel married. Someone a few years ago referred to David as my late husband and I said, 'No, he's not my late husband. He's my husband.'"
"I definitely feel his presence, especially when I look out over the glorious sunsets at our home because David loves sunsets," she said. "So, in that way he is ever present. Through my memory, my love lives."
In a 2018 interview with Net-a-Porter's digital magazine, PowerEdit, Iman spoke of her loneliness since his death.
"I do feel very lonely," she told the outlet. "But do I want a relationship? I can't say never, but no, not now."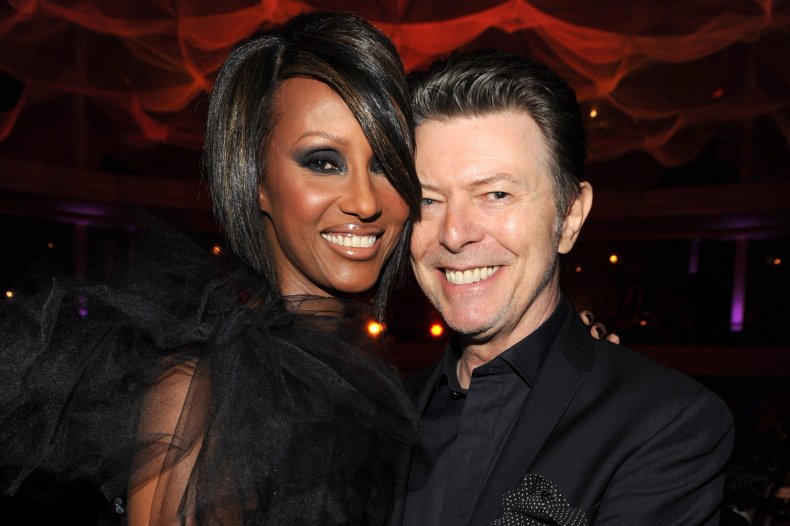 Elsewhere in the interview with People, Iman—who was born Zara Mohamed Abdulmajid—recounted how she was set up on a blind date with Bowie after having moved to Los Angeles in 1990.
"David said it was love at first sight," said Iman, who would go on to live with the singer in New York City. "It took me a few months but I got there."
Speaking of her move to California, she told the magazine: "I had never intended to move there. It's not one of my favorite places. It's so vast but I personally believe now that was my destiny. My destiny was calling me to get there so I could meet David."
After their first date, Iman recalled, she flew to Paris to walk the runway for Thierry Mugler. On arriving at her hotel room, she found it filled with gardenias.
The romantic gestures continued, as Bowie met her at the airport when she returned to Los Angeles.
"And that's how it started," she told People. "He properly wooed me."
She added: "Early on, we were walking down the street and my shoelace came undone and he got on his knees to tie it for me and I thought, he's the one."