David Duke, Ex-KKK Leader Runs for Senate Under 'America First' Slogan
Updated | Just hours after Donald Trump formally accepted the Republican presidential nomination, former Ku Klux Klan leader David Duke announced he is running for a U.S. Senate seat representing Louisiana under an "America First" campaign slogan. It's a two-word phrase that Trump also used in his speech Thursday night at the Republican National Convention.
"I'm overjoyed to see Donald Trump and most Americans embrace most of the issues that I've championed for years," Duke said in a YouTube video posted online Friday morning.
On Thursday night, Trump said "America first" twice during his 75-minute televised address in Cleveland. The candidate vowed to single-handedly save the country from illegal immigration and international terrorism by restoring "law and order."
"The most important difference between our plan and that of our opponent, is that our plan will put America first," Trump said to the crowd's chants of "USA!" "As long as we are led by politicians who will not put America first, then we can be assured that other nations will not treat America with respect, the respect that we deserve."
Shortly after Trump ended his speech, Duke tweeted, "Great Trump Speech, America First! Stop Wars! Defeat the Corrupt elites! Protect our Borders!, Fair Trade! Couldn't have said it better!"
In his video Friday, Duke said, "I was the first major candidate in modern times to promote the term and policy of America first."
Duke, 66, is a former onetime Republican state representative who served in the Louisiana legislature from 1989 until 1994. But he was unsuccessful in past bids for Congress and in the race for governor of Louisiana. The spot he currently is vying for is an open seat that was held by Republican Senator David Vitter, who last year decided not to seek re-election in the November 8 race. In 2002, Duke pleaded guilty to felony mail and tax fraud charges, and he served more than a year in federal prison and was fined $10,000.
Duke endorsed Trump for president early in the primary season, and Trump didn't disavow the support, despite being asked repeatedly during a TV interview if he would do so. The New York billionaire later blamed the broadcast earpiece for his failure to initially condemn support from the white nationalist. Trump said on Friday that he wouldn't accept Senator Ted Cruz's endorsement if his former rival in the presidential race were to offer it.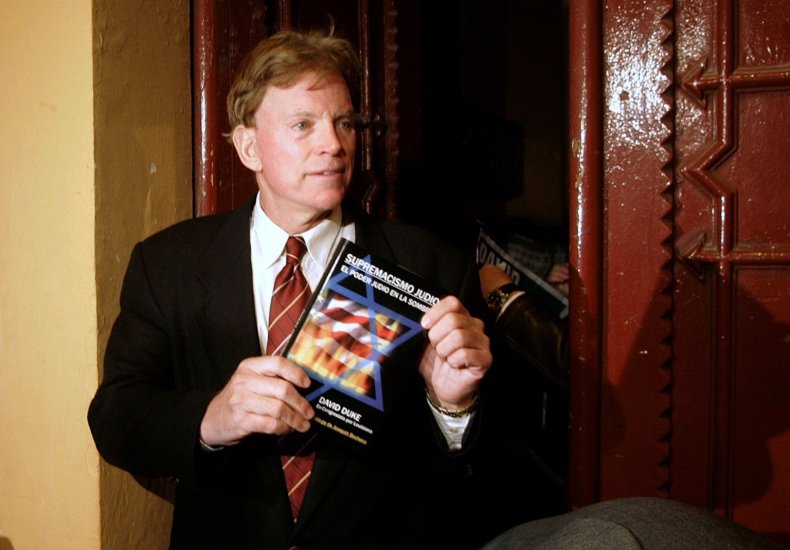 Larry Sabato, director of the Center for Politics at the University of Virginia, tells Newsweek it won't help Trump that Duke has re-emerged in the public eye, and says he expects Trump to be questioned about Duke's support.
"Not sure what prompted David Duke to run, but there's no question he's been trying to ride Trump's wave and even claim credit for it," Sabato says.
Duke said he is set apart from other candidates because he demands respect for the rights and heritage of European Americans. In 2000, Duke formed what is now the European-American Unity and Rights Organization. The Southern Poverty Law Center, an Alabama-based nonprofit that tracks extremist groups in America, says the group claims to fight for "white civil rights" for "European and Americans wherever they may live."
In his campaign announcement, Duke said he has always supported "equal rights for all, special interests for none." He pledged to protect U.S. jobs and businesses, while pursuing total campaign reform and enforcing antitrust laws to break up what he called huge anti-American U.S. media conglomerates. "With the country coming apart at the seams and no one willing to really speak the truth about what is happening, the majority population in this country needs someone who will actually give voice to their interests in the face of an increasingly violent hatefest launched by the media and political establishment against them," Duke said in a post on his website. He also claimed a "great outpouring of overwhelming support" for him to run.
On Thursday night, Trump said he knows the time for action has come. He said, "I have joined the political arena so that the powerful can no longer beat up on people who cannot defend themselves." the next day, Duke ended his own announcement by saying, "The time is now. A revolution is coming in the United States of America."
This story has been updated to include additional details from Duke'​s announcement.