5 Things to Know About David Holmes, Diplomat Who Heard Trump Ask About 'Investigations'
In a last-minute addition to the public hearings in the ongoing impeachment inquiry into President Donald Trump, David Holmes, a diplomat based at the U.S. embassy in Ukraine, has been scheduled to testify Thursday.
According to surprise testimony by U.S. Ambassador to Ukraine Bill Taylor last week, Holmes overheard a phone call between U.S. Ambassador to the EU Gordon Sondland and President Donald Trump in which Trump asked for an update on "investigations" just one day after the notorious July 25 phone call in which Trump repeatedly asked Ukrainian President Volodymyr Zelenskiy to investigate Democratic presidential candidate Joe Biden and his son Hunter.
A Career Diplomat
Holmes began working for the United States Foreign Service in 2002, and has served in Kabul, Afghanistan; Prishtina, Kosovo; Bogota, Colombia; New Delhi and Moscow. From 2010 to 2011 he was a special assistant for South and Central Asia under former Deputy Secretary of State Bill Burns. He served as a National Security Council Director for Afghanistan from 2011 to 2012, before serving at the U.S. Embassy in Moscow. Holmes began serving in Ukraine in 2017.
He Won a State Department Award for "Constructive Dissent"
In 2014, Holmes was awarded the William R. Rivkin Award for Constructive Dissent for speaking out on the division between the State Department's Office of the Special Representative for Afghanistan and Pakistan and the Bureau of Central and South Asian Affairs. In his formal dissent, Holmes urged both departments to put their differences aside and focus on the bigger picture of the South Asian region, according to American Foreign Service Association news. "David Holmes was both a dedicated team player in shaping our policies, as well as a courageous advocate for doing so in a more coordinated and strategic way," his nomination stated.
Holmes Had "Never Seen Anything Like the Phone Call"
In his November 15 deposition, Holmes related how, during lunch at a restaurant in Kyiv with Sondland on July 26, the ambassador called Trump to inform him of Zelenskiy's admiration for him. The president spoke loudly enough that Holmes was able to hear both sides of the conversation, he said. Trump then asked about the likelihood of investigations into the Bidens. "I then heard President Trump ask, 'So he's going to do the investigation?'" Holmes stated. The conversation then turned to rapper A$AP Rocky's release from a Swedish jail, according to Holmes' testimony.
After the call, Holmes asked Sondland about Trump's views of Ukraine. Holmes stated in his deposition that the ambassador told him the president only cares about "big stuff that matters to him, like this Biden investigation that Giuliani is pushing," and could care less about Ukraine.
House Intelligence Committee Chairman Adam Schiff asked Holmes further about Sondland's indiscreet behavior. "I've never seen anything like this, someone calling the President from a mobile phone at a restaurant, and then having a conversation of this level of candor, colorful language." The political counselor also raised concerns about security by having a conversation on a cell phone in an open restaurant. "In my experience, generally, phone calls with the president are very sensitive and handled accordingly," he said.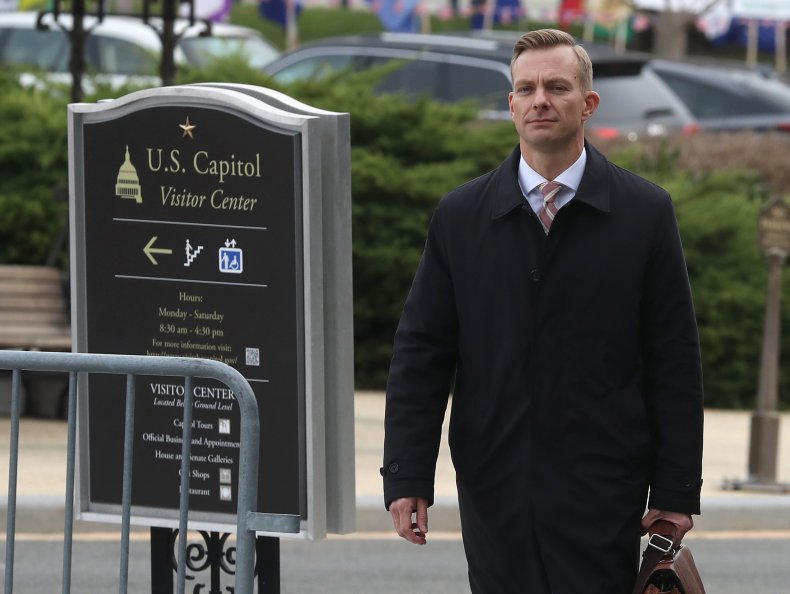 Sondland Confirmed Most of Holmes' Account of the Phone Call
Sondland confirmed Holmes' account during his testimony on Wednesday, only taking issue with Holmes' assertion that he mentioned the Bidens during the July 26 call. "I do not recall mentioning the Bidens. That did not enter my mind," he said.
The Testimony Republicans Fear Most
It was announced on Monday that Holmes would testify alongside Fiona Hill, a former National Security Council aide. As a last minute addition, Holmes is more of a concern to Republicans, CNN has reported. As a firsthand witness to a candid conversation about Trump's alleged drive to convince a foreign power to investigate his domestic political rival, Holmes could prove particularly damaging to the president.