David Letterman Pays Tribute to 'Late Show' Announcer Alan Kalter After Death Aged 78
Alan Kalter, the longtime announcer on the Late Show with David Letterman, has died at the age of 78.
Rabbi Joshua Hammerman of Temple Beth El in Stamford, Connecticut, confirmed that TV veteran Kalter died at Stamford Hospital on Monday, with wife Peggy and daughters Lauren Hass and Diana Binger at his side, according to Variety.
Kalter took over from Bill Wendell as announcer for David Letterman's eponymous talk show in 1995, and held the role until Letterman stepped down from hosting the CBS favorite in 2015.
Paying tribute to his colleague of 20 years, Letterman said in a statement: "When our announcer of 15 years Bill Wendell retired, producer Robert Morton came to my office with an audio tape containing auditions for several announcers. Alan's was the first and only voice we listened to. We knew he would be our choice.
"Whatever else, we always had the best announcer in television. Wonderful voice and eagerness to play a goofy character of himself. Did I mention he could sing? Yes he could. He enthusiastically did it all. A very sad day, but many great memories."
Others who worked on the Late Show over the years also took to Twitter to pay tribute to Kalter, fondly nicknamed "Big Red" and "TV's Uncle Jerry."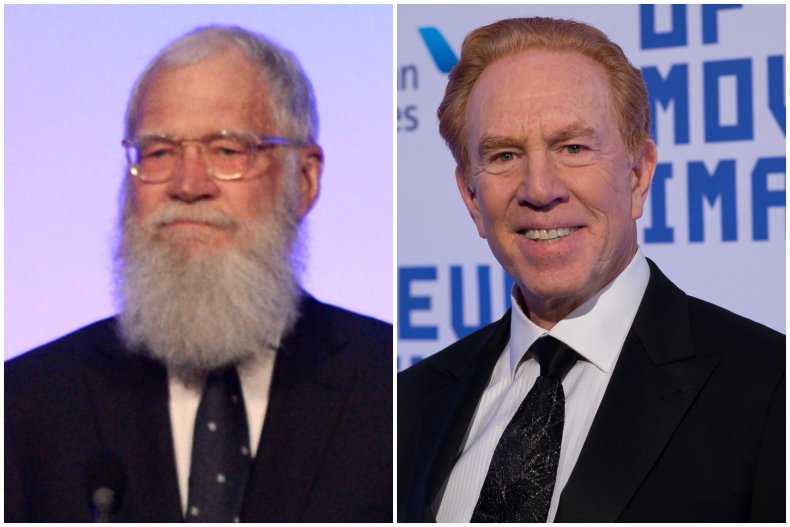 Former Late Show writer Carter Bays, who went on to co-create How I Met Your Mother with fellow show staffer Craig Thomas, called the news "heartbreaking."
He went on: "To us Late Show writers Alan was so much more than just the 'From New York...' guy. He was our muse. We loved writing for him. Such a cheerful presence on the show. And around the office. Rest easy Big Red."
Sharing a fond memory of Kalter, Bays recounted in a follow-up tweet: "At some point while I was at Letterman, Alan gave me a photo of himself with 70s bathhouse era Bette Midler. I don't remember why he gave it to me but it's the greatest photo ever. I'm going to dig it up and post it. Watch this space."
Reacting to the news, Bays' co-writer Thomas said: "Oh man, @CarterBays and I loved writing for Alan -- some of my fondest memories of Late Show are the absolutely bat****-bonkers bits we wrote for Alan, who was always game to let us make him look insane...rest in peace, Alan, and thanks for the laughs..."
Former Late Show writer Caissie St. Onge also tweeted her own memories of Kalter, writing: "When I was at LS, the first lines I ever got on TV were From New Yorks & Man Whos. I started doing them before Alan joined us, but he instituted the policy of saying, 'I enjoyed that one!' to me. He made me feel legit."
Eric Stangel, who was head writer on the show, stated on Twitter: "This is incredibly sad. Alan was always fun to write for and was always up for anything. Rest in peace..."
Meanwhile, former writer Bill Scheft, shared video footage of Kalter in happier times as he said: "RIP Alan Kalter. A lovely man, and as my old boss might say, a 'perfect stooge....'"
Throughout the span of his career, New York native Kalter earned hundreds of credits for voiceover work on radio and TV commercials, as well as working as an announcer on such shows as To Tell the Truth and The Money Maze, among others.
Per Variety, Temple Beth El's Rabbi Hammerman wrote a note to the congregation about Kalter's passing, in which he said of the late star: "Beyond his fame and his golden voice, Alan was a past president of TBE and a true mensch, who was deeply committed to Jewish values and the Jewish people and was especially devoted to this, his home community
"Over the past year, he attended our daily Zoom minyan so religiously that he even joined in from the golf course at Rockrimmon."