David Letterman Has a History of Tense Interviews, From Lindsay Lohan to Janet Jackson
David Letterman is being scrutinized this week after an old interview with Lindsay Lohan resurfaced.
The veteran broadcaster is being widely condemned on Twitter after the 2013 clip, which has been viewed more than 10 million times, showed him pressing the Mean Girls actress about her addiction issues, making her visibly uncomfortable.
"Aren't you supposed to be in rehab now?" Letterman asks Lohan who was aged 26 at the time.. "How many times have you been in rehab?" He later produces a list of questions to ask the squirming actress who said such topics had not been approved in the pre-interview, much to the amusement of the audience.
The clip went viral thanks to Twitter user Trey Taylor and has since prompted a slew of responses containing clips from other awkward Letterman interviews with women celebrities.
Cher
One example posted under the Lohan interview is an interview Letterman did with singer Cher in 1986.
In the clip, the "Believe" hitmaker calls Letterman an "a******" after they spar about Cher's reluctance to go on the show, and Letterman makes a joke about not footing her hotel bill.
Speaking about the incident at Letterman's final show in 2015, Cher said: "I love to make Dave have fun. He's very vulnerable. The first time I met him, I called him an a****** on the air. Trump that anecdote!"
"David Letterman has always been rude/misogynistic af. Cher had his number back in the '80s," said a Twitter user.
Christina Aguilera
Another Twitter user shared a clip of Christina Aguilera on the show in 2004 in which the host grills the "Beautiful" singer about her body piercings.
After telling Aguilera she looks "terribly exotic," Letterman asks her where she is "pierced exactly" before clapping enthusiastically when she says she is "done" with piercings.
"He really enjoyed asking women inappropriate questions and watching them squirm while the audience laughed," a Twitter user said of this clip.
Janet Jackson
Letterman's infamous 2004 interview with Janet Jackson has also resurfaced this week in which the singer states she does not want to "relive" the Superbowl incident but is still press on the topic by the host.
"Oh, god can we talk about something else, please? I've had a day of interviews. I'm sure you guys are sick of hearing about it, I know I am," Jackson says.
Letterman goes on to say that the "wardrobe malfunction" sends a "bad message."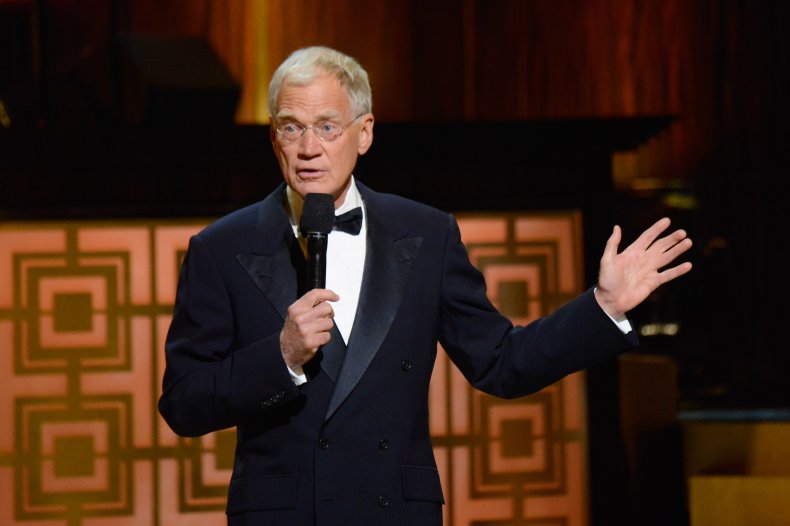 "I would not want him to see somebody—a young woman—to see somebody rip a piece of her clothing," Letterman says chastising her.
"To see a breast?" Jackson responded.
"I ain't got no problems under the right circumstances, you know," Letterman answers. "And by the way, he sees plenty. He's getting a lot more than Daddy."
"Can we talk about something else," Janet pleads one last time. "Because I don't want to focus on my breasts."
Farrah Fawcett
The late Farrah Fawcett also had a tense interview with Letterman during a 1997 appearance on the show.
The Charlie's Angels star tells Letterman "you're making fun of me," during the somewhat incoherent interview.
Paris Hilton
In a 2012 interview, Letterman relentlessly grills socialite Paris Hilton about her experience in prison.
After abruptly questioning a then-26-year-old Hilton about her jail time, Letterman asked: "Tell us now looking back on that experience, what have we learned? What can you tell us?" Hilton shifted in her seat before answering, "Well, obviously it was a very traumatic experience, but I did it, so I feel like I can do anything now."
"I don't really want to talk about it anymore." Hilton eventually says after a barrage of questions about prison food. But Letterman persisted. "This is where you and I are different. Because this is all I want to talk about," he said.
Madonna
In 1984, Letterman introduced Madonna with: "In the past 10 years, she has sold over 80 million albums, starred in countless films, and slept with some of the biggest names in the entertainment industry."
She retaliated by swearing prolifically in the now-infamous television moment.
Newsweek has reached out to Letterman's representatives for comment.