Lindsay Lohan's David Letterman Interview Watched Over 10 Million Times, Sparks Outrage
David Letterman is facing backlash after a "horrifying" 2013 interview with Lindsay Lohan has resurfaced on social media and has been viewed more than 10 million times.
The veteran broadcaster is being widely condemned for an interview with the troubled actress for pressing her about her sobriety and recovery, to the point where she is visibly uncomfortable during the show.
The Mean Girls star, then aged 26, appeared on Letterman's talk show to promote the horror-comedy film Scary Movie 5—however, Letterman insisted on questioning her about addiction rehab despite her saying that this was not agreed prior.
"Aren't you supposed to be in rehab now?" Letterman asks the actor. "How many times have you been in rehab?"
Lohan, who repeatedly looks to someone standing off-camera, replies: "Several."
"How will this time be different?" Letterman asks. "What are they rehabbing, first of all? What is on their list? What are they gonna work on when you walk through the door?"
As the audience laughs along, Lohan remarks that the topic was not mentioned in the segment's "pre-interview."
"Do you have addiction problems?" Letterman asks. "Is it alcohol? Do you drink too much?"
Later on, Letterman produces a printed-out list of things Lohan "has endured," which the actress snatches from him, reads, and then demands he not continue with such a line of questioning. "You can't make a joke of it," Lohan pleads. "That's so mean."
The clip went viral thanks to Twitter user Trey Taylor who is an editor at The Face Magazine.
"This Lindsay Lohan interview on David Letterman in 2013 is horrifying to watch now," he captioned the clip in a post which has gone viral and garnered more than 230,000 likes on Twitter.
Many Twitter users have been expressing outrage at how Letterman treated Lohan on the show, with the host being chastised for "misogyny" and "unprofessionalism."
"He really enjoyed asking women inappropriate questions and watching them squirm while the audience laughed," commented one person who shared a clip of singer Christina Aguilera on the show.
While another person tweeted: "This clip is horrifying in so many ways but one thing that stuck out to me is it is the perfect example of when women try to politely advocate for themselves in a way that society would hopefully deem 'not bitchy' and yet they get steamrolled and ignored."
"This is vile on so many levels," said another. "The misogyny. The blindsiding. The stigma of addiction & rehab. The hypocrisy of wanting people to recover, but then judging how they choose do so. I hope Lindsay Lohan knows how loved she is. The world has treated her and many others so unfairly."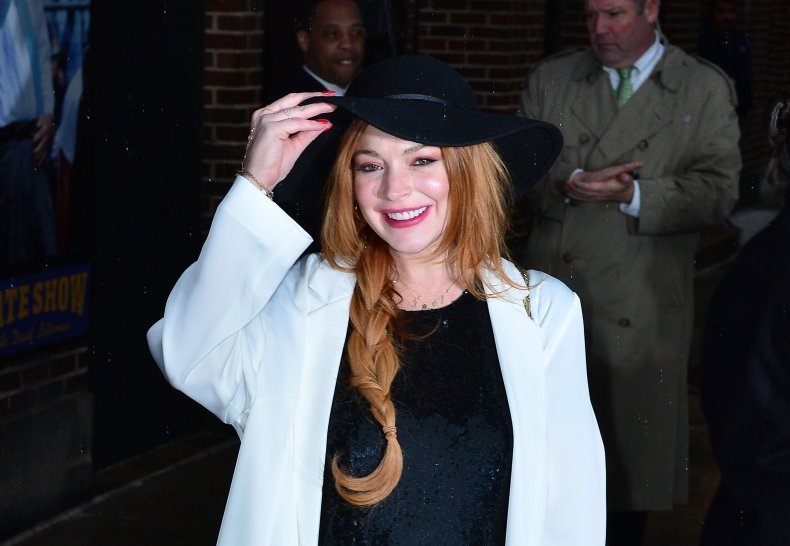 Newsweek has reached out to Letterman's representatives for comment.
Letterman's scrutiny comes amid a renewed interest in how some famous women were treated by the media over the past two decades, with the release of a new documentary about Britney Spears.
The Framing Britney Spears documentary has seen another veteran broadcaster—Diane Sawyer—condemned for a harsh 2003 interview with the singer.
Meanwhile, former The Late Late Show host Craig Ferguson is being praised for sticking up for Spears on his show at the height of the media frenzy surrounding her 2007 breakdown.