Diane Sawyer Faces Backlash for Harsh Britney Spears Interview From 2003
Diane Sawyer is facing backlash after her 2003 interview with Britney Spears resurfaced on social media.
The veteran broadcaster is known for her stern interview approach, but with a new documentary, Framing Britney Spears, shining the light on the popstar's treatment by the media, many are condemning Sawyer for how she treated Spears.
"I think it's time to have a conversation about Diane Sawyer being one of the media's greatest tools of misogyny in the aughts," tweeted actor Jeremy O'Harris. "Her interviews w #BritneySpears #WhitneyHouston are truly some of the most vile from an era particularly vile to women in the limelight."
In the interview, Sawyers questions Spears about her sex life and relationships in what some have said was a sexist manner.
"You broke his heart. You did something that caused him so much pain, so much suffering. What did you do?" Sawyer asked the singer after her public split from Justin Timberlake.
Sawyer also questioned Spears on a comment made by Kendel Ehrlich, who was Maryland's first lady at the time. In a speech at an anti-domestic violence conference that year, Ehrlich condemned Spears as a bad influence, saying: "Really, if I had an opportunity to shoot Britney Spears, I think I would."
Twitter has exploded with criticism for Sawyer and the interview.
"Diane Sawyer asked Britney Spears what she did to cause Justin pain, then told her the Governor of Maryland's wife wanted to shoot her, implying it's Britney's fault because she's a bad role model to kids," tweeted TV producer Bryan Behar. "I don't care how long has passed-Diane Sawyer should be ashamed of herself."
Another person tweeted: "Diane Sawyer owes Britney Spears a thousand apologies."
While director Payman Benz added: "Go watch #FramingBritneySpears on Hulu. It's heartbreaking. It'll anger you about how media and society raises people up and RELISHES in their downfall. Still sickened by Diane Sawyer's bullshit interview that made Britney cry. But above all else, #FreeBritney."
Meanwhile, on an episode of The Talk this week, host Amanda Kloots blasted Sawyer's intrusive questions about Spears' sexuality and said the singer is owed an apology.
"I watched this the other night and I was shocked," Kloots said. "I don't think that the interviews that you see on this documentary would even be allowed today. Like, you wouldn't be able to say what these people are asking her and telling her.
"I think Diane Sawyer owes her an apology. I think the whole world owes her an apology," she said. "But it's heartbreaking to see what this poor girl went through and how she couldn't go anywhere without being attacked."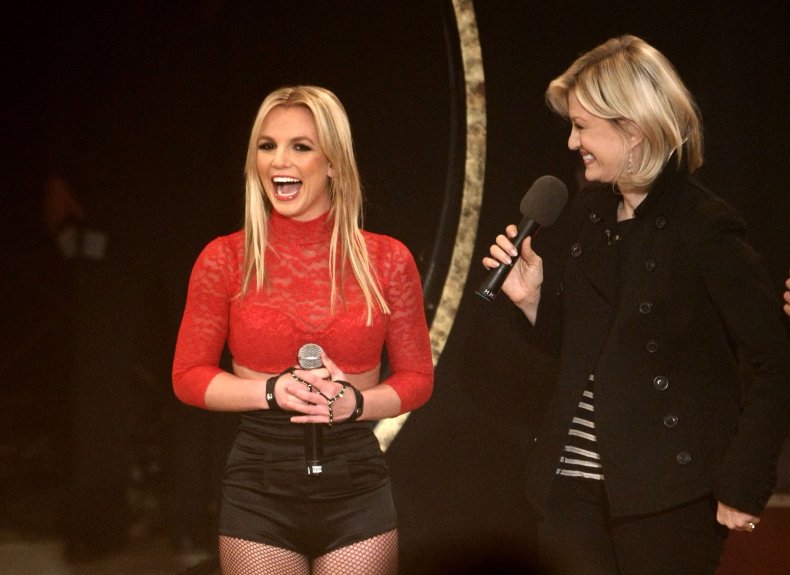 Newsweek has reached out to ABC News and Sawyer for comment.
As Sawyers is condemned for her treatment of the "Hit Me Baby One More Time" singer, a clip from another broadcaster, Craig Ferguson, is going viral after the late-night host defended Spears on The Late Late Show in 2007, at the height of her public breakdown.
"We shouldn't be attacking the vulnerable people," Ferguson says in the clip. "And this is a mea culpa, this is just for me, I think my aim has been off a bit recently and I want to change it a bit. So tonight, no Britney Spears jokes. This woman has two kids, she's 25 years old, she's a baby herself. She's a baby."
Framing Britney Spears, which is now streaming on Hulu, examines the pop star's court battle with her father for control of her estate and the much-discussed conservatorship that has dominated her life for the past 13 years.
The documentary has led many to question the singer's treatment by the media, and her portrayal in the aughts amid her famous public meltdown, with many asking why it appears that no one was looking out for this woman during extremely vulnerable times in her life.