Republican candidate David Perdue is the current odds-on favorite to win Georgia's 2022 gubernatorial election, according to the betting aggregator website US-Bookies.com.
According to December 21 release from US-Bookies, Perdue has a 58.8 percent chance of winning the election, followed by incumbent Governor Brian Kemp, who was given 40 percent odds. Stacey Abrams, the only Democrat who has officially declared a run for the office, is in third in US-Bookies' list with 25 percent odds to win the election.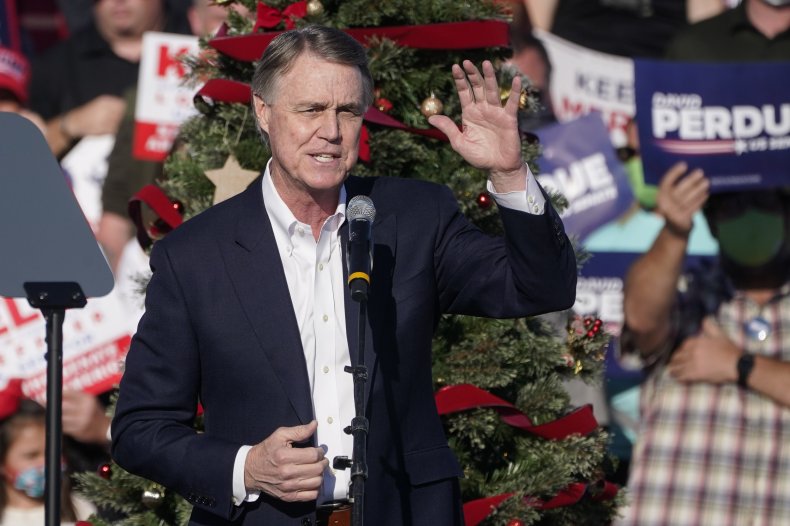 "Stacey Abrams seems to have a lot of support from Democrats, as this will be her second time running for governor of the state," a US-Bookies spokesperson said in a statement. "However, she has a lot of ground to make up as the sole Democrat in the race right now, as Perdue and Kemp are making a tight race at the top of the bookies' lists."
Former Georgia State Representative Vernon Jones was given 7.7 percent odds, while former Senate candidate Kandiss Taylor (2 percent) and carpet mill crew leader Jonathan Garcia (1 percent) rounded out the other candidates on the betting site's list.
Even before the betting odds were released, Perdue represented a formidable challenge to fellow Republican Kemp. Along with serving as a senator from Georgia from 2015 to 2021, Perdue was publicly endorsed by former President Donald Trump.
Kemp, on the other hand, has publicly clashed with Trump after refusing to dispute his state's 2020 presidential election results.
Trump's loss in Georgia was seen as a costly blow to his failed reelection bid, and Trump has said he was "ashamed" of endorsing Kemp when he ran for governor in 2018.
In a December 6 statement to announce his endorsement of Perdue, Trump called the former senator a "Conservative fighter who isn't afraid of the Radical Left."
"Kemp has been a very weak Governor—the liberals and RINOs have run all over him on Election integrity and more," Trump's statement added. "Most importantly, he can't win because the MAGA base—which is enormous—will never vote for him."
The former president also wrote, "Trump supporters will turn out to vote for these great leaders in big numbers. David Perdue has my Complete and Total Endorsement. He will not let you down!"
Perdue officially declared his candidacy on the same day he received Trump's endorsement. In a video posted on his website, Perdue stated, "I'm running for governor to make sure Stacey Abrams is never governor of Georgia."
"A group of GOP lawmakers wrote a letter to former Senator David Perdue, urging him to not challenge incumbent Governor Brian Kemp, but the bookies say Perdue is more likely to win the election," the US-Bookies.com spokesperson added in the company's statement. "Perdue's endorsement from Donald Trump can't be ignored, as the former senator is now part of a list of Trump-backed candidates who the odds favor to win their respective elections."