David Perdue Explores 2022 Run Against Warnock as McConnell Prioritizes Regaining Majority
Former Georgia Senator David Perdue appears to be exploring a 2022 run after his recent defeat in the January 5 Georgia Senate runoff election, according to paperwork filed with the Federal Election Commission on Monday.
Perdue, a Republican, lost his seat in the Senate to his Democratic challenger, Jon Ossoff. If Perdue does run in 2022, he would be challenging Raphael Warnock, the other Democrat who unseated one of Georgia's incumbent Republicans during the runoff election on January 5.
Ossoff won a full term in the Senate by unseating Perdue, but Warnock won a special runoff election against incumbent Republican Senator Kelly Loeffler, whose term was set to expire in 2022. Their wins delivered Democrats a slim majority in the Senate, with 50 seats secured for the party and Vice President Kamala Harris able to cast tie-breaking votes.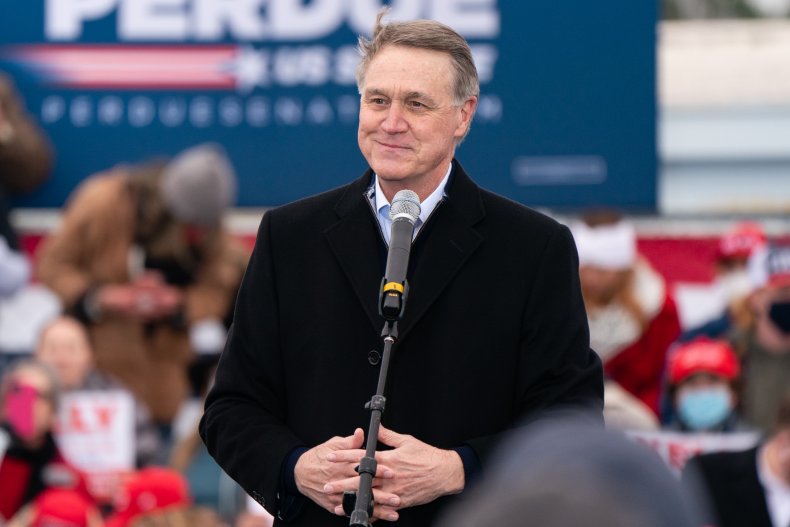 According to the paperwork Perdue filed on Monday, his principal campaign committee for the 2022 election is named "Perdue for Senate." Perdue has not officially announced a run for Warnock's seat, but his Monday filing leaves that possibility on the table.
Perdue was first elected to represent Georgia in the Senate in 2014 and ran against Ossoff in his first bid for re-election last fall. Georgia state law dictates that a candidate must win at least 50 percent of the votes cast in an election in order to win. When neither Perdue nor Ossoff reached that goal, both candidates shifted their focus to the January 5 runoff election, which Ossoff won by about 1.2 percent.
Warnock and Loeffler also moved on to the January 5 runoff following their electoral battle in November. Warnock ultimately defeated Loeffler by about 2 percent.
Before the Democrats' wins in Georgia last month, Republicans held a majority in the Senate for years, with Senate Majority Leader McConnell serving as the chamber's majority leader. The wins by Ossoff and Warnock paired with President Joe Biden's defeat of former President Donald Trump last fall shifted the balance of power in the Senate to the Democrats for the first time since 2015, with New York Senator Chuck Schumer now serving as majority leader.
McConnell recently told Politico that he's focused on helping his party regain control in the Senate during the next election cycle. A Perdue candidacy in Georgia—a state that typically leans Republican—could help McConnell in his pursuit of a Republican majority.
"My goal is, in every way possible, to have nominees representing the Republican Party who can win in November," he said. "Some of them may be people the former president likes. Some of them may not be. The only thing I care about is electability."
Newsweek reached out to Warnock's office for comment and will update this article with any response.
This story has been updated with additional information and background.