Republican David Perdue is running for Georgia's highest office after losing his reelection to the U.S. Senate last year.
Perdue announced Monday he will be challenging GOP incumbent Brian Kemp in a primary to "make sure Stacey Abrams is never governor of Georgia."
"To fight back, we simply have to be united," Perdue said in a video statement. "Unfortunately, today we are divided, and Brian Kemp and Brad Raffensperger are to blame. Look, I like Brian. This isn't personal, it's simple: He has failed all of us and cannot win in November."
Abrams, a Democrat, announced last week she was launching a campaign for governor. Her bid sets up a potential rematch following a contentious 2018 gubernatorial race between her and Kemp.
Since that election, Abrams has become one of the country's leading voting rights activists. In her first 2022 campaign video, she said she was running for governor "because opportunity in our state shouldn't be determined by ZIP code, background or access to power."
Perdue's entry into the race intensifies the Republican primary in a state that flipped blue in last year's presidential election and a January special election for the Senate. Perdue lost his seat to Democrat Jon Ossoff in that race.
His defeat, along with fellow Republican Kelly Loeffler's loss to Democrat Raphael Warnock, gave Democrats narrow control of the Senate. Kemp's campaign has referred to Perdue as "the man who lost Republicans the United States Senate."
"Perdue's only reason for running is to soothe his own bruised ego because his campaign for U.S. Senate failed to inspire voters at the ballot box—twice," Cody Hall, director of communications for Kemp's campaign, said in a statement shared with Newsweek.
"Governor Kemp has a proven track record of fighting the radical left to put hardworking Georgians first, while Perdue is best known for ducking debates, padding his stock portfolio during a pandemic and losing winnable races," Hall said.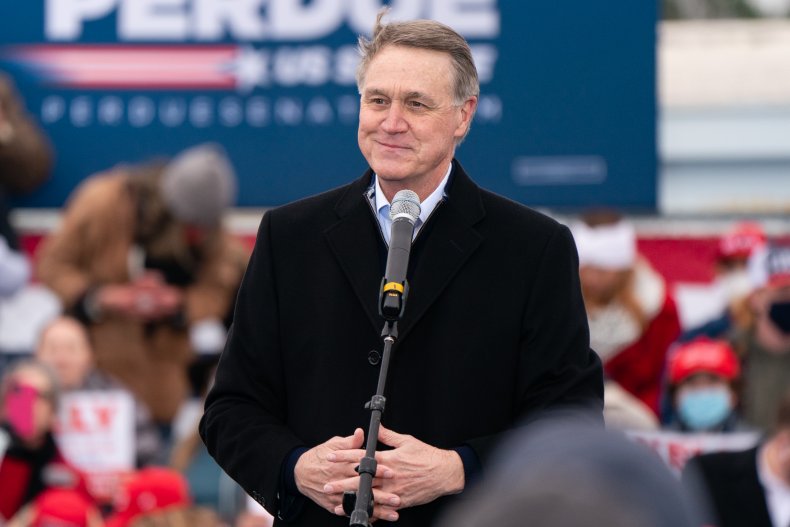 Two other Republicans are already challenging Kemp. Former Georgia state Representative Vernon Jones and educator Kandiss Taylor have launched campaigns for the 2022 race.
The sitting governor has been heavily criticized by former President Donald Trump and other Republicans over his handling of the 2020 election. Trump has made baseless claims that his loss in the Peach State was due to widespread voter fraud, although several audits and recounts only reaffirmed Joe Biden's victory.
"Wow, it looks like highly respected Senator David Perdue will be running against RINO Brian Kemp for Governor of Georgia," Trump said in a statement following Perdue's announcement.
"This will be very interesting, and I can't imagine that Brian Kemp, who has hurt election integrity in Georgia so badly, can do well at the ballot box (unless the election is rigged, of course)," Trump added. "He cost us two Senate seats and a Presidential victory in the Great State of Georgia."
Trump has already endorsed Raffensperger's GOP primary challenger, Jody Hice.
"Unlike the current Georgia Secretary of State, Jody leads out front with integrity," Trump said in a statement in March. "Jody will stop the Fraud and get honesty into our Elections!"