The Day After Supporting J.D. Vance in Ohio, Trump Jr. Lashes out at Mandel
Donald Trump Jr. is attacking Ohio Senate candidate Josh Mandel for his ties to establishment Republicans that have clashed with former President Donald Trump.
Trump's eldest son on Thursday tweeted a video of Mandel appearing with Mitt Romney, John McCain and John Kasich—all Republicans who have drawn Trump's ire. The tweet comes a day after Trump Jr. campaigned for Senate candidate J.D. Vance and reflects the fault lines being set by the former president in the runup to the 2022 midterms.
Trump Jr. wrote in his tweet, "Ohio friends - Meet the real @JoshMandelOhio." The tweet also included an ad produced by political action committee Protect Ohio Values. In his tweet, Trump Jr. called Mandel "the Club for Chinese Growth backed establishment candidate."
"One of the things that's setting me apart right now is how strongly antiestablishment I am," Mandel says in the ad, adding he's taking on "squishy establishment Republicans" like Utah Senator Mitt Romney.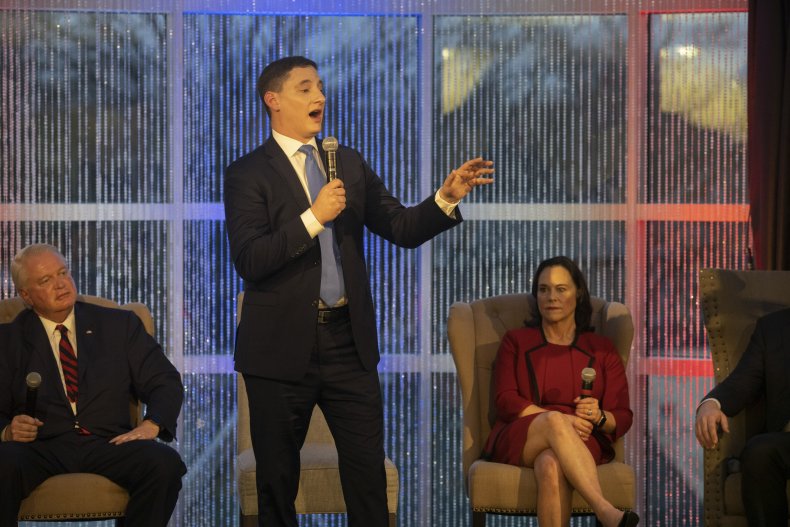 The ad then cuts to clips of Mandel campaigning with Romney, the 2012 GOP presidential nominee who later condemned Trump as a "fraud" and voted twice to impeach him as president.
Also included in the ad are clips of Mandel with other Trump foes. One shows Mandel campaigning with former Ohio Governor John Kasich, a Republican who has consistently criticized Trump since running against him in 2016. Another shows Arizona Senator John McCain, a Republican who also had a public and bitter feud with Trump, praising Mandel as a "centrist."
"But if President Obama is reelected, I will work with him," Mandel says in another clip.
Since becoming the Republican Party's presidential nominee in 2016, Trump has sought to purge the party of opponents. After leaving office, Trump has continued to exert influence on the party, endorsing candidates in GOP primaries for the 2022 midterm election.
A former Marine and state treasurer, Mandel has been an outspoken supporter of Trump. However, the former president last week endorsed Vance, a venture capitalist and author, in the Republican primary for Senate, despite Vance previously disparaging Trump.
Trump Jr. on Wednesday campaigned with Vance in Independence, Ohio, for the primary that is now less than two weeks out. At the event, Trump Jr. said Vance has been "consistent and intellectually honest about his positions and everything as it relates to Trump from Day One," according to the Toledo Blade.
In particular, Trump Jr. said Vance's support for Trump's aggressive trade policy toward China was a key factor in securing the endorsement.
Newsweek reached out to Mandel's campaign for comment.