A Day in the Life of 7Hills, Amman's Community Skate Park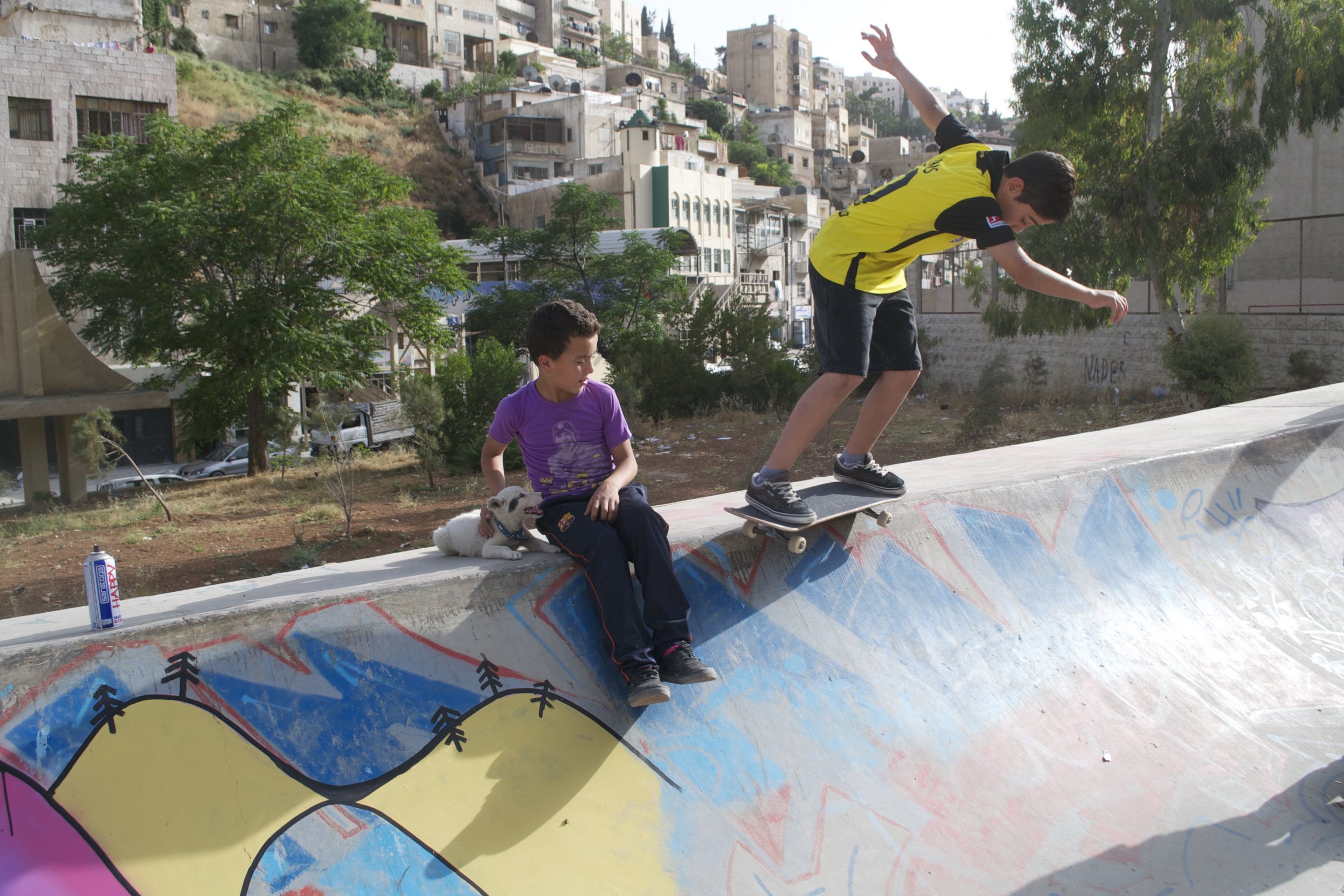 The construction of Amman's 7Hills skate park, built by a team of volunteers and the local community in 18 days last December, piqued the interest of the world's media, a rare positive story to emerge from Jordan, which borders some of the world's most volatile conflict zones and is home to hundreds of thousands of Syrian refugees.
On a scorching, sun-drenched May afternoon five months later, the park is empty. That is, until around 5 p.m., after the boys' school next door has let out and dinner has been eaten. Then, the peaceful concrete bowl covered in neon graffiti is descended upon by schoolboys. At around the same time, artists taking part in a regional street art festival arrive at 7Hills; they're in town to redecorate the slopes. Music, children, spray paint and even a puppy suddenly bring the place to life.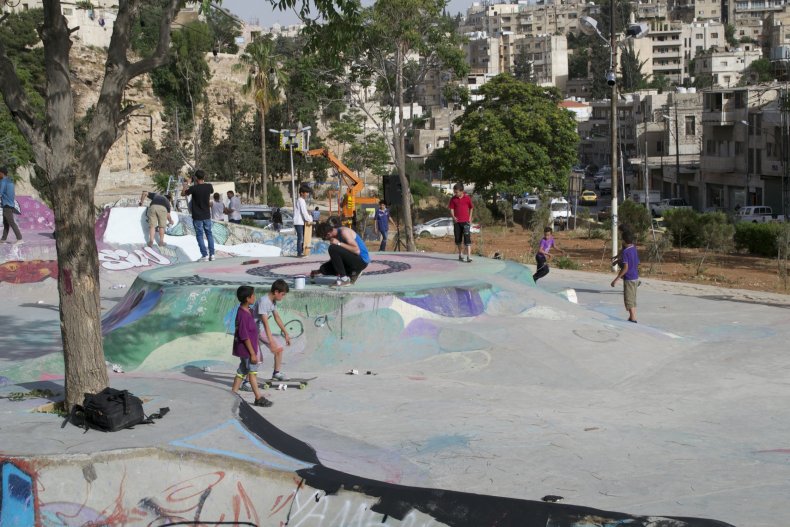 Jonas Ganz, a German-Swiss 21-year-old born in Amman, is the gatekeeper of the 650-square-foot 7Hills, which is already well used and well loved. 7Hills is more than a skate park, says Ganz, who recently moved out of Jordan, to Scotland. The park has transformed into a community hub and a "scene of expression," he says. People there practice poi—a type of performance art using weights—break-dancing, parkour and fire juggling while sharing the space with the young skateboarders.
"[The kids] are slowly taking ownership of the park," he says.
The origins of 7Hills, named after the seven hills Amman was built on, began with Make Life Skate Life, a U.S.-German nonprofit that builds skate parks in communities in developing countries. The group has constructed parks in Bolivia and India, in addition to Amman.
Before 7Hills was constructed, the city's sole skate park was situated in the wealthier area of west Amman. Ganz, who used to be at the park five days a week and bought brooms to make sure the ramps were kept clear of debris, says the location made it difficult for many kids to reach. 7Hills, on the other hand, is situated across the road from stacks of modest sand-colored houses, adorned with flapping laundry, where many kids live. 7Hills is also next to their school, so it has become central to their lives.
"Wholeheartedly…there was a huge need" for 7Hills and a place for the local community to come together, Ganz says. An avid skater, he was unable to demonstrate his skills during Newsweek's May visit due to a bout of tendonitis. "All that I can tell from [the kids] is they're psyched," he says.
In the U.S., he notes, there's a certain snotty, adolescent behavior associated with skateboarding, although as skaters have grown into middle age, they've taken their boards with them. It's arguably become a "high-maintenance…luxury sport," Ganz says. In the U.S., a skateboard deck costs upward of $50, before wheels ($25) and trucks ($20) are included. Residents in the vicinity of 7Hills "live [a] simple Arab life," and the local skate culture has grown organically, with skaters ranging in age from 7 to 21, Ganz says.
In both countries, skateboarding gives a sense of freedom and solidarity, he says. "Something I've really appreciated is that [7Hills has] become different than the skate culture in the U.S. It's completely Arab."
Skate parks in the Middle East can also be found in Oman, Israel, Kuwait and the United Arab Emirates, according to WannaSk8, an online, user-generated atlas of skate parks around the world.
Before 7Hills, none of the local kids knew how to skate. Now, skating vernacular peppers their talk. Ganz speaks to Faris, 11, and his brother Hammoudeh, 9, in Arabic, but they know English-language phrases like "teach me a kick flip." Hammoudeh's favorite trick is a heel flip, while Faris favors the Ollie. The brothers unsuccessfully pester Ganz to let them keep his board for a few hours.
Gaining access to boards and equipment is the biggest challenge for 7Hills. Boards are found using a donor system, but equipment in no longer kept in a nearby shed since it was broken into several times. Shipments of boards from California and Bristol, in southwest England, arrived at 7Hills after it was built, but having enough equipment remains a constant struggle.
"These kids have never had the experience of using new skateboards," Ganz says.
For many, their first experience with a skateboard was picking one up that was lying around on the park's construction site, says Jon Chaconas, the director of operations at Make Life Skate Life. The nonprofit decided to crowdsource the construction of 7Hills and raised $30,000 from an Indiegogo campaign, a donation from Red Bull and fundraising parties in Belgium and Jordan.
"We thought it would be cooler if the project was 100 percent community-driven," says Chaconas, 26, who uses the word shitshow to describe the elated reaction of the schoolboys when they found out a skate park was being built next door. Many of the kids who helped build the park are now skaters, he says.
On the day Newsweek visited 7Hills, it was also a political space. The park was chosen as a location for the Baladk Project, a regional street festival that saw graffiti and street artists from Palestine, Syria and Egypt tackle the theme of "Reclaiming our streets" throughout Jordan. Previous iterations of the festival addressed subjects such as terrorism, oppression and women's rights. This was, of course, lost on the kids, who were more concerned about their own red graffiti tags being painted over on a section of the park known as the "taco ramp," Ganz says.
One of the illustrators, Yara Hindawi, 27, drew a striking image in vibrant pink and yellow of two people joining hands, a tribute to her boyfriend. The Baladk festival "is about taking back our streets rather than having all this blank space and advertisements," says Hindawi, who lives in Amman. "I really wanted to draw something that accompanied the curves of the park."
Earlier this year, Make Life Skate Life offered skateboarding classes to boys and girls living in Jordan's Zaatari refugee camp with ACTED, a nongovernmental organization. Zaatari, which was started three years ago and is now the largest refugee camp in the Middle East, is home to 83,000 Syrian refugees, more than half of whom are 18 or younger.
"The girls were good. We taught the girls first. They would wait their turn and be encouraging," Chaconas says. "When the boys came out, they were beating each other for boards."
While Chaconas says skateboarding is for anyone who wants to try, it's particularly helpful for refugee children who have relocated to Jordan. "The skate park's for the community that's living in Amman, and that includes refugees."
Skateboarding is also more than just a way to keep physically active, Chaconas says. Whether the kids skate alone or with their friends, it requires them to keep pushing themselves, which they were more than happy to do despite the stifling dry heat of Amman in late May. "I know these kids have more self-confidence now because they helped to build a skate park," he says.