'A Day in the Life' of Mail Worker Reveals the Adorable Way Dogs Greet Him
A postman's daily view while delivering letters and parcels in the U.K. has captured viral attention this week after a video on TikTok showed dogs unexpectedly greeting the worker.
Lee Cadman, who uses the TikTok handle leecadman31, posted the video on Friday with the caption: "A day in the life of a postman." The hilarious video has since been viewed more than 10 million times.
In the video, Cadman walks toward the front door, where not one, but two dogs poke their noses through the letterbox in what commenters have joked is a "2-way authentication process."
In the video, the postal worker can be heard laughing as the interested pups check out who he is—but not all workers have such good experiences with canine residents.
In June, the U.S. Postal Service revealed that more than 5,400 postal employees were attacked by dogs in the U.S. in 2021. From nips and bites to more serious attacks, the service urged the public to look out for workers by ensuring their dogs are under control.
"Every year, thousands of postal employees are attacked by dogs as they deliver America's mail. And while it's a dog's natural instinct to protect their family and home, we ask all customers to act responsibly by taking safety precautions with their dogs while the mail is being delivered," said USPS Employee Safety and Health Awareness Manager Leeann Theriault. "When a carrier comes to the residence, keep the dog inside the house and away from the door — or behind a fence on a leash — to avoid an attack."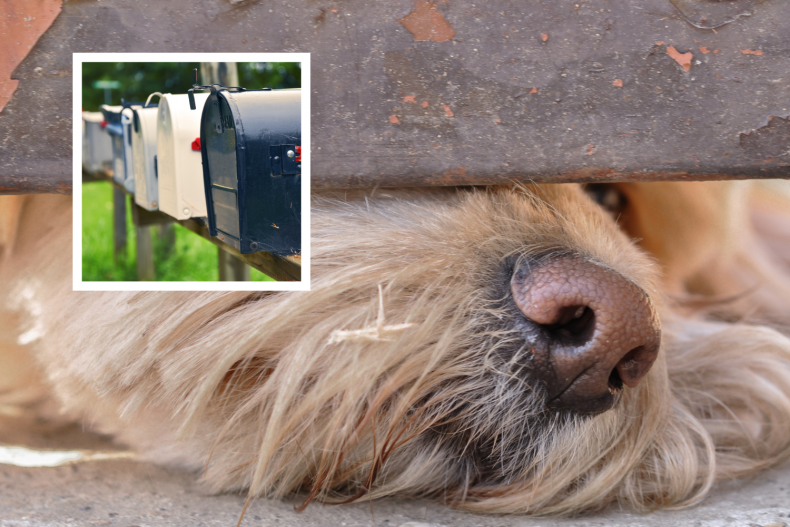 The U.S. Postal Service says that letter carriers are trained to be alert for potentially dangerous animals and always respect a dog's territory, warned not to startle a dog, never to assume they won't bite, and never to attempt to pet or feed a dog.
In the U.K., where the footage was filmed, the Royal Mail postal service says that there are an average of 32 dog attacks on postal staff every week.
Luckily, the cheeky pups in the now-viral TikTok video were safely behind the door and appeared to only be interested in sniffing.
The video has delighted internet users, who shared their thoughts in over 5,000 comments.
"Every dog video on this app gives me life," said one TikTok user, while another commenter wrote: "I may or may not have watched this 100 times straight."
"I would instantly boop!" said another viewer of the video, while one reply said: "I wasn't expecting that."
Other viewers of the video pondered the breed of the dogs, with many suggesting that they may be Springer Spaniels.
"Why is this giving me springer spaniel vibes," said one commenter, while another wrote: "They are spaniel snozzles."
Newsweek has reached out to leecadman31 for comment.
Do you have funny and adorable videos or pictures of your pet you want to share? We want to see the best ones! Send them in to life@newsweek.com and they could appear on our site.