Spate of 'Vicious' Dog Attacks on Postal Workers Leaves Locals Without Mail
The USPS has suspended mail delivery to a neighborhood in Greenfield, Indiana, after a series of dog attacks against mail carriers.
Most recently, a mail carrier was chased and bitten by two boxers that had allegedly attacked a postal worker before. The mail carrier had to have about 50 stitches and could potentially lose the use of one of her arms.
The USPS has suspended all mail delivery to the local area until residents install curb mailboxes, allowing carriers to make deliveries without leaving the safety of their cars.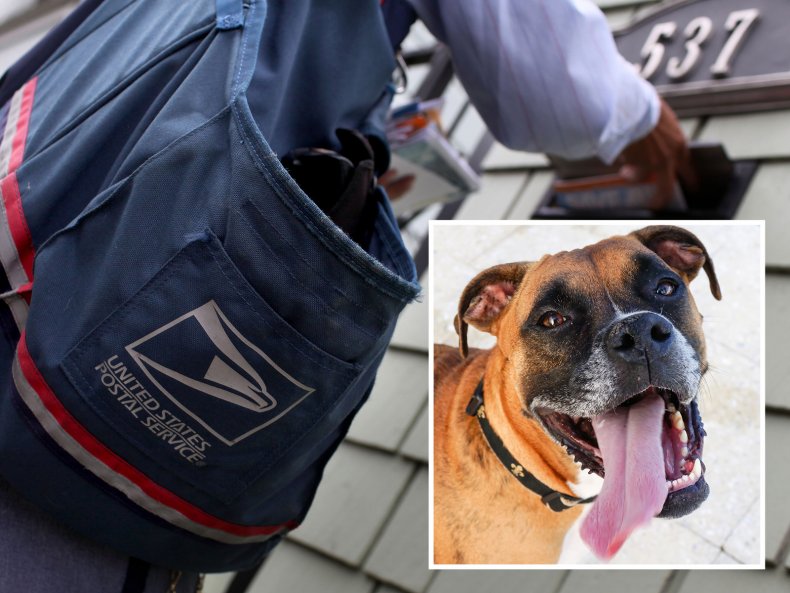 Not all residents, however, are happy with the proposal, and some feel they are being unfairly targeted thanks to the actions of one dog owner, Fox59 reported.
"The safety of our employees and customers is a priority for the Postal Service. Due to ongoing and unresolved issues with loose dogs in area including Stevens Court and the 1000 block of Noble Street, mail delivery to these addresses has been suspended until residents install curbside mailboxes," a USPS spokesperson told Newsweek.
"Recently, one of our carriers was seriously injured in a dog attack. After careful consideration, the decision was made to require a change in mode of delivery to these residents. This action reflects the seriousness of the situation and our desire to ensure a safe working environment for our employees.
"We regret the inconvenience this may cause some customers. Any resident with questions about mailbox placement should contact the Greenfield Postmaster."
On April 16, a mail carrier was chased and repeatedly bitten by two boxers on her arms, legs, back, left thigh, right knee and groin, as per court documents seen by Fox59. The dog's owner is now facing a charge of harboring a non-immunized dog as they weren't up to date on rabies vaccines.
Missing Dogs
The boxers were quarantined by local animal control services and were set to be euthanized after being deemed vicious. Both dogs however were allegedly stolen from animal control and are now still missing.
Neighbor Nate Luke witnessed the latest attack and told Fox59: "I pulled up and I saw my neighbor across the street and my neighbor next door tending to her. I could see that she had some blood all over her and it didn't look good."
Luke also said that the dogs attacked the previous mail carrier who worked the route before too, saying: "They ended up chasing him into my yard and he jumped up on top of my vehicle. I heard a banging out front. I opened up the door and saw the dogs attacking him. I grabbed him by the shoulders and pulled him into my house."
Although he witnessed the attack, Luke, along with other neighbors, feels that banning delivery to all neighbors over the actions of one person is uncalled for. "I completely sympathize with the postal workers. I don't want them to be hurt," Luke told Fox59. "But it just seems like it would make more sense just to stop service to the house that's causing the problems instead of punishing everyone else on the street."
The notoriously difficult relationship between mail carriers and dogs might often be the subject of comic sketches and cartoons, but it's a real and serious problem. Earlier this year, a video capturing the moment a dog smashed a window during a FedEx delivery went viral.
Home security footage documented the encounter, as an off-camera dog could be heard barking while the delivery driver placed a package at the front door. Just seconds later, the front window completely smashed.
As the driver walked away, the dog could be heard continuing to bark from inside the house.
Update 06/08/22, 6:25 a.m. ET: This article was updated with comment from USPS.