Vicious Dog Attack Left Mailman's Bone Exposed After Chewing Through Leg
A mailman who was allegedly attacked by a dog on his route is finally getting justice.
According to a report from The Glasgow Times, the woman responsible for the dog's care has entered into a guilty plea with the Glasgow Sheriff Court after the animal reportedly bit a man with such ferocity that a portion of bone in his leg was exposed.
Andrew Barton, a Scottish postman based in Glasgow, alleged that while making deliveries last February in Milton, he was attacked by a Staffordshire bull terrier named Bruno. He maintained that he did nothing to provoke the animal.
According to The Glasgow Times, Stephanie Colquhoun was tasked with caring for Bruno, who belongs to her partner. The 28-year-old reported that Bruno "had been aggressive" for several days prior to the attack on Barton citing an alleged incident with other neighborhood pets.
Court records obtained by the outlet claimed that when Colquhoun answered the door for a package delivery, Bruno snuck out and ambushed Barton.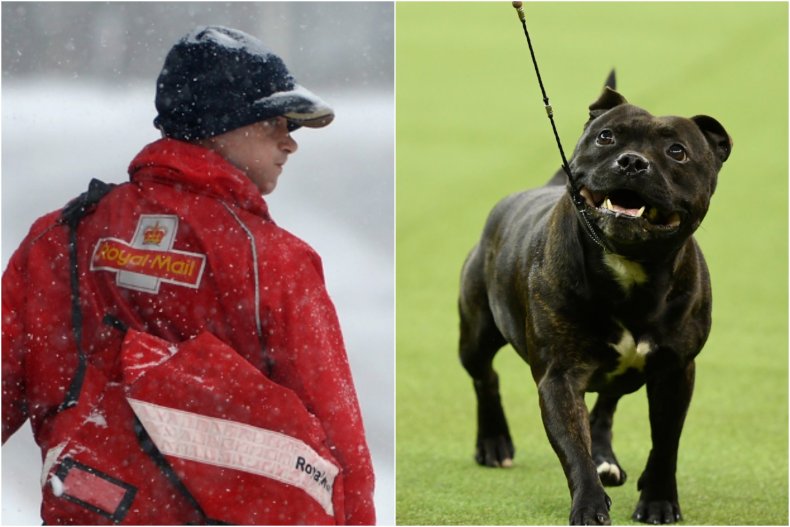 "The dog was able to push past her and began to attack Mr. Barton by biting him on the leg," prosecutor Sarah Latta reportedly said.
"He tried to get the dog to release his grip by moving his leg and aiming kicks but Bruno wouldn't let go."
Bruno kept a firm grip on Barton "for a minute or so," until he could be subdued. Though Colquhoun offered to help Barton with his injuries, he reportedly needed to be hospitalized and required stitches for the wound on his left leg.
"It was five to six centimeters deep and five inches in length," Latta said. "The wound had gone down to the bone and Mr. Barton was left with a puncture wound on the other leg."
"He had to have 15 stitches and has been left permanently scarred," she added.
Because of the extent of his injuries, Barton reported that he was put on desk duty while he recovered until June 2020.
Defense attorney Paul Sutherland reportedly addressed the court as Colquhoun pleaded guilty. "This is a serious matter which will have had profound consequences on the man doing his job," he said.
A final sentencing is reportedly scheduled for next month, according to The Glasgow Times. At that time, it will be determined whether or not Bruno will be put down.
Newsweek reached out to the Glasgow Sheriff Court for further comment, but did not immediately hear back in time for publication.
This is the latest in a slew of international dog attacks. In North Carolina, a 10-month-old baby was killed following a brutal attack from the family's two Rottweilers on Tuesday. Another attack in Michigan left a 4-year-old boy "covered in blood" from several bites on his face.