With Days to the Election, Net Support for Black Lives Matter Has Dropped 14 Percent Since Protests Peaked After George Floyd's Death
With less than a week to Election Day, the Black Lives Matter movement, which dominated the political discourse over the summer, has continued to lose support since protesters first began demanding racial justice.
A national poll from Civiqs shows that net support for Black Lives Matter has fallen 14 percent since demonstrators flooded streets across the nation following the death of George Floyd over Memorial Day weekend.
As of Monday, net support among registered voters for the movement is at 10 percent, compared to the 24 percent observed on June 5, less than two weeks after Floyd's death.
The poll found that with eight days to the election, 48 percent of registered voters supported Black Lives Matter, 38 percent opposed the movement, and another 13 percent neither supported or opposed or were unsure.
Support is greatest among younger voters with the majority of those aged 18 to 49 in favor of the movement. Women were also 10 percent more likely than men to support Black Lives Matter.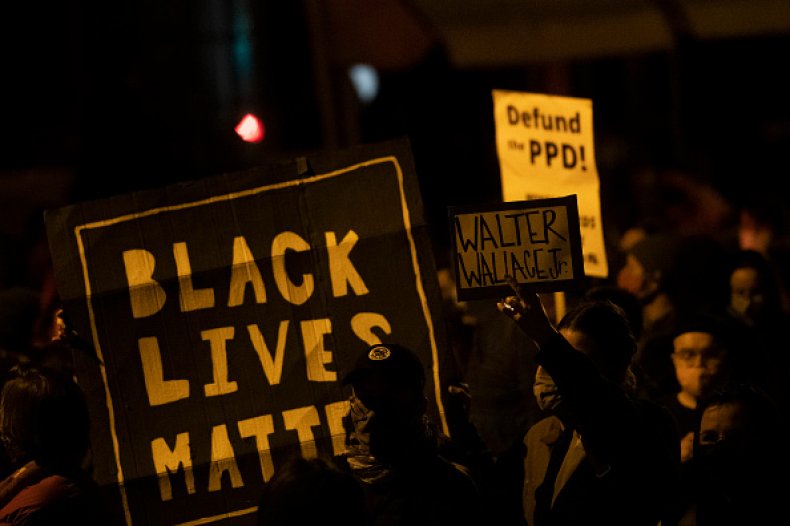 The Black Lives Matter movement quickly gained momentum after a video Floyd's encounter with Minneapolis police. It shows an officer kneeling on Floyd's neck for nearly nine minutes as Floyd repeatedly said, "I can't breathe." The footage went viral and prompted many—including politicians and celebrities—to demand justice for Floyd.
Between Floyd's death on May 25 and the height of the protests, national support for the Black Lives Matter movement grew by 7 percent in 11 days.
The movement—which emerged in 2014 in response to the deaths of Eric Garner and Tamir Rice among others—was largely opposed by Americans in its beginnings. During the 2017 Unite the Right rally in Charlottesville, the Black Lives Matter movement held a net-support rating of -5 percent.
General support for the movement began rising in early 2018 and has continued to grow, with support skyrocketing after the police-involved deaths of Black Americans, including Breonna Taylor and Ahmaud Arbery, earlier this year. The movement hit a breaking point after Floyd's death when many cities, most notably Portland, experienced months-long protests. Police brutality became a main talking point for both President Donald Trump and Democratic nominee Joe Biden.
Data from Armed Conflict Location & Event Data Project showed that in the three months following Floyd's death, there have been more than 10,600 demonstrations across the U.S.
The national unrest has led to the removal of several Confederate statues across the country and an NBA strike during this past season's playoffs.
The decrease in support follows the trend observed last month when a Pew Research poll found support for the Black Lives Matter movement dropped 12 percent since June. The September poll indicated that support dropped the most significantly among white Americans by 15 percent, and down 21 percent among Republicans.
Support among Black Americans, however, has remained widespread and generally increased 1 percent since June.
Carolyn Lukensmeyer, former executive director of the National Institute for Civil Discourse, said these poll numbers may not be an accurate reflection on where voters stand when it comes to racial issues. She told Newsweek that the national reckoning on race may have simply shifted form.
"The support for Black Lives Matter, now, is not being shown through protest but through the extraordinary output of early voting, mail-in voting, categories of people who have typically not voted in large numbers coming out in throngs," she said.
"We have had an awakening around systemic racism in the country, the likes of which we have never seen," Lukensmeyer added. "If Americans stay awake and stay active, it does provide the opportunity that, if Biden is elected, to actually take that activism and that sincere support of Black Lives Matter into the realm of changing public policy."
Voters have cast their ballots in unprecedented numbers this year. As of Wednesday, more than 71 million Americans have already voted ahead of next week's election, according to the U.S. Elections Project.
Correction 10/28/20 3:02 p.m. ET This story was updated to clarify that the poll numbers show net support.