A Washington D.C. police officer who was swarmed and beaten by pro-Trump rioters at the U.S. Capitol last week reflected on his harrowing experience.
"If it wasn't my job I would have done that for free. It was absolutely my pleasure to crush a white nationalist insurrection," Daniel Hodges told NBC News on Thursday. "I'm glad I was in a position to be able to help. We'll do it as many times as it takes."
Hodges was captured in a video being crushed in a doorway by a violent mob. He said they then stole his equipment and beat him.
"They ripped my mask off. Stole my equipment. Beat me up. Sprayed me with everything," he said.
Hodges was one of many officers who fought to ward off the insurrection on January 6. At least five people were killed during the siege, including Capitol Hill police officer Brian Sicknick.
D.C. Police Officer Michael Fanone told CNN Friday that a group of rioters beat him to the ground, stripped him of his gear, and threatened his life.
"Some guys started getting a hold of my gun and they were screaming out, 'Kill him with his own gun,'" Fanone said.
Only after the officer starting screaming "I have kids" did a few people step in to offer him protection.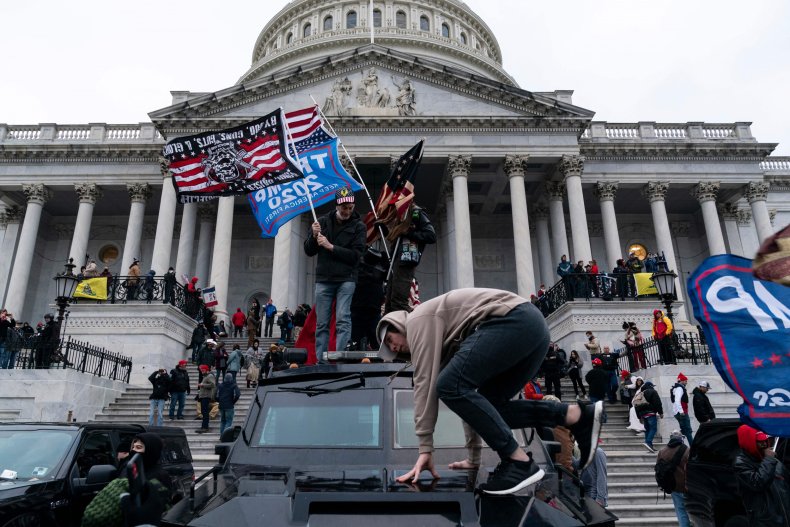 The riot occurred after President Donald Trump gave a speech at a rally urging his supporters to "be strong," and "take back our country" amid his challenges to the election results. The rioters then stormed the Capitol building, breaking through windows and barricades, and delaying the election certification for Joe Biden.
Federal prosecutors have since discovered that rioters intended to "capture and assassinate" elected officials during the siege.
Trump has received a torrent of backlash in the aftermath of the siege. On Wednesday, he became the first president in history to be impeached twice by the House of Representatives. The president has since been removed from all major social media sites, and has lost business contracts with New York City and two of his favorite banks.
Fears that additional violence could take place on Biden's inauguration day has prompted the government to designate the event as a "national special security event."
According to Metropolitan Police Chief Robert Contee, there will likely be over 20,000 members of the National Guard present that day.
On Friday, West Virginia Senator Joe Manchin said the U.S. is prepared to ward off any potential violence, and said that it will be a "big mistake" for anyone to plan a further attack.
"That will be the biggest mistake they ever make. If they do that, that will be a big mistake from that standpoint, because we will be prepared, I can assure you," he said.
Newsweek reached out to the White House for additional comment.