Donald Trump Officially Barred From All Largest Social Media Sites as YouTube Bans President
YouTube announced Tuesday night that it has temporarily banned President Donald Trump. The Google-owned site said it had banned the president for at least seven days "in light of concerns about the ongoing potential for violence."
A two-tweet thread on the official YouTubeInsider Twitter account announced the ban at 11:04 p.m. on Tuesday.
"After review, and in light of concerns about the ongoing potential for violence, we removed new content uploaded to Donald J. Trump's channel for violating our policies. It now has its 1st strike & is temporarily prevented from uploading new content for a *minimum* of 7 days," YouTube said. "Given the ongoing concerns about violence, we will also be indefinitely disabling comments on President Trump's channel, as we've done to other channels where there are safety concerns found in the comments section."
Pressure to ban the president had been building on YouTube after Facebook and Twitter did the same following last week's violent riots in the nation's capital. Not only were social media users calling for the move, but Google's own workers' union—Alphabet Workers Union—sent an open letter to YouTube executives last Thursday that condemned them for what it termed a "lackluster" response in censoring the president's fraudulent election claims and rhetoric, which they said provoked the U.S. Capitol riots.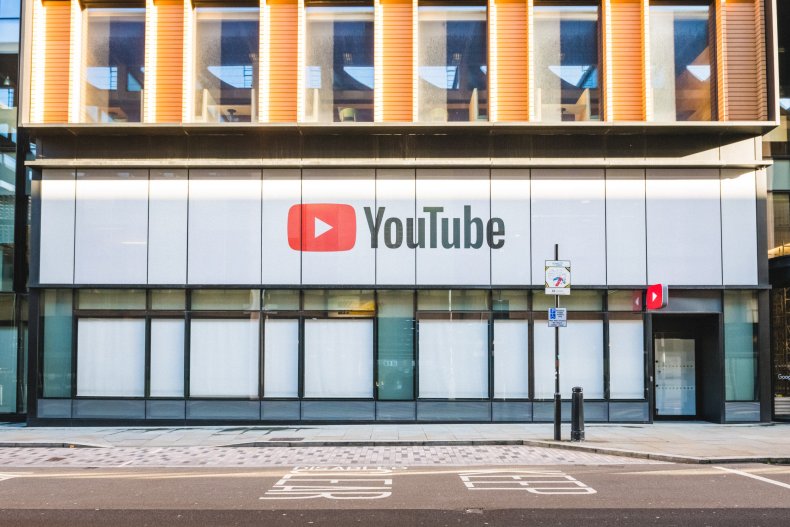 "YouTube will continue to function as a vector for the growth of fascist movements if it persists in prioritizing advertisers while exposing the public," one particularly critical passage read.
The union posted the letter on Twitter last Thursday evening.
On Monday morning, the actor and comedian Sacha Baron Cohen also called for YouTube to remove the president. In a tweet that was widely commented on and shared, including by fellow progressive actor Mark Ruffalo, Baron Cohen wrote: "Virtually every social media company has removed Trump...EXCEPT YouTube. Trump's YouTube channel is STILL showing videos of his election lies to MILLIONS of people!"
Baron Cohen tagged YouTube CEO Susan Wojcicki and Google CEO Sundar Pichai in his message.
Trump's YouTube channel has 2.73 million subscribers, and many of the videos uploaded there have been viewed millions of times.
In addition to Facebook and Twitter, Reddit banned the subreddit group "r/DonaldTrump" last week, and Twitch disabled Trump's channel, stating the action was done to "prevent Twitch from being used to incite further violence." Elsewhere, Instagram adheres to the same policy as its parent company Facebook; Snapchat disabled Trump's account; TikTok is redirecting hashtags like #stormthecapitol and #stopthesteal to its community guidelines; and Pinterest was already limiting hashtags related to controversial topics such as #stopthesteal since around the November election.
Prior to YouTube's announcement Tuesday, the platform had started more enforcement regarding videos uploaded of Trump and members of his administration. For instance, YouTube quickly removed the video Trump posted last Wednesday that addressed the violence at the Capitol but did not condemn it. Even then, the reason behind the removal was that Trump made fraudulent claims about the election.
Correction 1/13/21, 4:20 a.m. ET: The introduction of this article was updated to correct an editing error.