A Pet Shelter of Older Disabled Animals Inspired 'DC League of Super-Pets'
Jared Stern, the director of the new animated film DC League of Super-Pets, hopes families will consider adopting their own super-pet after watching his movie.
Set in the DC Comics universe, the new movie features the voice talents of Dwayne Johnson, Kevin Hart, Kate McKinnon and Vanessa Bayer as adorable and super-powered pets. They're joined by the likes of John Krasinski as Superman, Keanu Reeves as Batman, Jameela Jamil as Wonder Woman and Marc Maron as Lex Luthor.
While the star-studded Warner Bros. movie is sure to make an impact at the box office this summer, the origin story for this superhero film comes from a surprisingly earnest place.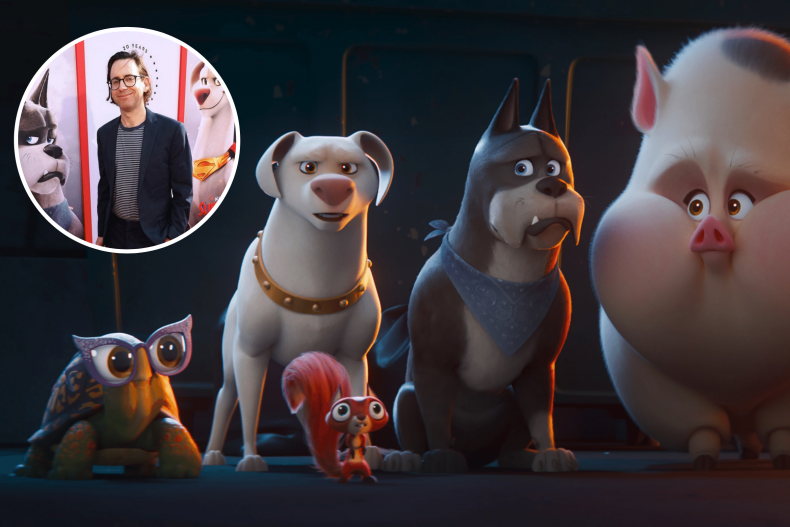 "I was volunteering at a pet shelter in LA, and while I was there, I was looking at these pets, these cute kittens in the front that were very likely to get adopted. And then in the back, were some older animals, disabled animals, who kind of lived at the shelter," Stern told Newsweek.
"It was great that the shelter took care of them, but I was feeling bad like I wish they could get adopted too," he added. "I thought, 'what if they got superpowers?' So that was sort of the emotional genesis."
This led Stern and co-writer John Whittington to write the script for DC League of Super-Pets. While Johnson plays Krypto, Superman's dog, the movie opens with Ace the dog (Hart), PR the pig (Bayer), Merton the turtle (Natasha Lyonne), Chip the red squirrel (Diego Luna) and Lulu the guinea pig (McKinnon) all looking for someone to adopt them.
DC League of Super-Pets marks Stern's first animated project as a director. He's previously written screenplays for The Lego Batman Movie, Mr. Popper's Penguins and Happy Anniversary (which he also directed) but he was thrilled that the studio allowed him to direct this one too.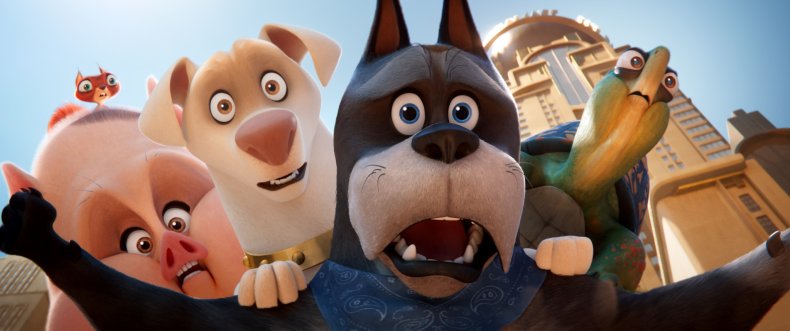 Considering the origin story of the Super-Pets, Stern hoped his movie inspires families to take a chance on unconventional animals.
"At the very end of the end credits, the last words that you see are 'Be a hero adopt a pet'," he said.
"They have to know that it's a commitment and take it seriously but yeah, that'd be great. If families wanted to go out and adopt a pet after this, I hope they will," Stern said.
Stern is also glad to see that the cast have gotten behind this spirit too. "One of the cool things about the promotion for the movie, it's not just all big, glitzy glamorous stuff. They've been doing a lot of events in partnership with rescues around the world, which has been really nice."
As they have done for movies before like Central Intelligence, both Jumanji films, Hart and Johnson have been out together on the campaign trail for DC League of Super-Pets. One of their antics caught the eye of director Stern.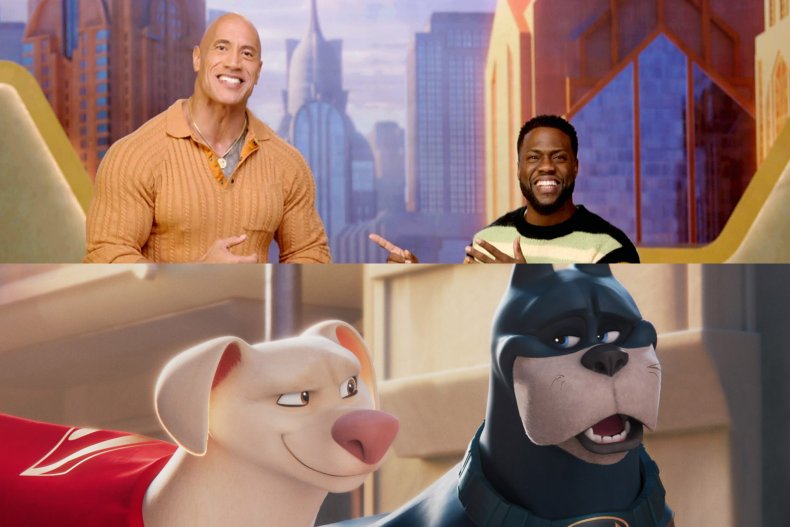 "What you see is what you get with those guys. They recently did a challenge where they took turns smacking each other in the face with a tortilla and I wish I knew that that was an option when we were in the recording booth to just get them to focus," Stern joked, " I had no idea I could smack them in the face.
"They're wonderful and fun. The same energy that you see in those interviews is real life, they have in the booth."
The movie is packed with comedic talent like Hart, McKinnon, Bayer (both from Saturday Night Live), Maron, Jermaine Clement (Flight of the Conchords), John Early (The Afterparty) and Thomas Middleditch and Ben Schwartz. Despite co-writing the script himself, Stern knew he'd have to give his actors room to express themselves.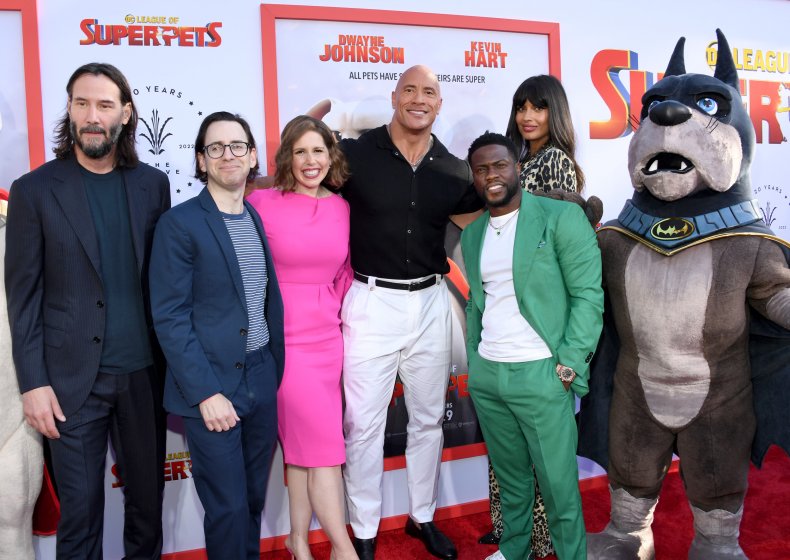 "It's a tricky thing, because we do these very choreographed animatics like storyboard reels of the movie before, before we even get to the real actors coming in," Stern said. "So there can be an instinct to just like want to replicate what you already have, because you've worked so hard to get it that way, but you have to take that away because these people are such brilliant comedic improvisers, they're going to give you bits of realness and surprise, that you just could never script on your own.
"So many of my favorite lines in the movie, were not written by me or any other writer, but that came from just spontaneity, and I love it."
Saturday Night Live alumni McKinnon provided Stern with his favorite moment as her hairless guinea pig improvised a line about popping a pimple.
Warner Bros. has teamed up with the animal charity Best Friends to help shine a spotlight on local animal shelters across the country. Some of the voice cast, including Johnson, have been shooting promotional videos for the cause and posting them to their social media channels.
DC League of Super-Pets will be in theaters on Friday, July 29, 2022.