'DC League of Super-Pets' Director Breaks Down the Post-Credits Scenes
Stick around as the credits roll after DC League of Super-Pets and you'll enjoy two extra post-credits scenes.
The DC Comics movie, which features the pets of Superman, Batman and Wonder Woman, is out in cinemas now. Dwayne Johnson, Kevin Hart and Kate McKinnon are just some of the actors lending their voices to the animated blockbuster.
Director Jared Stern (The Lego Batman Movie) sat down with Newsweek and explained the origin story behind the movie. He also detailed his reasoning behind each of the post-credits scenes, which extend the plot and hint at future movies.
A full spoiler warning is in force from here on out.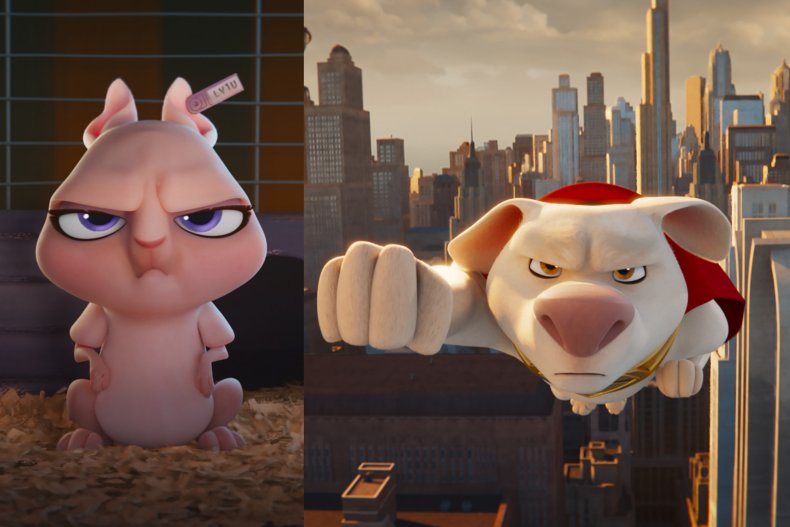 Post-Credits Scene #1
After Lulu, the evil hairless guinea pig, has been defeated, she's lying alone in the trash, lamenting her loss.
Suddenly, someone lasers through the roof, as Mercy Graves (Maya Erskine) arrives wearing Lex Luthor's robotic suit of armor. Lulu happily joins Mercy and the two fly off into the Metropolis skyline.
Each of the super-pets gets adopted by superheroes in the final stages of the movie, and Stern decided he wanted Lulu, despite being evil, to find her own home.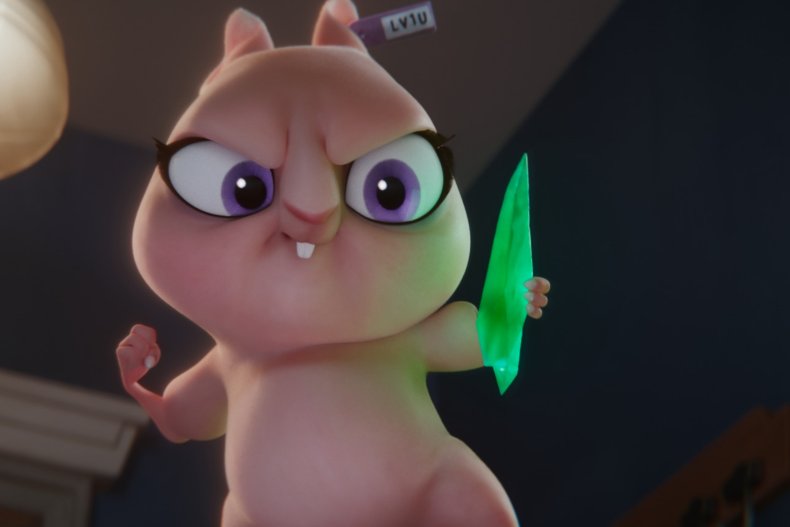 "Honestly, I love Lulu," Stern told Newsweek. "Audiences that we shared the movie with early loved her too. Even though she's evil, her evil comes from a really emotional place. And Kate (McKinnon) did such a great job performing her that as awful as she is, I wanted her to have love, and to be rescued the way the other pets were."
Lulu's happy ending wasn't the original plan for the filmmakers though.
"We had other versions early on where she got a real comeuppance. Someone suggested this, and I really liked it. So it's there for that reason.
"It does also mean that she's out there in the world if we're lucky enough to have a sequel," Stern said hopefully.
Post-Credits Scene #2
There are four characters seen in the second post-credits scene, and Dwayne 'The Rock' Johnson voices three of them.
The mood shifts and Black Adam hovers down to speak with Superman. Meanwhile Black Adam's dog, after stealing his Squeezy Bruce toy, explains that his owner is an anti-hero, but not a villain. Their exchange ends when Krypto tricks the dog into flying his owner to Pluto.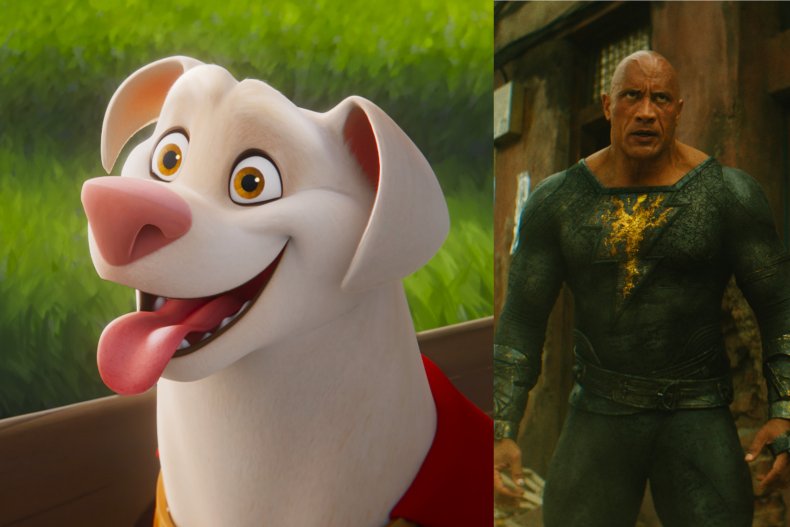 "I just felt like Dwayne Johnson is such an amazing performer and a big man. So one part wasn't enough for him. He needed to be in the scene playing three parts," Stern told Newsweek, confirming that the animated Black Adam and his canine are both voiced by Johnson.
"And I think he pulled it off. He feels like three completely different people—and dogs in the scene. It was just a little bit of fun."
DC Extended Universe fans shouldn't read too much into the appearance of Johnson as Black Adam in DC League of Super-Pets though. Stern confirmed they're all still parts of different universes. "It was just fun that he's playing in two different DC universes, so why not do a little nod to it," he said.
The credit for the introduction of Black Adam here goes to Johnson and his colleagues Dany Garcia and Hiram Garcia at the Seven Bucks Productions. The production company is working on both DC League of Super-Pets and Black Adam, which is due out in movie theaters on October 21, 2022.