D.C. Protesters Chant 'America Was Never Great' as They Burn U.S. Flag Following Trump's July 4th Speech
Far-left protesters burned U.S. flags while chanting "America was never great" outside the White House in Washington, D.C. on Saturday, just after President Donald Trump gave a July 4th speech.
The demonstrators burning flags were associated with the Revolutionary Communist Party and Refuse Fascism. According to organizers, the groups also burned flags at demonstrations in New York City, San Francisco, Los Angeles and Chicago. Videos shared to social media showed some protesters burning small flags in Washington, D.C. before later burning a larger flag, which was quickly reduced to ashes.
Gregory "Joey" Johnson, an organizer of the flag burnings connected to the Revolutionary Communist Party, said the protest action was carried out in opposition to the president. Trump's "despicable, fascist [Mount] Rushmore rant fueled my determination to burn not one, not two, but three flags - a confederate flag, a blue lives matter flag and an American flag today in Hollywood in front of Trump's star," Johnson said in a statement emailed to Newsweek.
Johnson was referring to Trump's speech at Mount Rushmore in South Dakota on Friday, which was viewed to be highly divisive by many Americans. The president strongly criticized far-left protesters and those who have vandalized or torn down monuments to historical individuals associated with slavery or other racist actions. Such statues and monuments have been targeted amid nationwide anti-racism and Black Lives Matter protests following the death of George Floyd, a Black man, in police custody on May 25.
During his Saturday remarks, Trump again criticized far-left protesters and those targeting monuments.
"We are now in the process of defeating the radical left, the Marxists, the anarchists, the agitators, the looters, and people who in many instances have absolutely no clue what they are doing." the president said.
Trump added: "We will never allow an angry mob to tear down our statues, erase our history, indoctrinate our children or trample on our freedoms."
"This is a time of unprecedented upsurge around the world, yet Trump is calling Black Lives Matter protesters terrorists and putting up wanted posters of them, while upholding Confederate generals," Jamel Mims, another organizer of the flag burnings, said in a statement emailed to Newsweek. "This shows once again that Trump is the second president of the Confederacy, and we were in front of the White House with members of the Revolution Club and many other protesters to call out what the American flag represents and the proper way to display it."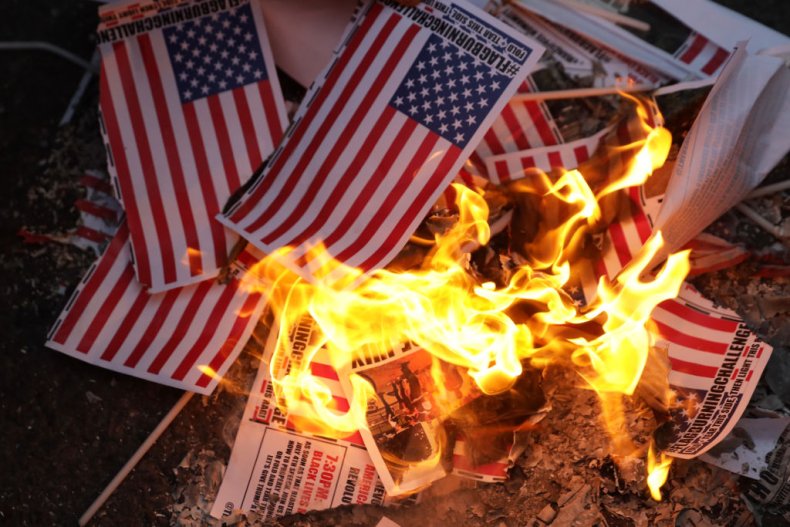 But some Black Lives Matter demonstrators were unhappy that the flags were burned.
"They're changing the narrative of the protests," a protester told CBS affiliate WUSA 9. A video shared by WUSA 9 reporter Tom Dempsey from the Washington, D.C. protests showed one group of demonstrators trying to stop the flag burning from going forward.
"One group walked up with small US flags saying they would burn them," Dempsey wrote on Twitter. "Another group, playing music nearby, walked up and tried to put an end to the burning."
Although controversial, flag burning is protected by the First Amendment of the U.S. Constitution, according to a 1989 ruling from the U.S. Supreme Court. Johnson, who helped organize the weekend flag burnings, was the defendant in that case after the state of Texas attempted to prosecute him.
Correction 1:56 PM ET, to say that Mount Rushmore is in South Dakota, not North Dakota. We apologize for the error.