DEA Agents Warn Mexican Cartel Pills Look 'Exactly' Like Real Prescriptions and Target U.S. Children
Mexican drug cartels have sophisticated machines designed to make their phony pills, often laced with deadly amounts of fentanyl, look exactly like Adderall, Xanax and other common prescriptions, Drug Enforcement Administration (DEA) agents told TV station WFXT Boston.
The DEA said the cartels have "presses" that give the pills the name and likeness of their prescription counterparts after they are laced with fentanyl in "dirty barrels," according to the interview with Boston 25 News.
Earlier this week, Newsweek reported that certain DEA policies may have contributed to the domestic market for fentanyl in the first place, as real prescriptions for opioid medication have become harder and harder to find. But the agency's acting administrator, Uttam Dhillon, sees it differently, likening the cartels to opioid-crisis opportunists a recent press release.
Fentanyl is now involved in the majority of overdoses in the United States, according to the DEA. In just a few months earlier this year, the federal drug agency seized hundreds of kilograms of fentanyl-related loads. Just 2 milligrams of fentanyl can constitute a lethal dose.
Meanwhile, the recent pill stream from Mexico is becoming more sophisticated, explained Jon DeLena, special agent in charge for the DEA's New England office, in the Boston 25 News interview.
"They can make it look exactly like it came out of the pharmacy. But it isn't. It isn't until we get to the lab and find out that it's nothing but fentanyl," DeLena said.
"They can make those pills look like almost anything," he went on. "So if they're making those pills and manufacturing them to look like an Adderall or Xanax, they are targeting our children."
A local user admitted he was fooled by the drugs. "I didn't know they were pressed. I swear up and down they were from the pharmacy. But they weren't," the man, who asked to remain anonymous, told Boston 25 News.
Agents said the cartels are putting the laced pills in the gas tanks of cars, tractor trailers and within suitcases, plus shipping them through the U.S. Postal Service, according to Boston 25 News. They increasingly end up on the streets of New England, according to the agents.
New England has also seen a rise in methamphetamine use. In Concord, New Hampshire, meth now accounts for 60 percent of drug seizures, according to Kaiser Health News. Meanwhile, there was a 142 percent increase in national seizures of meth between 2017 and 2018, National Public Radio reported.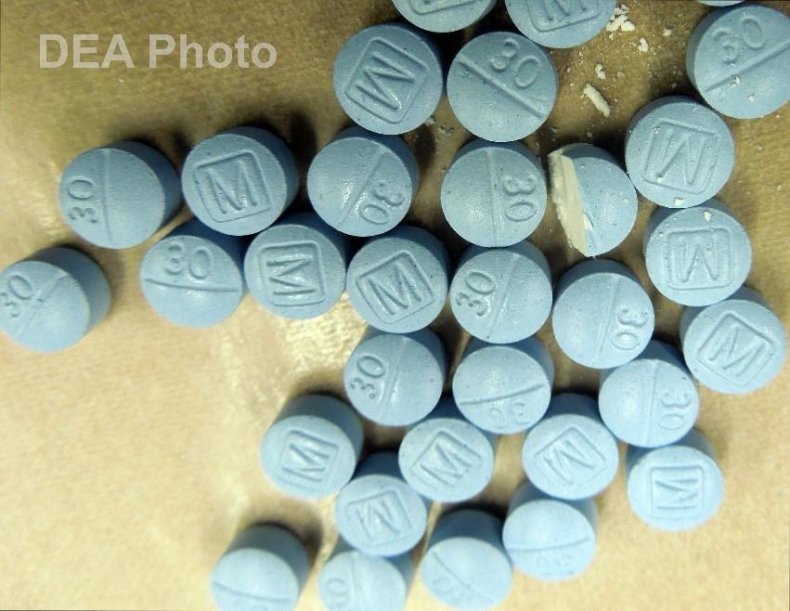 Researchers believe the opioid crisis could have prompted the resurgence in meth use and heroin, which the DEA found was mixed with fentanyl in about 20 percent of 340 fentanyl seizures this year, according to a recent report.
The DEA would be better off legalizing fentanyl testing strips and getting behind overdose prevention sites, thereby reducing the harm of drug use, according to Jeremiah Goulka, a researcher and senior fellow at the Health in Justice Action Lab at the Northeastern University School of Law.
"If you're concerned about Mexican drug cartels, the best way to defeat them would be to reduce demand, taking their business away," Goulka told Newsweek.