Mexican Drug Cartels Are Making Mass Amounts of Phony Prescription Painkillers, DEA Warns
The Drug Enforcement Administration (DEA) on Monday warned that Mexican drug cartels are manufacturing "mass quantities" of pills designed to look like prescription painkillers.
In seizures between January and March of this year, nearly 30 percent of tablets sampled by the DEA contained deadly levels of fentanyl, a synthetic opioid, according to a report last month.
Acting Administrator of the DEA Uttam Dhillon, whom President Donald Trump intends to appoint permanently in 2020, said Mexican cartels are exploiting America's opioid crisis, but many public health experts consider fentanyl to be an unhappy consequence of federal regulations to limit prescription opioid availability.
"Capitalizing on the opioid epidemic and prescription drug abuse in the United States, drug trafficking organizations are now sending counterfeit pills made with fentanyl in bulk to the United States for distribution," Dhillon said in the DEA press release.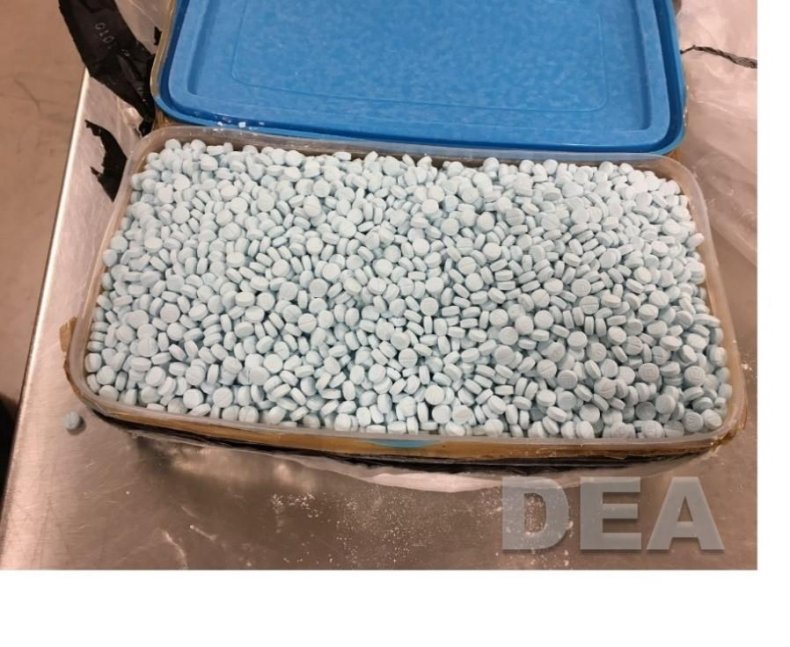 While it's legal in the U.S. and used to treat pain, illegally produced fentanyl is widely available and becoming more central to overdoses in recent years, according to the Centers for Disease Control and Prevention (CDC) and the DEA's 2018 National Drug Threat Assessment.
Meanwhile, numerous studies indicate a correlation between government efforts to limit the widespread availability of medical-grade opioids—like the DEA's cuts to their production and other guidelines that have narrowed doctors' prescribing practices—and people forced into the black market for other, more dangerous drugs.
Jeremiah Goulka, a researcher and senior fellow at the Health in Justice Action Lab at the Northeastern University School of Law, has an explanation for this "perpetual motion machine." Opioid misuse increased, he said, because people discovered that they could crush and snort the pills. Eventually, pharmaceutical companies changed the formulation, and the DEA began to suppress access to the painkillers by ramping up drug monitoring programs, among other things.
Prescribing rates went way down, leaving some chronic pain patients and those with opioid use disorders to seek relief on the black market—where they found heroin was approximately ten times cheaper than medical-grade painkillers diverted from legal manufacturers, Goulka explained.
It's not clear whether those with opioid use disorders widely seek out illicitly made fentanyl on purpose, considering that test strips that can measure out a nonlethal dose are illegal in many states. But fentanyl is commonly mixed with heroin, methamphetamine and cocaine.
In a recent study led by Boston Medical Center, researchers found that only 1.3 percent of those who perished from an overdose had an active prescription for the opioid detected in their system on the day they died. Meanwhile, 61.4 percent of decedents used heroin, followed by fentanyl at 45.3 percent. In nearly 20 percent of cases in the Massachusetts sample, the two drugs were mixed.
In 2017 alone, more than 47,000 Americans died as a result of an opioid overdose due to prescription opioids, heroin and illicitly manufactured fentanyl, according to the National Institute on Drug Abuse. An estimated 4 to 6 percent of those who misuse prescription opioids later transition to heroin.
The DEA seized more than 340 fentanyl and fentanyl-related loads, constituting several hundred kilograms of powder and tablets, according to the report. About 20 percent of the time, fentanyl was mixed with heroin.
Goulka said seizures of this magnitude can look good, but don't help the big picture. In fact, border seizures and reduced access to prescription drugs is what caused illicit fentanyl to show up in the first place, he said.
"It is good for the DEA to develop a better evidence base about the landscape of illegal drug use in America and of where the drugs come from," Goulka said. "It would be better if the DEA also embraced the evidence on how to actually reduce the harms of drug use."
In an earlier statement to Newsweek, the DEA said it doesn't regulate the practice of medicine, but it noted a 30 percent decline in U.S. opioid prescriptions since the beginning of the current administration.
Besides making cuts to domestic opioid production, the DEA removed hundreds of bad actors from the prescription pipeline and pursued civil penalties against drug companies in the years since the peak of the opioid crisis.
Law enforcement and correctional institutions can send people to needed services, give them medication and even support syringe services programs, Regina LaBelle, chief of staff in the Office of National Drug Control Policy during the Obama administration, said in an earlier statement to Newsweek.
But they also disrupt fentanyl and meth trafficking into the U.S., she said. "And given the amount of fentanyl involved in overdose deaths, their role in enforcement against large drug trafficking networks continues to be important."