'Dead' Husband Comes Back to Life in Morgue as Worker Applies His Funeral Makeup
Funeral parlor employees in China got quite a shock after a "dead" man they were preparing for a burial turned out to still be alive.
The man—known only by his surname, Huang—was from Shiyan, in the Hubei province. He had been dying of terminal stomach cancer for several months before his wife found him in a limp state on Monday morning. Presuming he had passed away, Huang's wife, known only by her surname, Chen, called the morgue and had his body taken away.
"My husband passed away at home early this morning. I am very scared. I ask you to come and take away his remains," Chen told the mortuary, according The Paper, a Chinese digital newspaper. She also noted that he appeared to have stopped breathing.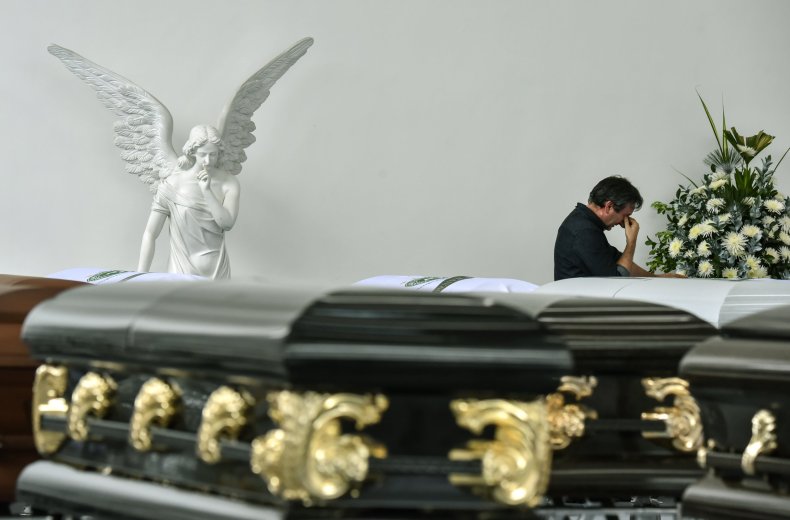 When Huang's body arrived at the morgue, no one noticed he was still alive until the mortuary cosmetologist began applying his makeup the next morning in preparation for his funeral.
During the application process, the worker reportedly saw the man's mouth move slightly and immediately notified the mortuary's director, known only by his surname Ren, who checked Huang's pulse and declared him still alive.
Ren then called for medical assistance, but Huang died before they arrived. He was then officially pronounced dead.
Following the incident, Ren explained the incident to Chen and waived the service fees in light of the traumatic event.
Speaking to Shiyan Evening News, Ren claims that this kind of mixup, although rare, has happened twice before. "It's easy for a patient to be pronounced as dead if his limbs are cold, his body is stiff, his vital signs are weak," he said.
In January, a prisoner in Spain woke up in a morgue shortly before his planned autopsy after three separate doctors pronounced him dead.
Gonzalo Montoya Jiménez, 29, was declared dead in his prison cell after being examined thoroughly by doctors before he was sent to the mortuary. Montoya Jiménez was thought to be "dead" for four hours before he regained consciousness.
'Dead' Husband Comes Back to Life in Morgue as Worker Applies His Funeral Makeup | World