Dead Tiger Found in Lake, Foul Play 'Not Been Ruled Out'
The carcass of an eight-year-old tiger was found floating in a lake in India by a local farmer, and investigators suspect it did not die of natural causes.
The tiger's body was removed from the lake on Wednesday morning, with a report on February 9 in The Times of India describing how investigators found that its legs and neck were tied to a heavy boulder with wire.
"After receiving the information we have reached the spot and collected information. The tiger might have died three days back'' N. Ravindra, an assistant conservator of forests, told the Hindustan Times on February 8. "The exact reason of the death will be known only after the autopsy is conducted."
"The possibility [of foul play being involved in the tiger's death] has not been ruled out."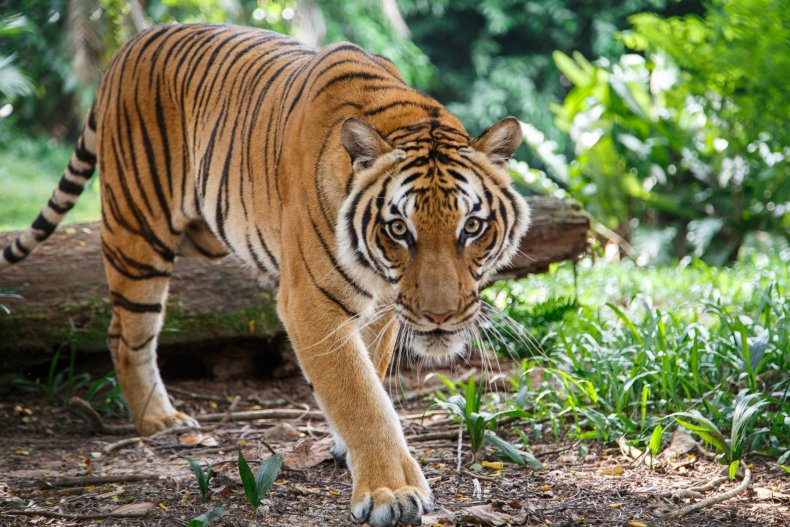 The discovery came after months of conflict between local villagers and the tigers, which have frequently attacked and killed their animals.
"For [the] last six months tigers and leopards have been killing the cattle in our villages. We have urged the forest department to provide suitable compensation to farmers but the department is neglecting us," local farmer N. Rajendra told the Hindustan Times.
Mallayyanakatte lake, where the tiger was found, is inside Bandipur Tiger Reserve in India's Chamarajanagara district, in the state of Karnataka in southwestern India.
"The death of any wild tiger, irrespective of the landscape, is always a tragedy because in India this species is under enormous pressure and there are much-needed efforts to save both the species and its habitat," Sumanth Bindumadhav, the senior manager of wildlife at the Humane Society International/India, Disaster Response and Dharwad Program, told Newsweek.
"One can only hope that there was no foul play involved in this case and [it] was a natural death. Bandipur national park in Karnataka adjoins protected and forested areas in the neighboring states of Tamil Nadu and Kerala. Bandipur alone boasts of a healthy tiger population in the estimated range of 170-180. With this, and a healthy population of leopards in the region, conflict, or rather instances of interactions between wild animals and communities around is unavoidable."
Bengal tigers are classified as endangered on the IUCN's Red List, with India home to more than 70 percent of the remaining tigers. They are also found in smaller numbers across Bangladesh, Bhutan, Nepal, Myanmar, Cambodia, China and Indonesia. It is estimated that there are between 2,603–3,346 wild tigers in India as of 2018.
Tigers are the largest of all the big cats: one tiger shot in central India, a male, was found to weigh just under 700 pounds, and measured 9 feet 11 inches from snout to tail. Tigers tend to live between eight to 10 years in the wild, but can live a lot longer in captivity: the oldest recorded captive tiger died aged 26.
While tigers are protected by conservation laws including the Indian Wildlife Protection Act of 1972, a lot of poaching takes place to trade tiger skins and other body parts.
Additionally, tigers are often killed by farmers as "revenge" kills for eating their livestock, or even other humans: One study found that between 1800 and 2009, an average of 1,800 people a year were killed by tigers, most of them in India, Nepal and Southeast Asia.
There have been several notable "man-eaters" recorded across history, including one that was recently shot in Champaran region in Bihar state after killing nine people.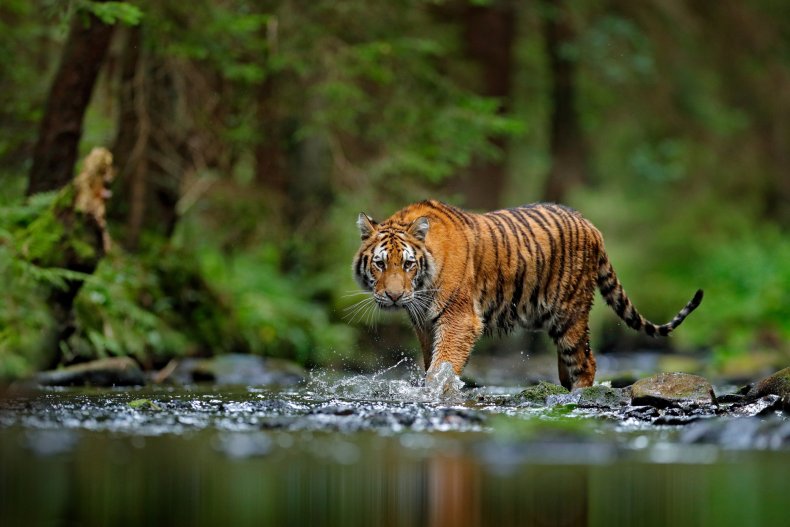 Humane Society International's Bindumadhav suggests that the conflict between the tigers and the local people needs to be addressed to reduce the needless killing of tigers.
"The only way to ensure these interactions are largely positive and lean towards coexistence than towards removal of animals is to ensure a robust, proactive and inclusive conflict management strategy instead of reactive as it currently is."
"This needs committed efforts of government agencies, NGOs and communities alike to pool their collective resources and get ahead of the problem instead of working in silos. Like most tropical countries, India's biodiversity is rich and can thrive with active conservation efforts instead of isolated protection programs. Ultimately, we need to stop looking at human-wildlife conflict as a problem that can be 'solved' but rather as a campaign that can empower communities and thereby animals around them."
Despite being found clearly tied to a boulder by human hands, the exact cause of death of the unfortunate tiger found in the lake is yet to be determined, but an autopsy is due in the coming days.
"A veterinary doctor will conduct the autopsy on the tiger in presence of NGO representatives," Ravindra said.
Local farmer Rajendra said that despite the anger of the farming community about the tigers having attacked their livestock, and the lack of attention that this was given by the forest department, they would not have gone so far as to kill a tiger in retribution.
"We are angry that the forest department is not providing us suitable compensation but no farmer will take the law into hand and kill animals," he said.
Do you have an animal or nature story to share with Newsweek? Do you have a question about tigers? Let us know via science@newsweek.com.