'Deadly Illusions' Ending Explained: What Happened at the End of the Netflix Movie?
Deadly Illusions is currently the number one most-watched movie on Netflix, with viewers across the world loving every twist and turn of the thriller starring Kristin Davis. Many of those viewers, however, have found themselves completely baffled by the movie's ending.
A little context: The movie stars the Sex and the City (and SATC reboot) star as Mary, a writer who hires nanny Grace (Greer Grammer) to look after her children while she works on her book.
However, in typical erotic thriller fashion, Grace is not who she says she is. Mary finds out that Grace does not work for the agency like she initially said. Mary learns that Grace had a traumatic childhood that led her to develop an alternate personality, 'Margaret.' Mary also has a tenuous grip on reality, which sees the events of the book she is writing blend with real life.
Things come to a head when Mary goes to visit her friend Elaine (Shanola Hampton) only to find her dead. Mary then returns home to find 'Margaret' attacking her husband Tom (Dermot Mulroney) after an unsuccessful attempt to seduce him.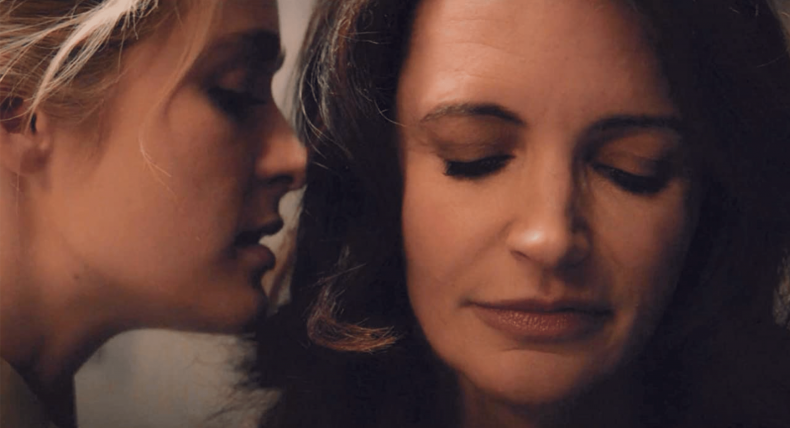 The action then cuts to a year later, when Grace is in a psychiatric hospital. Then, we see a woman leaving the hospital, dressed in exactly the same clothes as those worn by Elaine's killer.
What has left fans so confused is that the ending is completely open. It does not reveal whether the woman we see at the end is Mary, who has become so immersed in her novel's plot that she has turned into a killer, or Grace, who has somehow escaped from the hospital.
This final twist also raises the question of whether Elaine was even real, or simply a character manifested in Mary's mind.
Although the director has not provided any confirmation about what the ending means, and seems to be retweeting Deadly Illusions viewers' many theories, an actor from the Netflix movie has shared her thoughts.
Actor Melissa Chambers wrote on Twitter, "I was in it, I played the aunt [Lotty] and my take is Grace/Margaret killed Mary and escaped to kill again...Deadly Illusions 2." Deadly Illusions director Anna Elizabeth James then liked this, suggesting the actor may be on to something.
Fan theories liked or retweeted by the director include:
"What if this is just playing out the plot of her book?"
"Anyone else asking the question was Grace real? After watching #DeadlyIllusions"
"#DeadlyIllusions theory. All of our reactions are part of the movie's experience because what we watched was the stupid forced novel that she had to write filled with every dumb suggestion her publishing team gave her along the way."
However, James has also hinted that all the clues needed to work out the ending are in the movie. She replied to someone asking her to explain the ending with, "It's all there. All of it."
Deadly Illusions is streaming now on Netflix.