Woman Waking Up Her Deaf Dog After Work Melts Hearts: 'Highlight of My Day'
A video of a deaf dog being woken up by his owner has gone viral on TikTok, where it has received over 517,000 views.
The clip, shared from the TikTok account @lifewithchompers, shows the pet wrapped in a blanket while sleeping on a dog bed. As a person's hand touches the side of the bed, the pup opens his eyes, sticking his tongue out before gazing into the camera.
A message overlaid on the video read: "Waking up my deaf pup when I get home from work is always the highlight of my day."
The clip was shared with a caption that said: "What was that little tongue out thing [smiley face with heart-shaped eyes, paw prints and red heart emojis]???!!"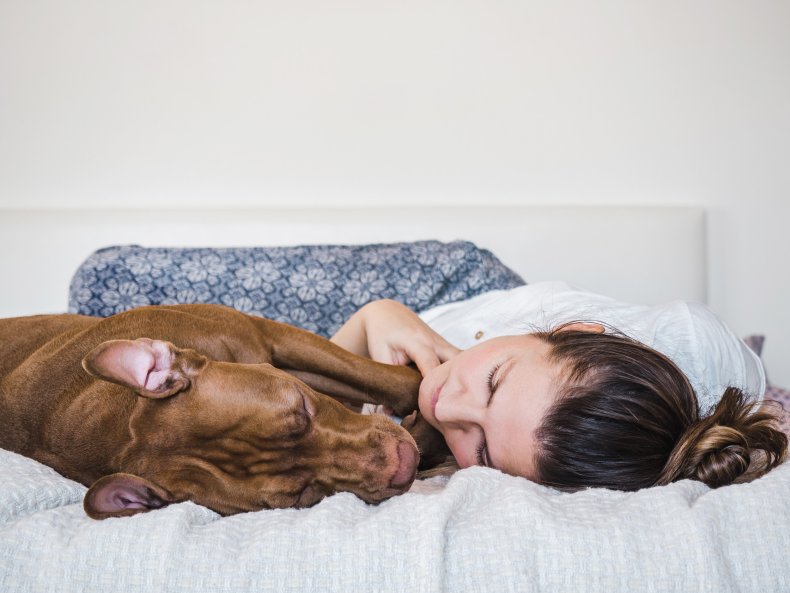 Brazilian psychologist Carolina Jardim, who has a degree in animal behavior and has been working with dog training since 2009, said, "Deaf dogs, despite suffering from an important sensory deficit, have no difficulty understanding what we communicate to them," according to a 2021 article in the International Association of Animal Behavior Consultants' online magazine, IAABC Journal.
"On the contrary," Jardim wrote, "many trainers around the world with experience in training deaf dogs claim that these dogs have an even easier time reading our body posture when compared to hearing dogs."
A November 2016 study in the journal Animal Cognition suggested that "in dogs accustomed to respond to both gestural and verbal requests, gestures are more salient than words."
"However, dogs' responses appeared to be dependent also on the contextual situation: dogs' motivation to maintain proximity with an owner who was moving away could have led them to make the more 'convenient' choices between the two incongruent instructions," the study said.
The TikTok video strongly affected users on TikTok, who swooned over the puppy's reaction.
Jordan Farrell said: "I love how the eyes light up as he/she wakes up adorable."
User Keyla said: "This is the cutest thing ever [teary-eyed sad face emoji]," and Chrisserrs said: "I'm crying again [crying floods of tears emoji] so sweet."
AishaKhan wrote: "awww this fur baby is too damn gorgeous," while Vane simply said: "the most precious!!"
Newsweek has contacted the original poster for comment. The video has not been independently verified.
Do you have funny and adorable videos or pictures of your pet you want to share? Send them to life@newsweek.com with some details about your best friend and they could appear in our Pet of the Week lineup.