'Dear White People' Is Here to Show You There Is No One-way Solution to Solving America's Racial Tension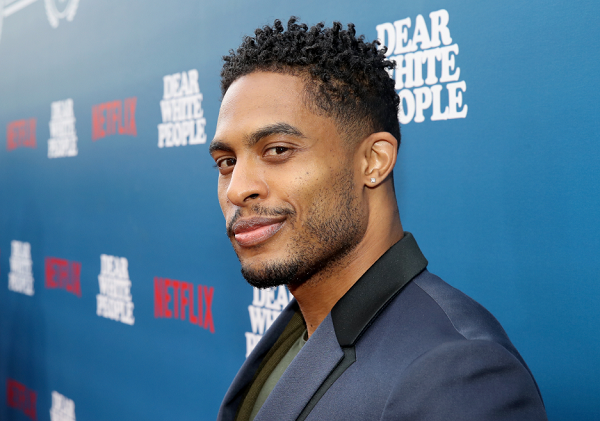 When Dear White People premiered in 2014, the witty and hilarious 108-minute long movie unloaded the stark, painful notion that we were, in fact, not living in a post-racial America. In a satirical yet unnerving way, Justin Simien, the film's writer and director, tackled issues people all across the nation are affected by today, like police brutality, the shootings of unarmed black men in the U.S., cultural appropriation and white privilege.
But the film also seemed to unmask the hidden chasms within the black community, which inevitably prevented black people, or rather the movie's main characters, from actually being able to solve the problem of racism.
Picking up right where the movie left off, Dear White People, the Netflix series, also written and directed by Simien, continued to showcase the consistent clashing among the central group of black students at the Ivy League Winchester University as they all tried to disintegrate the cultural bias and systemic racism conveyed by their white counterparts.
While the movie is delivered from the point of view of Samatha White (played by Logan Browning on the show), a biracial student who is the leader of the Black Student Union and the furiously "woke" host of a radio show, aptly titled Dear White People, the series gives an in-depth look at each of the core characters as they deal with the aftermath of a black-face party—allegedly thrown by white-ran magazine Pastiche—along with the electing of Winchester's first black student body president, Troy Fairbanks (played by Brandon Bell) who just so happens to be the son of the university's dean. Only intensifying the racial climate at Winchester, the characters are faced with a nearly deadly encounter between a black student, Reggie Green (Marque Richardson), and a police officer, which results in a disruptive town hall organized by Troy and Coalition of Racial Equality treasurer, Colandrea Coco Conners (Antionette Robertson).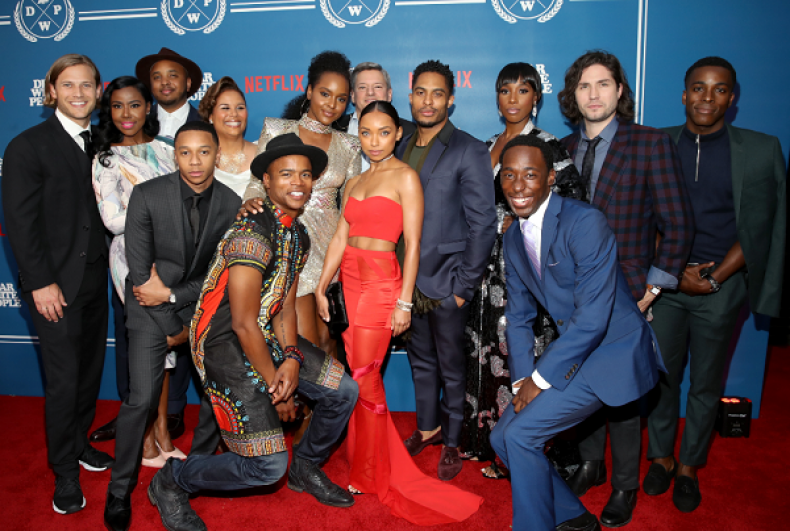 But even with a detailed look into each complex character's perspective on all the incidents happening within the world around them, the underlying message of Dear White People the show is just as prominent as it was in the movie: There is no one-size-fits-all solution to combating or solving racial tension.
If the constant conflicts between the small fraction of brown students at Winchester University is any indication, then people of color were just as unaware and at odds with each other in regards to fixing the racial and social injustices as the actual proponents of racism.
The final episode's chaotic and realistic ending made it even more excruciatingly clear that "my way or the highway" style-thinking in terms of dissolving discrimination only increased the divide between more than just the oppressed and the oppressors but it created division among the targets of racism too—at least, that's the message Bell seemed to take away after wrapping up the first season of the show.
In a phone interview with Newsweek recently, Bell brought light to the show's underlying theme—we need to work together to bring about long-lasting change.
"Everybody has a part to play and you see that in the series as we go out. Whether or not the majority thinks that this person's way of handling or breaking through the system to create change is the right way or popular way doesn't matter. What is your purpose and how can you contribute? To the best of your abilities, given your background, everything—what is the best way that you can contribute? What is your purpose?" he said. "Everybody has some way to contribute."
By the show's end, the students, particularly Troy, start to realize just how loudly they've all been yelling the same message but just in different languages, and you can't help but to wonder how much more of an effective force the students would have been if they would have all just worked together from the start.
"We need everybody. We need MLK Jr. We need Malcom X. We need Angela Davis and we need a Coco," Bell said. "You need people working within and outside of the system, hopefully in collaboration. I know in the past we've seen tension between different sides, in terms of, 'My way is right. It's my way or the high way,' per say. But we can utilize all our talents to bring about lasting change honestly."
Check out Newsweek's' full interview with Bell below.
Was this always the plan, taking Dear White People from the big screen to the TV?
It was always, from my understanding, an idea Justin always had to kind of extend the stories, the characters, just expand on that world. So we had heard rumors over the next couple years, and timing is everything. It so worked out. I'd done some other things and at the time my schedule was available. We spoke about Troy and his arc, and I was like, "Let's do it. Let's dive deeper into these characters that not a lot of people have seen before."
A lot of people have expressed how timely and relevant this show feels, given all the racial tension in America right now. What's your take on that?
It's interesting because it's such a unique, fresh project. The film itself was. However, I feel like the TV show is almost more timely than the movie was when it came out, [especially with] the socio-political climate of where we live today in the states. So I absolutely agree with what everybody's saying. It's absolutely timely.
For you personally, how was it returning back to the role of Troy after everything that has happened since the movie came out in 2014?
I came into the show looking at two big things. When the film happened, [Barack] Obama was in office—the first black president. However, during his two terms, we just became aware of more of the police killings of unarmed black men. So that was really interesting, you know, we have a black president where some people believe the myth of us living in a post-racial society, but then you have in the streets black men being murdered. So that was just really interesting, in terms of obviously not thinking that because the black President Obama was in office, those things would suddenly disappear. Fast forward to today, [Donald] Trump is the president and we still have unarmed black men being killed—Jordan Edwards most recently—and so those two things were really interesting.
At the end of the film, Troy was going to run to become the first black student body president. So that embodied a lot of the idealistic muse that we had as a country. Obama was going to bring change, "Yes we can," kind of a new hope type of thing. And fast forward to the show, Troy runs for president, wins and is reluctant. I internalized that as one man can't be the savior.
I read The Audacity of Hope, one of Obama's books. I wanted to make sure Troy kind of embodies these idealistic perceptions of what the quote-on-quote perfect, relatable black man should be. From the outside looking in he's kind of squeaky clean, picture perfect. But on the inside he deals with all the turmoils and frustrations that black men deal with every day in America. So juxtaposing that conflict with Troy, exterior and interior, was really fascinating for me to really want to play. Even though he is elected, even though he's a black president, will that bring about any lasting kind of real change? And I think Troy struggles with that. It's not how he wants to go about it, given that he's been groomed by his dad and his dad is a warmonger living through Troy. But Troy's not completely separate from the idea that, 'I like some of these thing that come with it.' The perks. The fact that people actually believe in you, hope to live up to your potential as just a great black man. But at the same time there's the fear of not living up to expectations, having worked twice as hard and still not getting to where you want to be or where people think you should be. And I think that was a great challenge and conflict that I really saw in wanting to come back.
By the end of the show, it feels like we should be more empathetic toward Troy. He's under a lot of pressure to appear perfect, and then he reaches a breaking point at the town hall and ends up getting arrested. What was it like filming Troy's final scene?
It was tough. It was tough because the Reggie scene in episode five was just, I mean, it was just traumatic, intense. Marque said he felt shame, he felt embarrassment and we felt that as well. Even though we are recreating stuff that happens in real life with unarmed black men, to be there still gave a very strange, surreal, scary feeling of like, 'Wow this could happen to me.' We could have had loved ones who this happens to. It becomes real. You remember how real it is for us as black people. So fast forward it to Troy's scene, the same feelings in a sense.
I love how symbolic it was the smashing of the glass, Troy finally breaking free. But then when he breaks free, he gets arrested and that's just so profound on so many levels. It was a sad moment. The moment of his freedom—I don't provoke vandalism or anything like that but for Troy it was so freeing—but to then have that moment quickly interrupted by police is so symbolic and profound, scary, sad, frustrating. The frustration was real, like me wanting to break free from cops. You don't have to really act that, per se, in terms of what was going on with me for Troy internally. Very similar to the Reggie scene in episode 1-05, I think Troy dealt with it in his own way. I think in both characters you can see just the resistance and also the fear of being in those moments and not knowing what's going to happen on the other end of the trigger. Luckily Dean Fairbanks [Obba Babatundé] comes out, for what we don't know, could have saved Troy's life, which is beautiful in and of itself because their relationship isn't great.
There's a line that is echoed back at the end, Dean Fairbanks says to Sam [Samantha White], 'It would never happen to my son, because I raised him.' But at the end it's kind of flipped on its head, like regardless of your economic status, who you think you are, it can happen to you if you are a black man in this country. [I felt] embarrassment, walking out with handcuffs as the student body president. Just embarrassment, humiliation, all that.
There has to be a season two. Are we going to see Troy get out of jail? Is dad going to bail him out?
You have to ask Netflix, but we're proud of the work we did, the conversations that have been sparked. Obviously, we're really hopeful, inspired and excited for a season two and to just explore where these characters will end up. Who bails Troy out? What does Troy being arrested do to the relationship with his dad? I am definitely excited about seeing how this changes Troy, because it's one of those moments where it's hard to go back to your old life once you go through something that powerful and that shaking and maybe that traumatic. Especially after having witnessed it happening to Reggie, then it happened to Troy. Whether or not Troy thought it could happen to him, I think it was always that fear. But I'm excited to see Troy possibly going in a different direction. Forging his own path separate from his dad to really become the man that his dad groomed him to be. So I'm really really really hopeful and excited, but I'm proud of the work we did in season one for sure.