Tree of Life Congregations Oppose Death Penalty for Pittsburgh Synagogue Mass Shooter
Leaders of two congregations that met inside the Tree of Life synagogue are opposing prosecutors' request for the death penalty agains the man accused of killing 11 people in the Pittsburgh temple during a October 2018 mass shooting.
Representatives from both Dor Hadash and The New Light congregations implored U.S. Attorney General William Barr not to seek the death penalty against Robert Bowers, who has been indicted on multiple counts of criminal homicide, aggravated assault, attempted criminal homicide and ethnic intimidation, as well as more than two dozen federal charges.
Bowers' attorneys have suggested he might accept a guilty plea if capital punishment was taken off the table. But on Monday, the United States Attorney's Office in Pittsburgh said Bowers "must face a death penalty if convicted."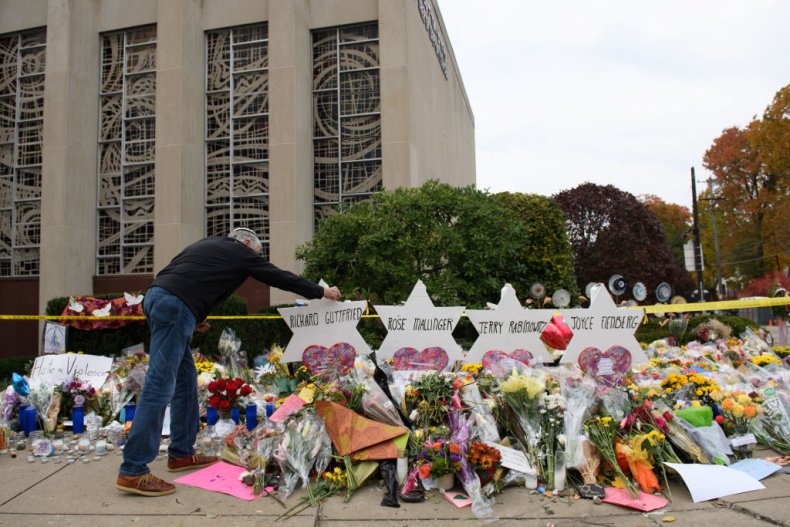 Rabbi Jonathan Perlman of New Light, a Conservative congregation, told the AP that the death penalty was an "outmoded kind of punishment."
"Like slavery, this is something that belongs to another time and another place," he said. "I can't think of any worse punishment for a criminal than to spend the rest of his life in a maximum-security prison without parole."
In a statement on its website, Dor Hadash, a Reconstructionist congregation, said a deal for life without parole would have honored Jerry Rabinowitz, a victim in the shooting who was "firmly and unequivocally" opposed to the death penalty.
"It would have prevented the attacker from getting the attention and publicity that will inevitably come with a trial, and eliminated any possibility of further trauma that could result from a trial and protracted appeals."
Donna Coufal, president of Dor Hadash, said more than two-thirds of the congregants voted in favor of the letter she sent AG Barr, asking for life in prison over death.
Tree of Life or L'Simcha, a Conservative congregation that also met in the building has not released a statement on the death penalty, saying only, "We have confidence that justice will be served."
A shooter armed with a semi-automatic rifle and three pistols entered Tree of Life around 9:30am on Saturday, October 27, 2018, while Sabbath services were underway. Reportedly shouting "All Jews must die," he discharged his weapons for nearly 20 minutes before police arrived and exchanged fire. The suspect surrendered to police later that morning, allegedly telling a SWAT officer that Jews were "committing genocide against his people."
Bowers has been tied to the social network Gab, which has come under fire for its reported willingness to host racist and anti-Semitic content. Before the attack, he reportedly posted "I can't sit by and watch my people get slaughtered. Screw your optics. I'm going in."
He is also accused of posting messages attacking the Hebrew Immigrant Aid Society for supporting refugees.
Jewish law is ambivalent on capital punishment: While the Torah mandates death for dozens of transgressions—from murder to disobeying one's mother and father—in biblical times it was rarely ever carried out.
Orthodox Judaism holds that the death penalty is a just punishment, but human judicial systems are too flawed to properly carry it out. "As Jews, as citizens of a nation dedicated to liberty and justice, we believe that governments must protect the dignity and rights of every human being," Rabbi Shmuly Yanklowitz, founder of the Orthodox Jewish social justice movement Uri L'Tzedek wrote in Jewish Journal. "Our American system today lacks the highest safeguards to protect the lives of the innocent and uses capital punishment all too readily."
Reform Judaism has formally opposed the death penalty since 1959, one year before leaders in Conservative Judaism declared capital punishment "barbaric and obsolete."
The State of Israel has only executed two men— Meir Tobianski, an Israeli army officer accused of espionage (but later posthumously exonerated) and Nazi war criminal Adolf Eichmann, the architect of the Jewish Holocaust. The Knesset outlawed the death penalty for murder in 1954. It is still a legal option but Israel does not use the death penalty.
Today, the United States is one of only 54 countries that still employs the death penalty, and the only in the Western world. Shortly after the Tree of Life shooting, President Trump used the attack to push for increased use of capital punishment."
"I think they should very much bring the death penalty into vogue," he told reporters. "Anybody that does a thing like this to innocent people that are in temple or in church. We had so many incidents with churches. They should really suffer the ultimate price."