Death Valley 1,000-Year Floods Seen From Space in Before and After Images
The "1,000-year" flooding that hit Death Valley at the start of August was so extreme its impact can be seen from space, with NASA images showing the National Park before and after almost a year's worth of rainfall fell on the driest place in North America.
Images captured by the space agency's Moderate Resolution Imaging Spectroradiometer (MODIS) instrument on the Terra and Aqua satellites show Death Valley on July 11, before the floods hit, and on August 7, two days after the near-record rainfall.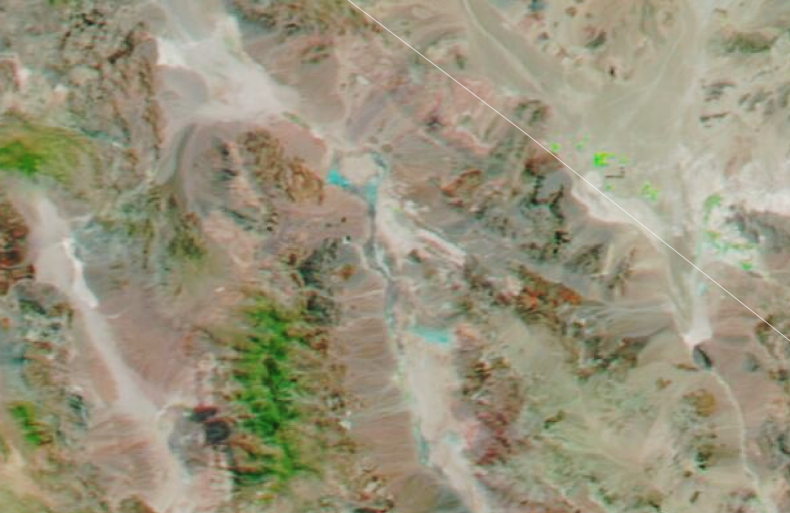 Death Valley is officially the hottest place on Earth, having seen a temperature of 134 degrees Fahrenheit on July 10, 1913. That was recorded during a heatwave, in which temperatures reached at least 129 degrees Fahrenheit or over for five consecutive days.
"The heavy rain that caused the devastating flooding at Death Valley was an extremely rare, 1,000-year event," Daniel Berc, a meteorologist with the National Weather Service Las Vegas, said in a statement. "A 1,000-year event doesn't mean it happens once per 1,000 years, rather that there is a 0.1% chance of it occurring in any given year."
The Furnace Creek area of Death Valley saw 1.46 inches of rainfall in one day, which is about 75 percent of what normally falls in the area in a year. The only time the park has seen more rain in recent history was on April 15, 1988, when 1.47 inches fell.
The false color images showing the flooding from space were released by the NASA Earth Observatory. They were created by combining infrared and visible light to show the water. The flood water appears as a dark blue, while the saturated soil is light blue. Bare ground is colored brown and vegetation appears bright green.
In a blog post about the flash flooding, NASA's Sara Pratt said the reason flooding like this is so rare in Death Valley relates to the "rain shadow effect." When humid air from the Pacific Ocean to the west travels inland, it has to cross four mountain ranges before reaching Death Valley. The air is pushed upwards over the mountains and the moisture condenses and falls. By the time it reaches the National Park, the air is void of moisture.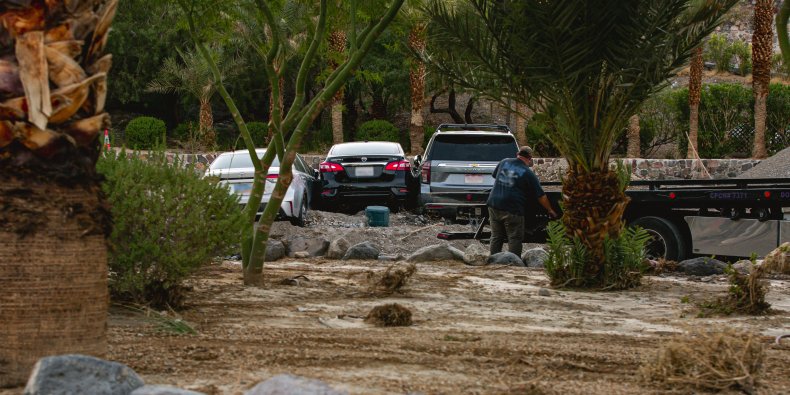 Since the floods, roads across Death Valley have been closed. In an update posted by the park on Wednesday, officials said the most highly visited areas of the park remain shut as a result of flood debris and damage. These include Furnace Creek Visitor Center, Badwater Basin, Zabriskie Point, Dantes View and the Mesquite Sand Dunes.
It said some people have been avoiding road closures by traveling on "primitive backcountry dirt roads." Doing this, they said, is ill-advised, with rangers having to search for stranded motorists instead of carrying out flood operations.
"We urge visitors to stay off dirt roads, even if apps are directing them there," said superintendent Mike Reynolds. "While we are working with various map platforms to report these issues, please be smarter than your smartphones."
Supervisory Park Ranger Jennette Jurado told Newsweek that around 1,000 miles of roadway in Death Valley have been damaged.
"Certainly we are looking a weeks to months for certain areas of the park to reopen, but it is too early to speculate," she said. "CalTrans expects to open highway 190 no earlier than August 19. Park roads that have had complete sections of pavement removed will take a lot longer.
"It will take time for us to be able to do a full assessment of the damage. Right now work priorities are restoring access to infrastructure—wells, transformers, broken water pipes, etc. as we have continued possibilities of rain in the forecast, and opening up administrative access—clearing at least a single lane—through paved roads so crews have better access to assess the extent of the damage."