Four Killed in Vienna 'Terror Attack' With Shootings in Six Locations
Update 04:30 EST: Four people have now been confirmed to have been killed.
Four people have been killed and 17 others injured after a suspected terror attack in central Vienna, Austria, with a number of shootings in different locations, including one near a synagogue, after gunmen armed with rifles opened fire in the city center at six different locations on Monday.
Around 8 p.m local time (2 pm EST), shots were reported from the area around the central synagogue in Vienna, police have confirmed. There are a total of at least six crime scenes and one perpetrator has been shot dead by police.
Around 15 people have been admitted to hospital and seven of the wounded have life-threatening injuries, local media reports. Rumors were flying around social media about the other crime scenes though these were not been verified and police have warned that "all other speculations are not effective" and media outlets should be cautious with their reporting.
Austria's Interior Minister Karl Nehammer said the attacker killed by police as an "Islamist terrorist". He had earlier said that one "heavily armed and dangerous" gunman was still at large.
"Several shots fired in the central district of Vienna - there are injured people - Do not stay in public areas! Stay home!," the verified Twitter account of the Vienna police tweeted.
"Around Innneren Stadt there were several exchanges of fire," a police statement said. "There are several injured people. We are on duty with all possible forces. Please avoid all public places in the city."
Of the seriously injured, one is a police officer, reporting that Austria's interior ministry has confirmed those details. The interior ministry also said one attacker has been killed but another might still be at large and on the run, reports say.
Austrian Interior Minister Karl Nehammer has called the incident a terror attack. Police asked residents to avoid the area and not to post videos or photos on social media as "these endanger both emergency services and the civilian population."
Jewish leaders in the country have been keen to say that it is too early to draw any conclusions from reports of the attack being near a synagogue.
"It cannot be said at the moment whether the city temple was one of the goals," Oskar Deutsch, president of the Jewish Community of Vienna (IKG) - the body that represents Vienna's orthodox Jewish community - said on Twitter. "What is certain, however, is that both the synagogue in Seitenstettengasse and the office building at the same address were no longer in operation and closed at the time of the first shots.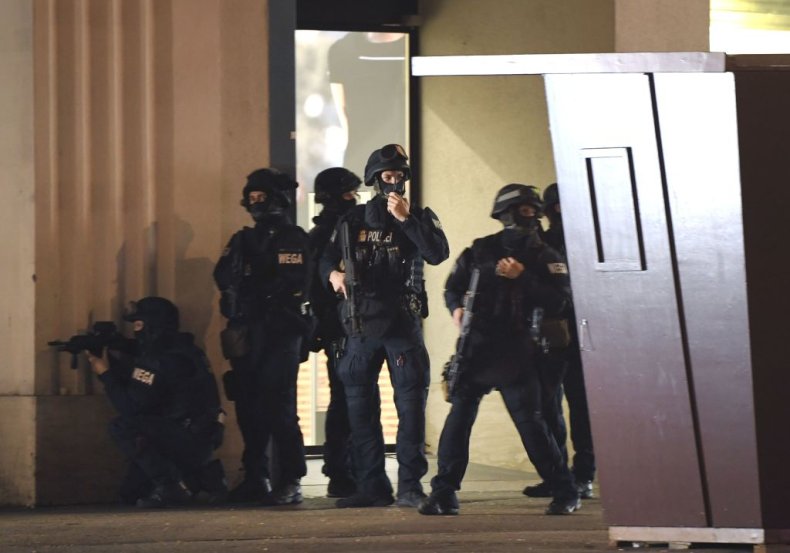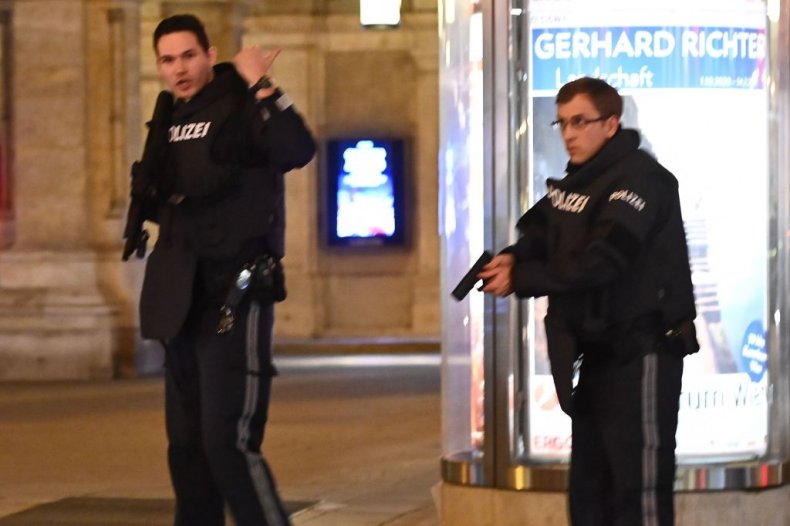 "In the immediate vicinity of the city temple, shots were fired. All parishioners were urged not to enter public roads and to remain indoors until the security authorities issued a warning, which was in contact with the IKG Safety Department. Please do not spread unsecured information or rumors, stay indoors and follow the instructions of the police."
Austrian Chancellor Sebastian Kurz had previously announced new restrictions, bringing in a second partial lockdown. "There will be a second lockdown in Austria from Tuesday," Kurz said in a press conference. "Like in the spring, it will be necessary to abstain from a lot of things."
French President Emmanuel Macron, whose country was also the victim of recent terror attacks, has given his support to Austria. "We French share the shock and grief of the Austrian people struck this evening by an attack in the heart of their capital, Vienna," he said on Twitter. "After France, a friendly country is attacked. This is our Europe. Our enemies must know who they are dealing with. We will not give up.
"We, French, share the shock and sadness of the Austrians after an attack in Vienna. After France, it is a friendly country that is under attack. This is our Europe. Our enemies need to know who they are dealing with. We won't give in to anything."
This is a developing story and will be updated as new information becomes available.