'DeathSantis' Sign Creators Say Florida Governor Is Letting Coronavirus 'Flourish'
A New York–based comedy duo who created "Ron DeathSantis" signs said that the Florida governor is allowing the coronavirus to "flourish."
"It almost seems like [Gov. Ron DeSantis] is in the pocket of Big COVID, like he's doing things on behalf of the virus to let the virus flourish in Florida," Jason Selvig, one half of comedy duo The Good Liars, told Newsweek.
Selvig and his partner, Davram Stiefler, placed signs around New York's borough of Brooklyn, on July 12, calling out DeSantis: "Ron DeathSantis, 'Killing Florida with his stupidity.' Paid for by DeSantis for COVID," the sign reads.
In two days, the signs were up in cities around Florida. By July 16, #DeathSantis was trending at number five on Twitter.
Someone had placed a sign on a city garbage can in Boca Raton. On Monday, the duo tweeted that several signs were put outside the door of Civil Society Brewing Company in Jupiter.
Newsweek contacted DeSantis' office for comment, but did not hear back in time for publication.
Floridians and other Americans have criticized DeSantis over his handling of the coronavirus pandemic, arguing that the governor has not done enough to slow the spread in his state.
"It's almost like he lives in a totally different world from reality," Daniel Uhlfelder, a lawyer from Santa Rosa Beach, told Newsweek.
Uhlfelder has made headlines for visiting Florida beaches since March dressed in a grim reaper costume, urging visitors to go home.
"I've been dealing with [DeSantis] for months," Uhlfelder said. "It's nice to see some other folks catching on to his lack of compassion. 'DeathSantis' is right on."
Florida is now being named the worldwide epicenter of the disease, reporting a total of 360,394 cases as of July 21. The state has seen a sharp increase in reported cases since mid-June, but DeSantis has maintained he will not issue a statewide mask order or reverse plans to reopen the economy.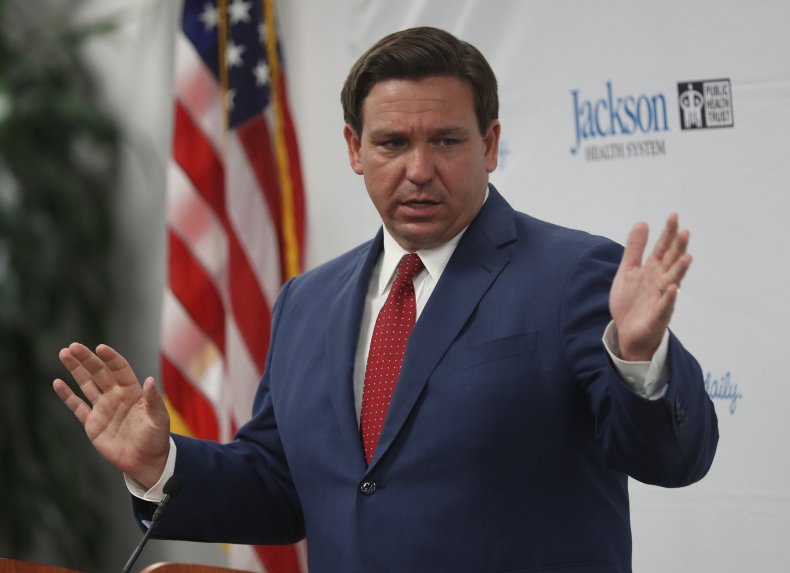 Selvig, who grew up in South Florida and still has family there, said DeSantis' decision-making regarding the virus is tied to President Donald Trump. DeSantis is sometimes referred to as a "mini-Trump," and he has framed his candidacy for governor around his support for the president.
"Any stupid decision that Donald Trump made, [DeSantis] was gonna make it with a huge smile on his face," Selvig said. "Donald Trump pushed to reopen America far too soon, and without a real plan.… It all comes down to failed leadership."
Jen Perelman, a North Miami native who is running to represent Florida's 23rd Congressional District in the U.S. House of Representatives, agreed with this sentiment.
Perelman, a Democrat, said that Florida had an opportunity early on to watch other states and learn how to appropriately handle the pandemic. But instead, DeSantis "did it worse."
"This is not an accident. This is on purpose. That's what's so pathetic about it," Perelman told Newsweek. "This isn't, 'Oh we don't know how to flatten a curve or we don't know what we could do to make this safer.' We know, we're just not willing to do it."
Perelman shared a photo of The Good Liars' sign to her Twitter account July 16, commenting "this is funny & sad at the same time" and calling for DeSantis to resign.
Brandon Shaw, a Florida resident, has been quarantined with his family since March. Both the pandemic itself and the lack of action from state leaders have been difficult, he said.
"This is definitely not a situation where I want to laugh at anything or say, 'You were wrong, DeSantis,' because to be honest, I really wish he was right," Shaw told Newsweek.
Shaw has followed The Good Liars account for a while and said he enjoys seeing how the comedians use humor and satire to convey tough political and social situations.
"In no world do I want to be looking at these things and these problems and laugh at them," Shaw said. "I wish none of them existed."
The Good Liars' work focuses on political and social issues, Selvig said. In addition to sign campaigns, the duo is known for filming staged interactions with politicians on both sides of the aisle.
"We always try and be 'lying' on the right side of things, on the good side of things, which is where the name comes from," Selvig said.
Jesse Damiani, deputy director of emerging technology at Southern New Hampshire University, who grew up in Jacksonville, saw "#DeathSantis" appear on his Twitter feed last week.
The hashtag and sign is a nice blend of creativity and activism, Damiani told Newsweek.
"The art that The Good Liars created is incredible because it's really just hilariously and poignantly drawing attention to the needless death that Florida is experiencing because of [DeSantis'] failure as a leader," he said.