Debate Moment: Trump Defends Hiring Foreign Workers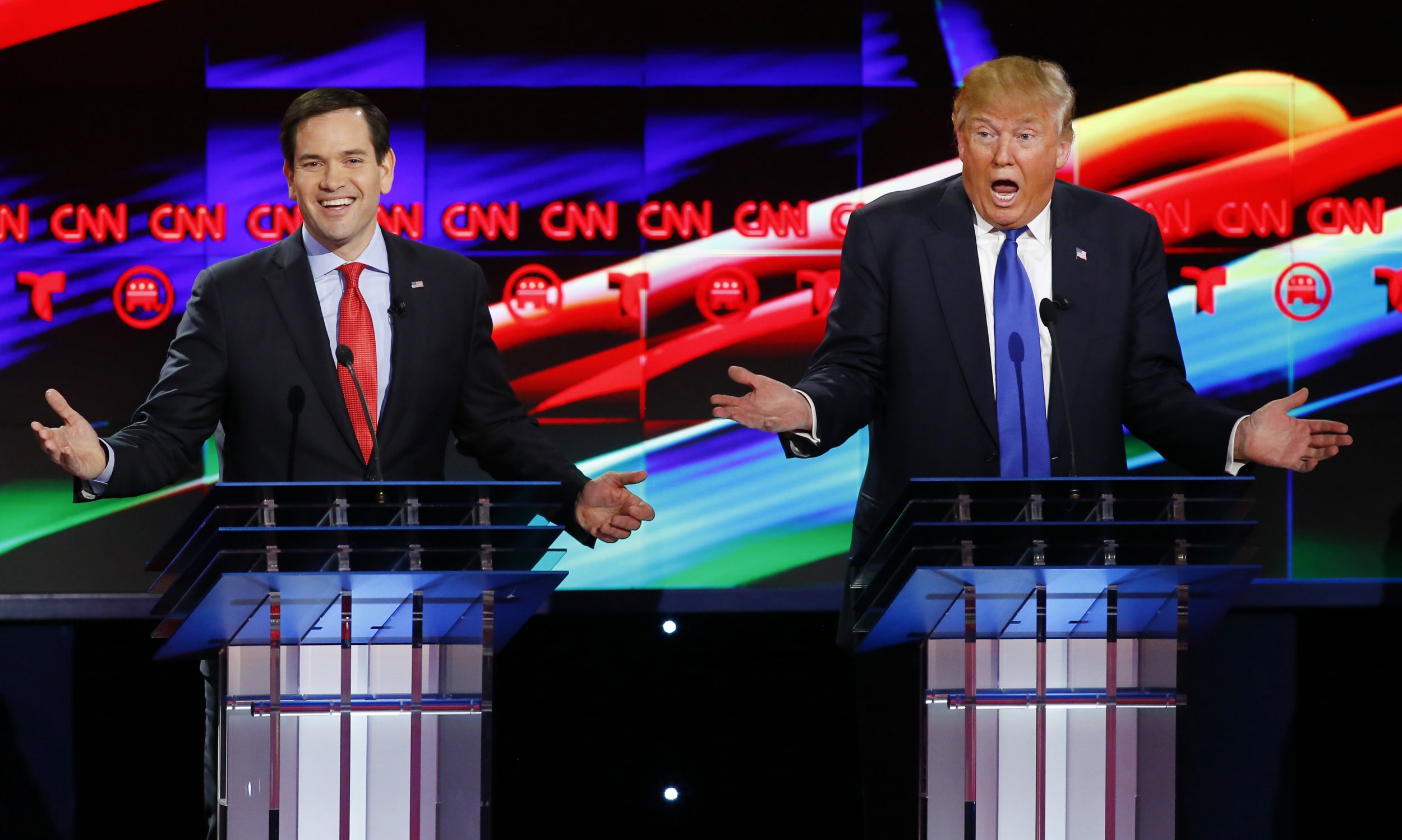 At the Republican debate on Thursday night, front-runner Donald Trump defended the number of foreign workers who have been hired at his Florida estate in recent years after Marco Rubio tried to make the tough-on-immigration contender seem like a hypocrite.
Earlier on Thursday, The New York Times reported the real estate billionaire has sought more than 500 visas for foreign workers at his Mar-a-Lago Club in Palm Beach since 2010.
Throughout his campaign, Trump has vowed to Americans he will bring back jobs that have been taken by undocumented immigrants. But, according to the Times, federal records indicate only 17 Americans have been hired for jobs as wait staff, cooks and housekeepers—out of nearly U.S. applicants and referals—at Trump's club.
The former reality TV star touted his business practices at his party's 10th debate in Houston. Texas is the largest state voting in primaries for both parties next week on Super Tuesday.
"I'm the only one on the stage that's hired people," he said, in an attempt to separate himself from his four challengers beside him onstage.
Trump, who says he supports legal immigration, continues to repeat his plan to build a wall at the southern border of the United States if he is elected to the White House. On Thursday, he compared the U.S.-Mexico border to Swiss cheese because he said everybody pours into the country.
Rubio, the Florida senator who is jockeying with Texas Senator Ted Cruz to be the Republican alternative to the real estate mogul, targeted Trump's plan to build a wall and policy to hire foreigners.
"If he builds the wall the way he built Trump Towers, he'll be using illegal immigrant labor to do it" Rubio said.
When the conversation turned to Latino voters, Trump said he has employed "tens of thousands of Hispanics."
It's not the first time presidential hopefuls have brought up foreign workers in an election cycle. During the 2012 presidential election, Republican nominee Mitt Romney faced accusations that he hired illegal immigrants to do landscaping at his property, a realization viewed by many as detrimental to his failed campaign.
Six years earlier, The Boston Globe reported that Romney used a landscaping company that relied on illegal immigrants from Guatemala at his home in Belmont, Massachusetts.