Debate Rages After Woman Asks If She Can Wear Sandals To Interview
A woman has sparked debate online after asking if it would be acceptable to wear sandals to a job interview.
In a post on the popular discussion site Mumsnet, user hamandpotato explained: "I've damaged both my big toes running and [the toenails have] come off, I cannot put my foot in a shoe without wincing. Would this be absolutely horrendous and I can tell the story? Or do I wince and just put a shoe on?"
Despite the injury, the idea of wearing such casual footwear to a job interview sparked debate online prompting hundreds of comments.
"I'd try to get shoes on, personally. Can you walk OK with them on?" said one commenter: "Depending on the job, sandals are generally not appropriate."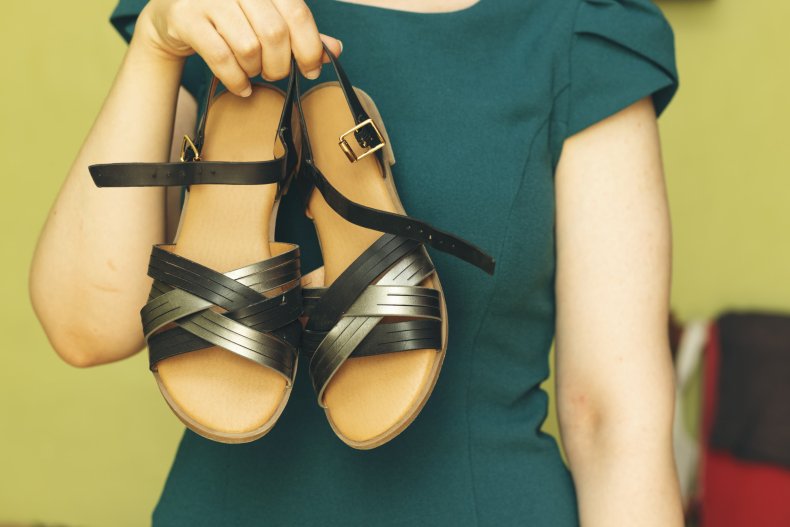 But another user replied: "I think it would be fine if they're not too casual."
Becky Morgan, HR Manager from Pure Property Finance in the U.K. told Newsweek: "Although I wouldn't advise wearing sandals to a job interview, there may be some exceptions. For example, weather dependent, it could be acceptable to wear sandals and have your feet exposed. However, you should ensure that the sandals are smart and appropriate, and your feet must be clean and tidy."
In 2000, a study by researchers at Oregon State University explored the importance of first impressions in job interviews.
The study focused on 59 employment interviews with two trained interviewers taped during twenty-minute interviews. They then filled out a post-interview questionnaire evaluating the candidates on their interview performance, behavior, rapport and professional skills.
Following this, brief clips of the interviewee knocking on the door and sitting down were shown to naive observers—someone who was not present during the full interview. They were asked to make judgments based on these short clips and predict the outcome of the interview.
Results found that the assessment of an applicant's skill, knowledge and ability was judged quickly and fixed as early as the initial greeting of the formal interview.
"What you wear to a job interview is so important as it is the first encounter with a potential employer. Wearing something inappropriate can have a detrimental impact and give the employer the wrong impression," said Morgan. "It is, therefore, pivotal to wear an outfit that is smart and reflects professionalism as this will start the interview process off on the right foot."
"I really wouldn't be going in sandals if at all possible," said another reply on the Mumsnet post: "Even if they are horrible granny comfortable flats, can you find a cheap roomy pair for the interview?"
But another reply from someone who had conducted many interviews said: "I can honestly say in all my years of interviewing I have never really noticed shoes. Sandals can be smart, they will see the dressings and totally understand."
One commenter suggested that honesty would be the best policy during the interview and said: "I'd wear the sandals and tell them that you injured yourself running a marathon so can't wear normal shoes."
In May, a recruiter on LinkedIn sparked more viral debate about job interview attire after he said that it is best for a job candidate to wear business attire for an interview.
UPDATE 07/08/22, 10:40 a.m. ET: This article was updated with comment from Pure Property Finance HR Manager Becky Morgan.
If you have a similar dilemma, let us know via life@newsweek.com. We can ask experts for advice, and your story could be featured on Newsweek.