Mom Urged To Ditch Boyfriend Who Moved In After 8 Weeks: 'Alarm Bells'
The internet has urged a woman to kick her new boyfriend out of her home after she shared her concerns in a viral Mumsnet post.
Shared on Tuesday, user Help201602 explained that she has been single for six years after discovering her ex was unfaithful. But eight weeks ago, she had met a younger man and embarked on what she described as a "whirlwind romance."
In a post with over 100 replies, she wrote: "After our first date we saw each other every day for two weeks. Then I went on holiday and irresponsibly moved him in when I got back. I never normally do this, never introduce them to my kids (aged 14 and 18) for months, if at all. [I] just really felt he was the one."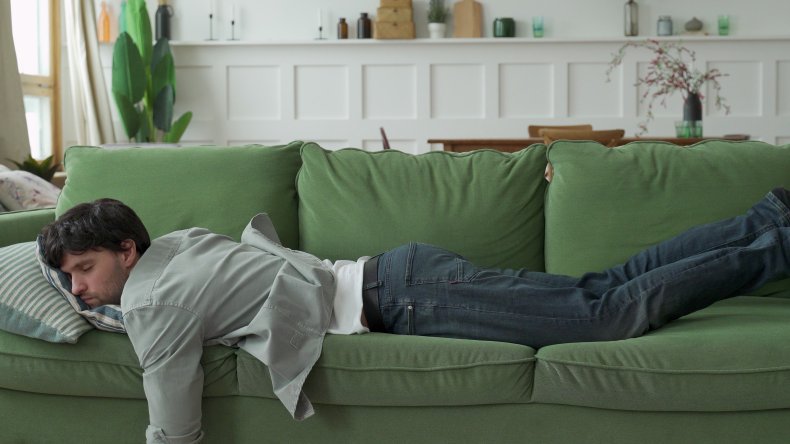 With a nine-year age gap between the couple, the Mumsnet user explained that her new partner is very different from her. "I don't normally go out much," she said. "He is the opposite of me. A drinker, likes to go [to] the pub. The wanting to go to the pub set off alarm bells but still, I carried on as he's a very loving guy."
"He seems obsessed with how I look and my ample chest," she said. "Often commenting on it to other men in the pub which makes me cringe."
Issues arose when the new boyfriend's cousin was arranging a trip from America and said that he wanted to go to Amsterdam. "He told me this two weeks after we met and I expressed it made me insecure. Amsterdam is known for w*****," she said.
After several arguments and a brief breakup, the couple continued to argue about the trip which was called off—and then back on—several times. When the poster saw messages talking about visiting prostitutes on their trip to Amsterdam, she was disgusted.
"I feel terrible, so insecure, sick, convinced he's going to cheat," she wrote. "He has been reassuring me that I'm the only one for him. He has shared his Snapchat location.
"I know there are many things that make us not compatible but I know I'm ignoring these signs. But he is loving and affectionate, helps around the house, has done [the] garden, had [the] chimney swept."
Asking if she should trust her new partner, she explained that he was sleeping on a friend's sofa before they met and was concerned that she was being taken advantage of.
A study by Stanford University titled "How Couples Meet and Stay Together" found that 25 percent of U.S. couples that eventually move in together do so after around four months of dating, and 50 percent after a year. By two years, over 70 percent of couples have moved in together.
The speed of meeting and moving in rang alarm bells for many Mumsnet users, and the comments reflected this.
"I only got through half of your post when it became very clear you should move this stranger out of your house," said one comment. While another Mumsnet user wrote: "You must be absolutely mad to even be with him let alone move him into your home."
"No one falls in love faster than a man who needs somewhere to live," said another reply.
In a later reply, the poster seemed to agree and wrote: "The thing is I know I've made a mistake. And I suppose that hurts just as much as ending it."
"Pack up his s*** while he's away and leave it at the front door," suggested another reply. "Change the locks. Block his number."
If you have a similar relationship dilemma, let us know via life@newsweek.com. We can ask experts for advice, and your story could be featured on Newsweek.