Who Won the Debate? Trump Retweets Twitter Polls to Claim Victory
President Donald Trump shared multiple unscientific Twitter polls on Thursday night to claim he won the final presidential debate with former Vice President Joe Biden. However, surveys by pollsters suggest Biden was victorious.
Trump shared screenshots of several Twitter polls showing him winning the debate. A Las Vegas Review-Journal poll showed him with 92 percent, while a similar poll from TheBlaze gave him 96 percent.
The president also shared a poll from The Daily Wire giving him a debate win with 95 percent of votes.
Online polls lack the rigorous methodology deployed by traditional pollsters and are easily manipulated. They are not representative of what the population thinks.
A CNN poll on Thursday showed that 53 percent of debate watchers believed Biden had won, compared to 41 percent for Trump.
A YouGov/CBS News poll yielded a similar result with 54 percent of those who watched the debate thinking Biden had won and just 35 percent saying Trump had. Nine percent said it was a tie.
Users of the message board 4chan have manipulated online polls in Trump's favor in the past. The president's supporters on Reddit, another online message board, have also engaged in this kind of behavior.
NBC News' Ben Collins made the case on Twitter on October 2, two days after the first presidential debate. Online polls showed Trump winning easily but evidence suggested "rigging."
"Rigging online debate polls is a longstanding pro-Trump troll thing that 4chan and Reddit's the_donald did in 2016 to make Trump appear like he won," Collins wrote.
"Posts often include instructions on how to vote however many times you wanted by abusing airplane mode."
Trump-supporting 4chan users previously called on each other to "blow the polls out" for Congresswoman Tulsi Gabbard during the Democratic presidential primaries, NBC News reported at the time.
In 2016, 4chan and Reddit users also manipulated online polls to declare Trump the winner of that year's first presidential debate on February 25.
At the latest debate, Trump and Biden clashed over multiple issues, including the response to the coronavirus pandemic, the 1994 crime bill, fracking and fossil fuels, and foreign interference in elections, among other subjects.
"Joe Biden won the first debate. He won the split-screen town hall debate after Donald Trump was too gutless to face him. And he just won the third debate - not by a little, either," the Biden Campaign said in a statement after the event.
"Meanwhile, Donald Trump squandered his last chance to offer any rationale for another four years.
"Again, Vice President Biden demonstrated why he is the only candidate in this race with the judgment and the experience and the temperament to overcome these crises that Trump has worsened and to unite the country again."
The Trump Campaign said in a statement: "President Trump completely unmasked Joe Biden as a Washington politician who is all talk and no action.
"The President systematically dismantled Biden's record and laid out the clear case that he has accomplished more in 47 months than Biden has in 47 years.
"This was the businessman versus the career politician, the outsider versus the Washington insider, the reformer against the swamp."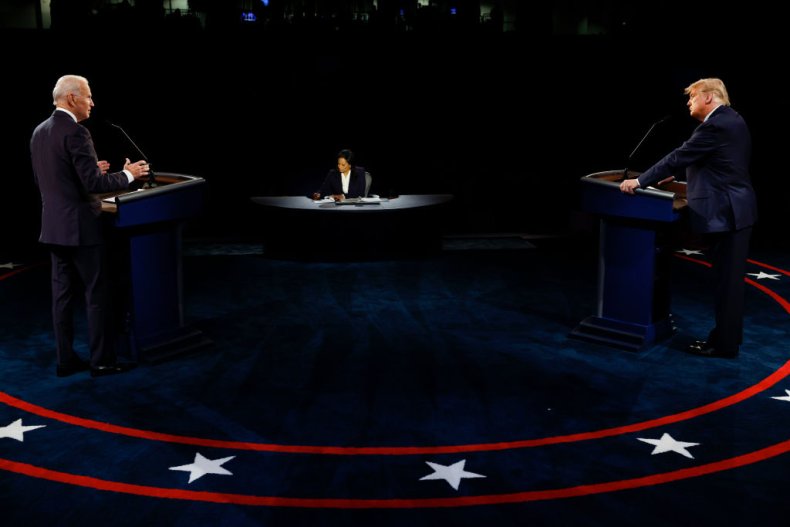 Correction 10/26/20: This article was corrected to remove a reference to Glenn Beck as the owner of TheBlaze.