A deer shot and decapitated by a poacher has been found abandoned in Oregon, prompting an investigation by wildlife authorities in the state.
Oregon Department of Fish and Wildlife (ODFW) said in a press release on Wednesday that they are appealing for information about the killing, which happened on the night of December 9 in Springfield, Lane County.
An image posted by the ODFW showed the deceased buck as it was found with its head decapitated for a trophy. The state wildlife authority said that the poacher shot the deer and severed its head before leaving the scene in a white pick-up truck.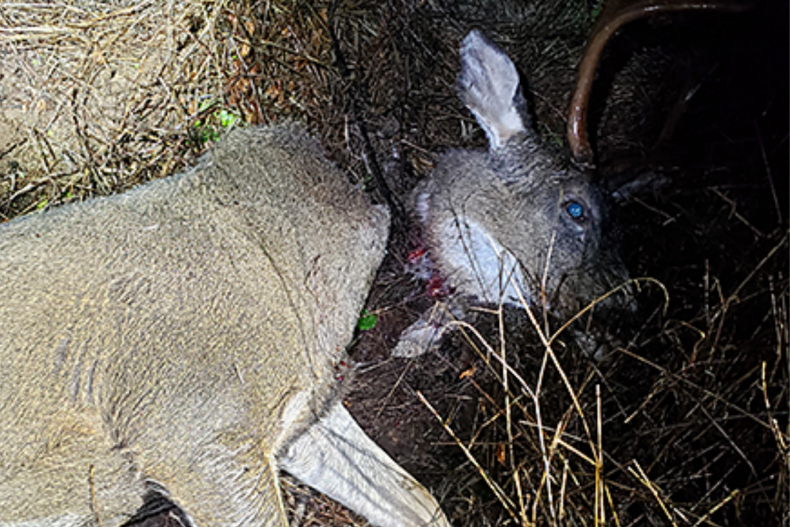 Poaching is considered a problem in Oregon. The Oregon Hunters Association distributed over $20,000 in cash rewards from the Turn In Poachers fund, which enlists the public's help in countering the problem, in 2020 alone. ODFW said in November that the 128 Fish and Wildlife troopers across the state were not nearly enough to adequately patrol the state's land, and its inland and marine waterways.
The deer slain in Lane County was shot from an active residential driveway leading to several properties on Upper Camp Creek Road in Springfield, ODFW said. They said the suspect shot the animal close to someone's house.
When a passerby approached the suspect about the incident, he fled the scene. The deer carcass was found soon afterwards and the ODFW and Oregon State Police (OSP) were informed.
The suspect was described as around 5 feet 1 inch tall, with brown hair and a brown beard, according to ODFW. He left the scene in a late 1990's white Chevy flatbed pickup.
Senior trooper Josh Wolcott and a specialist dog named Buck were sent to the scene to search tall grass and woody shrubs for evidence including weapons and ammunition.
"Our K-9 Buck is extremely useful in cases like this," Wolcott said, "he can locate evidence by scent, which otherwise would require several troopers with metal detectors running a grid pattern to find. And it doesn't matter if it's dark out, as it was in this incident."
After investigating the crime scene, state trooper Wolcott worked with residents in the area to salvage the meat from the animal, which was later donated to a local church and given to families in need.
"The silver lining to poaching cases like this—where we are able to locate the animal while it's still salvageable—is that the meat is put to good use," Wolcott said.
ODFW said there was a $500 reward or four ODFW hunter preference points available for information that leads to an arrest or citation in the case.
Correction 02/08/22 5.24 a.m. ET: This article has been corrected to say the Oregon Hunters Association offered the reward, not the Oregon Health Authority.